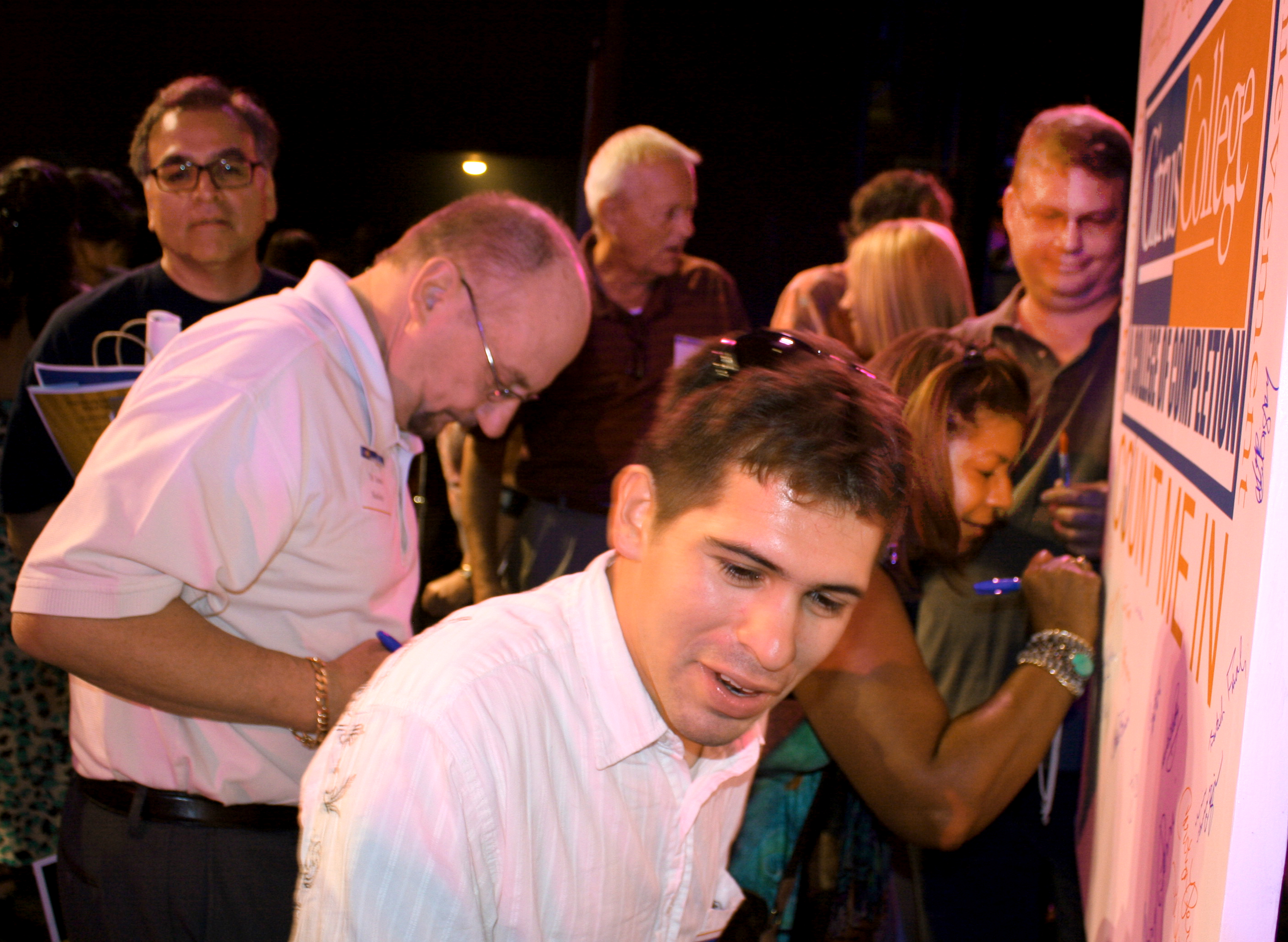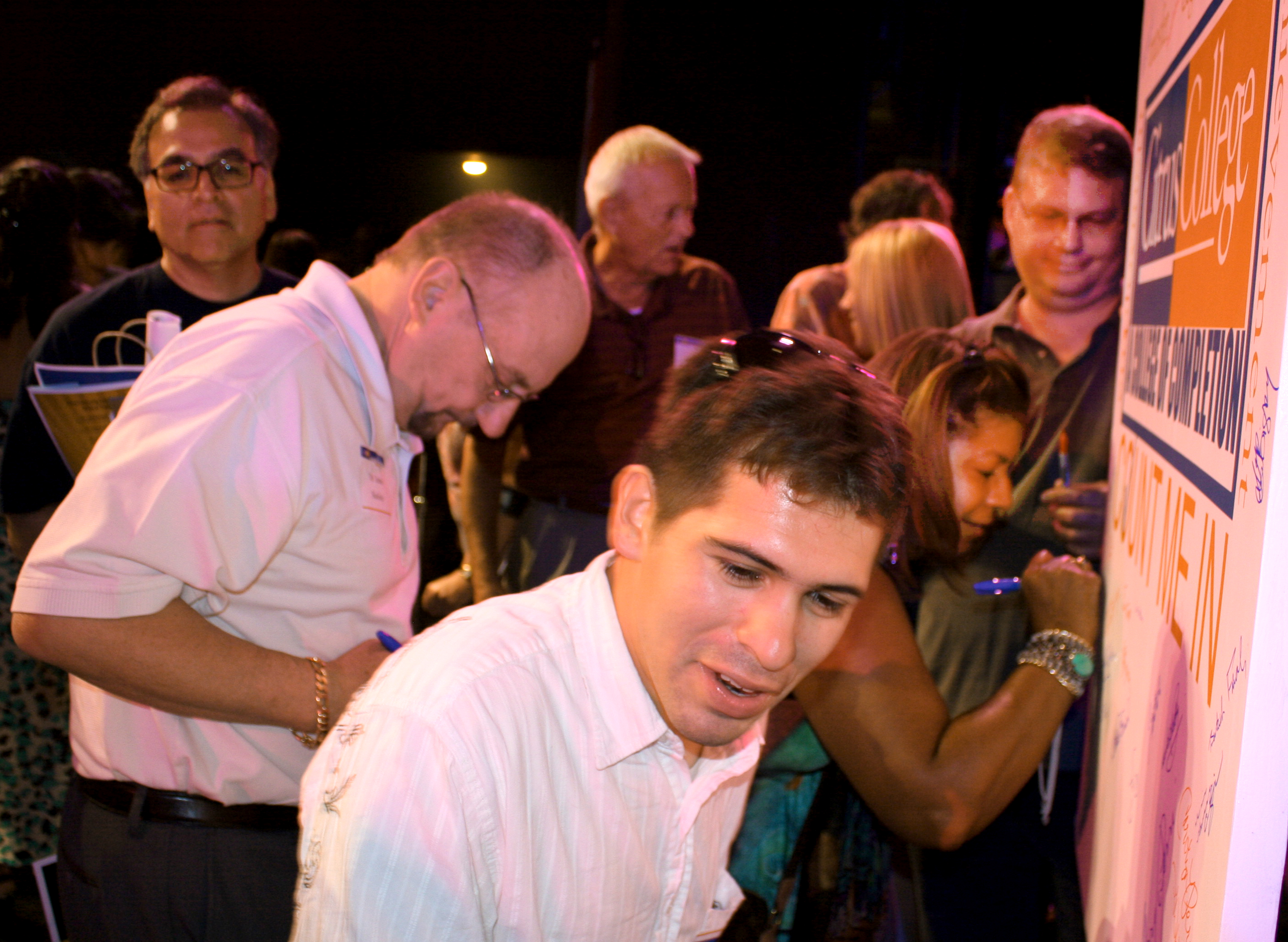 ---
Music professor Bruce Langford led the annual gathering of the college's employees—faculty, classified staff and managers—starting things off with a solo rendition of the opening lines of "Tomorrow" from the musical "Annie."

Langford was interrupted, led offstage and placed through several comic versions of redress by John Vaughan, interim Haugh Performing Arts Center director. Before his final costume change, he was replaced by 12-year-old singer Berlynn Milliken, who belted out the closing lines of the song to great applause.

Afterward, Perri delivered her opening remarks, which emphasized the growing need for postsecondary education countrywide.

"Across the nation, there is a rallying cry for reform in all segments of higher education, especially community colleges," Perri said, [referencing to a 2010 speech by President Barack Obama] that pledged to add eight million college graduates to the population by 2020.

In what has become a reoccurring event at convocation, Perri later highlighted some of the accolades Citrus had received over the past year in her state of the college address—chief among them a record number of graduates and degrees awarded during the 2012 graduation ceremony. She also lauded the addition of 11 new transfer degrees that guarantee community college graduates priority admission when transferring to CSUs.

Students Alejandra Morales and Susan Vong of the Phi Theta Kappa honor society then introduced the Citrus College Completion Corps.

"The objective of the Completion Corps is to dramatically increase certificates and associate's degrees by the year 2020," Vong said.

To close out the convocation, college employees were invited on stage to sign large posterboards with the words "Count Me In" prominently displayed beneath the Citrus College logo.

Additional high points of the morning included presentation of the college's "Shining Stars" awards, which recognize employee accomplishments in different categories, and employee longevity awards.

History professor Brian Waddington, the recipient of the Shining Star for Life Long Learning, said he was honored to be recognized.

"College is about inquiry, wanting to know, wanting to learn," Waddington said. "To have influenced somebody in that direction is outstanding."

But the loudest applause greeted recently retired library media technician Shirley Porch, who was honored for her 40 years of service at Citrus College.

"The year was 1972. Watergate was making headlines, a gallon of gas cost 55 cents and Shirley Porch was a new employee at Citrus College," Langford said in his introduction to her longevity award.

"I will miss the college environment and working with the Citrus family," Porch said in a statement. "However, I am looking forward to starting a new adventure outside of Citrus."

On the first day of classes, Completion Corps representatives assisted students with accessing their college email addresses, provided them with a student success to-do list, and asked them to sign the completion pledge.

A "College of Completion" was the theme of Citrus College's Fall 2012 Convocation on Aug. 24, where staff, faculty, and administrators were challenged to sign a "Count Me In" pledge to bolster student success.
---
---