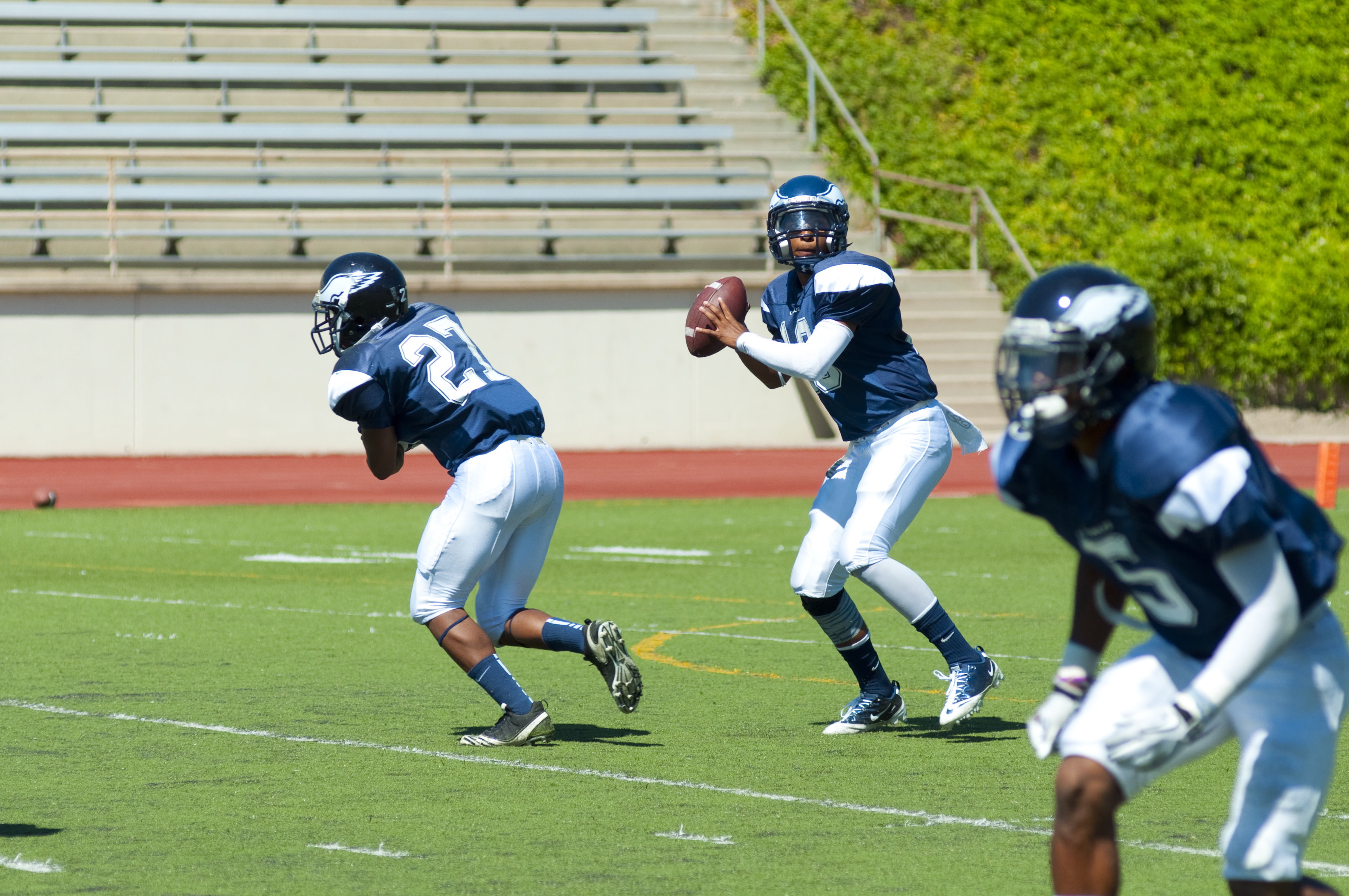 ---
But on Saturday, it was Citrus (1-0, 1-0 NCC) who showed PCC (0-1, 0-1 NCC) the ropes in a convincing 35-14 win in the Owls' home opener. Freshman quarterback Bernard Porter was 18 of 28 for 227 yards and 3 touchdowns, adding a 2 yard rushing touchdown for good measure in his college debut.

"My play starts with my O-line. They had a great game, which led me to have a great game and our receivers had a great game," Porter said. "The first snap I was kind of nervous since it was my first college game, but as I saw what the defense was doing I relaxed."

"He's a special guy," added Citrus head coach Ron Ponciano.

Citrus struck first on their second drive of regulation with an 8-play, 78-yard drive capped by a 25-yard touchdown pass on a screen from Porter to sophomore running back Andre Holmes. The extra point was unsuccessful, giving the Owls had a 6-0 lead.

The Lancers had a chance to cut the lead in half on the next drive, but freshman kicker Martin Magana missed a 30-yard field goal try wide left.

PCC more than made up for the missed opportunity two series later when Lancer QB Justin Posthuma linked up with tight end Lance Tongakilo in the back of the end zone from 6 yards out. Citrus then scored 14 unanswered points as they utilized their own QB-TE hookup on the ensuing possession, when Porter found freshman Robbie Haines for a 9-yard touchdown.

The Owls went for two and converted, then broke the game open when Lancer freshman running back Cameron Washington fumbled the ball on the first play of the next possession.  Citrus recovered at the PCC 39 yard-line, then punched it in 6 plays later on a 2-yard carry from Justin Robles to push the lead to 21-7.

With only 59 seconds left in the half, the Owls seemed poised to go into the locker room with a healthy lead when Posthuma linked up with speedy freshman wide receiver Tairon Owens for a 49-yard touchdown on the second play of the drive, cutting the lead to 21-14 at the break.

"Defensively, I'm not sure if we could play poorer," Ponciano said, as the Owls were often gashed in the passing game. Lancers' wide receivers Jeremiah Andrade and Owens combined for 9 catches and 214 of Posthuma's 279 yards. Ponciano was also unhappy with the Owls' execution, as both teams accrued over 150 yards in penalties.

After giving up 216 yards to PCC in the first half, the Owl defense stiffened in the second.  The Lancers fumbled twice, were intercepted once, and turned the ball over twice on downs in a scoreless effort. The last two scores of the game both came from the Owls in the third quarter, capped by Porter's 2-yard touchdown to make it 35-14.

"If I could tell you [what went wrong] I'd be rich. I could write a book and make millions of dollars," said Lancers' offensive coordinator Shandon Silva.  "What we're going to have to do is go back to the tape, take a look at what we did right and wrong, and just get better off of that."

Ponciano took it upon himself to make sure the Owls improved defensively before the team's next game against Moorpark next week.

"We didn't tackle well, and that's my fault because we don't tackle much [in practice] because all you hear about is injuries, injuries, injuries," Ponciano said. "We've trained guys to be soft. We're going to train a little bit tougher."

The Owls play at Moorpark Saturday, Sept. 8 at 1 p.m.






In the 2011 season, the Citrus football team was playing in the Southern California Football Association's Central Division West. For 2012, a move to the tougher National Central Conference was in store, with the Pasadena City College Lancers playing the role of the welcome party.
---
---