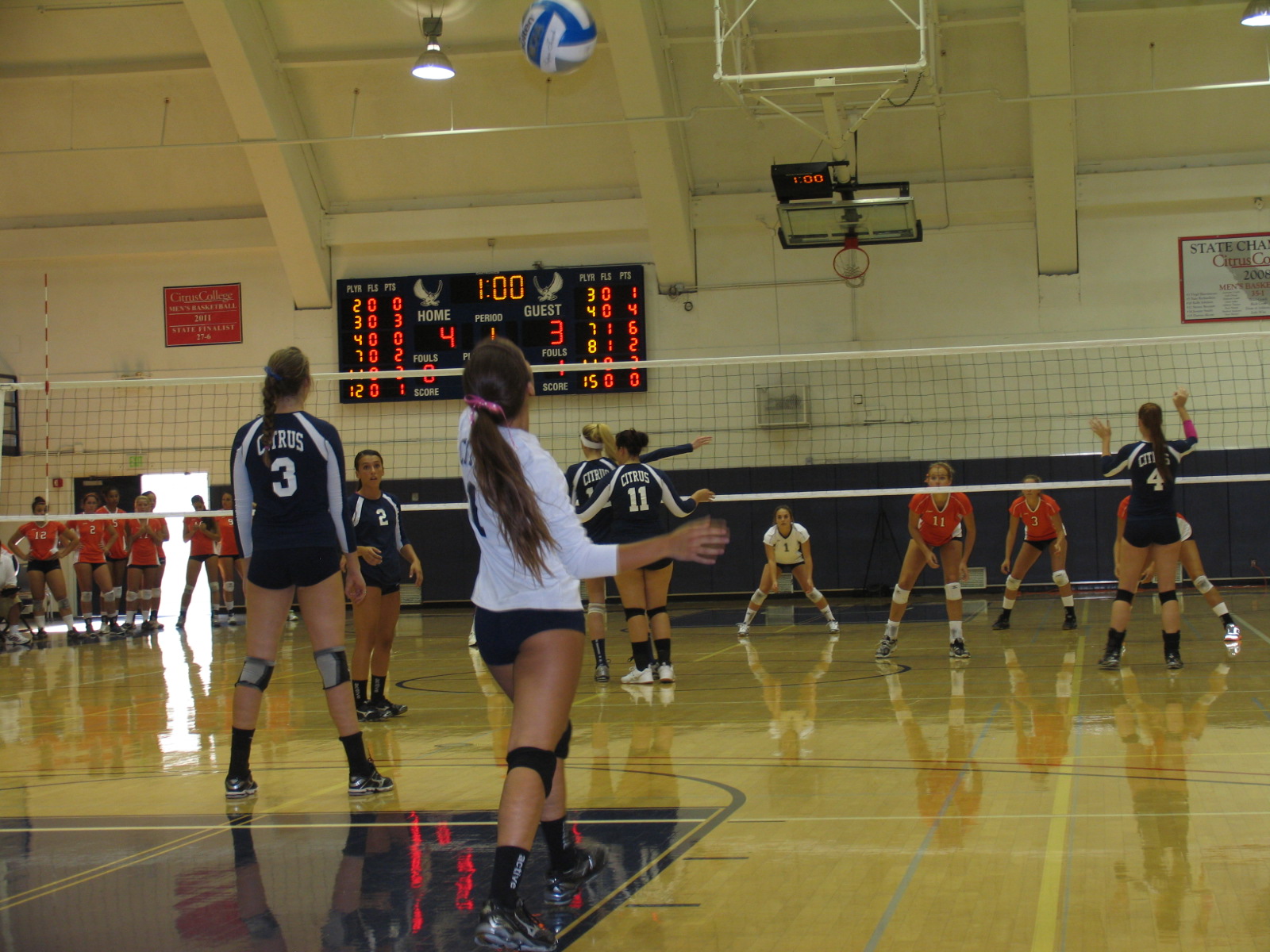 ---
Citrus had problems containing the Pirates' sophomore outside hitter Karlee Riggs all night, who effectively attacked the right side of the Owls' defense to the tune of a match-high 18 kills. Riggs was stellar defensively as well, as her 14 digs were another match-high mark.

"She is a very dynamic player, and she's difficult to block even when you have good blocking," said Citrus head coach Shin Jung. "That team is going to be as good as she takes them, so you have to tip your hat to her."

"When [setter Amanda Stone] was front row it was easier for me to go down the line," Riggs said. "But when the two bigger blockers were up I kinda just used the block to tool them and hit them out or go up high and hit right over them."

Orange Coast sophomore middle blocker Angela Johnson bolstered Riggs' efforts with a game-high .588 hitting percentage that included 10 kills of her own.

"I think it's an advantage for us returning six starters," said Pirates' head coach Chuck Cutense. "At the community college level, that's always important."

Especially so for the Pirates. Riggs, along with starting sophomores Allison Lumsden and Morgan Lin, were all named to the 1st Team All-Orange Empire Conference as freshman last year. The team is thought to be one of the favorites for a CCCAA state title this year.

For the Owls, middle blockers Kimberly Collins and Kayla Eddings also had 10 kills in the losing effort.

Though Orange Coast cruised along for most of the game, Citrus was able to cut a seven-point lead by the Pirates down to just two in each set, but were unable to completely stymie the Orange Coast offense for lengthy periods of time.

"Tonight, our pin hitters were unable to score and that killed us," said Owls' head coach Shin Jung. "The key for our success is to keep getting better every day and make sure we play defense better than our offense, because our offense will get there. Defensively, we have to get better."

The Owls will play in the Victor Valley Tournament tomorrow. The opponent and start time of the first game have yet to be determined as of press time.






The Owls' volleyball team (1-3, 0-0 WSC) failed to hold up against an offensive onslaught from the Orange Coast College Pirates (2-0, 0-0 OEC) in their Sept. 7 matchup, going down in straight sets, 25-19, 25-21 and 25-22.
---
---