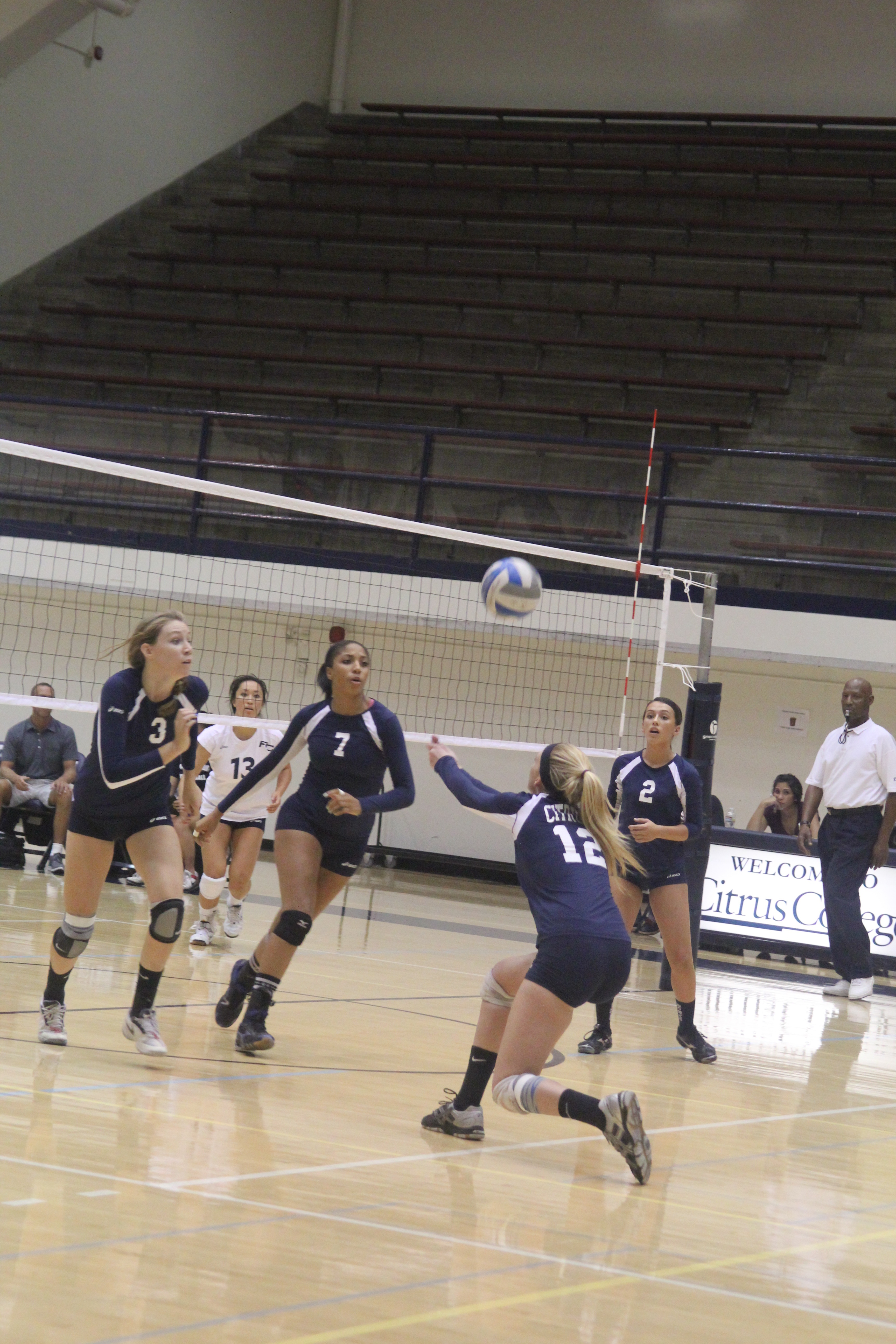 ---
A lot of the principles in sports boil down to common sense.
For example, conventional wisdom says that teams on long breaks won't perform as well when they start playing games again. Hence the reasoning behind preseason games.
Also, conventional wisdom says that teams without a ranking aren't supposed to beat teams with rankings. Hence the reasoning behind ranking systems.
Oh, and one more thing—sports has a funny way of throwing conventional wisdom out the window. Just ask the Citrus Owls volleyball team (4-3), who were able to thoroughly outclass the #13 ranked Fullerton Hornets (4-2) Sept. 19, winning in straight sets 25-23, 25-17 and 25-15 after coming off their longest break of the season.
"We had a good week and a half of practice, so we were able to iron out some of the problems we had," said Owl head coach Shin Jung, who hadn't seen his team in a game since Sept. 8. "Tonight it was all about effort. I know it's a cliché, but that's what it takes to win against a good team like Fullerton."
Not to mention execution. The Owls were potent on both sides of the ball, notching 41 kills to the Hornets' 29 while managing to contain Fullerton's star outside hitter Jordyn Hecker, whose 14 kills came off a whopping 47 attempts—over a third of the team's total.
But what seemed to be working against the Hornets the most were the Hornets themselves. Tied at 22-all in the first set, Fullerton committed two of its 10 errors in the frame to allow the Owls to eke out the set 25-23. After dropping the second and falling behind 15-10 in the third, Hecker scored five Hornets points in a row to make it 17-14, only to fault on her next serve. Fullerton would never get closer than that the rest of the game.
"Poor timing on those errors gave them that first set . . . and that kind of set the tone for the next two," said Fullerton head coach Eddie Rapp. "[Volleyball] is a game of momentum."
The momentum for Citrus came unexpectedly, when starting outside hitter Kyla White had to come off the court with an ankle injury with the score knotted up at 12-12 in the second set. Freshman setter Maria Medrano subbed in and immediately contributed with an athletic dig that didn't result in a point, but visibly energized her squad.
"[Maria] comes off the bench and she will give you instant defense and 100 percent effort as well," Jung said. "She dug that ball, which didn't give us a point, but it gave us an opportunity."
Sophomore middle blocker Kim Collins, who had a team-high nine blocks, thought that the long layoff actually worked to the Owls' benefit.
"We've been working all throughout practice on not only our middle [blockers], but also our outside [hitting] and passing," Collins said. "It was a team win. We weren't focused on just one aspect of our game."
Jung thought the win was the team's biggest win to date, given the mixed results the team had in prior games.
"The win is big in two senses. Number one, it gives us an opportunity to know that we are a good team, a team to contend in our conference and in the state," he said. "Number two, it just boosts the morale for the team itself."
"We needed a huge win like this so the team understands that they are a good team. There's no doubt we're a good team [now]."
The Owls' next game is at Ventura at 7 p.m.
---
---