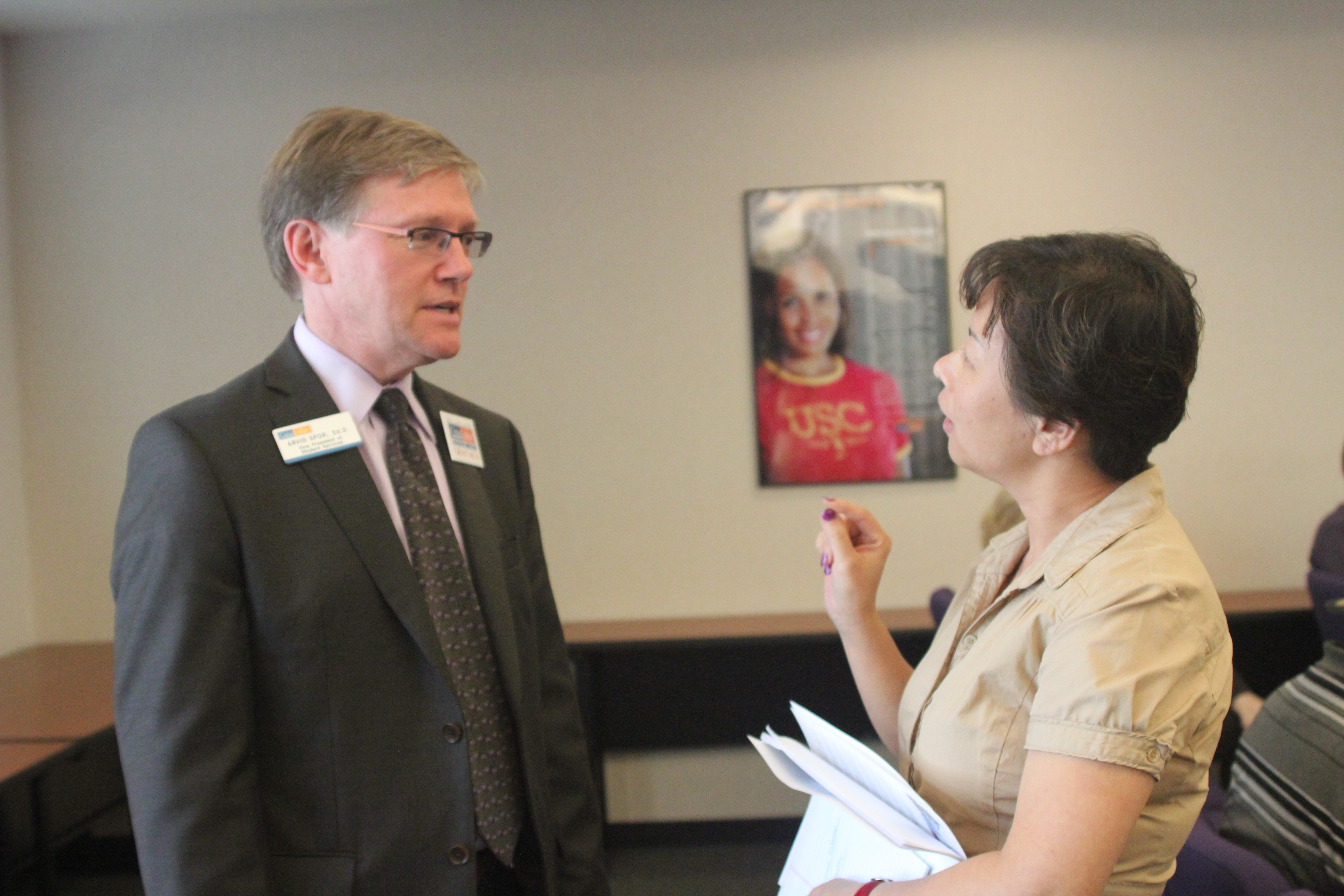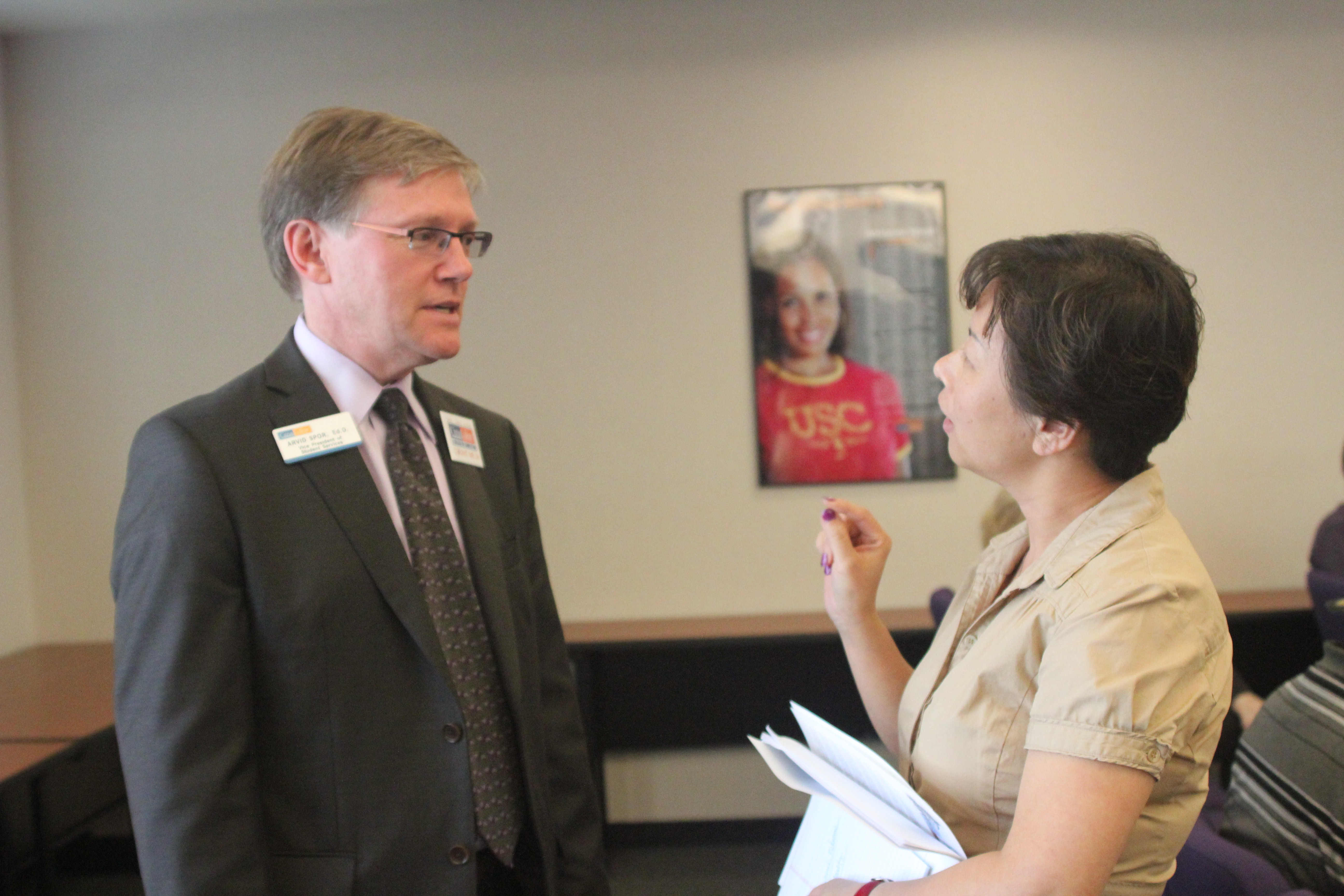 ---
Although the role of vice president is a new one for Spor, he is sparing no expense to get Citrus and its students on the track to success. He plans to apply for federal grants that could potentially bring in $1 million by fall 2014. He also is looking forward to working closely with student government representatives.

"I liked working with the Associated Students," Spor said. "What I made a point to do was work with and stand by students at various meetings, so I could show my support in any way possible."

His goals include improving student success and completion rates in required courses, facilitating transfer to desired schools and raising the number of students graduating from Citrus with degrees. His focus is on the Student Success Initiative, which requires students to have an educational plan before or within the first year of their college experience.

"The whole thing is geared toward the College Completion Act, how can we increase graduation rates, how can we increase transfer rates and what are the steps we need to take to get there," Spor said.

Before coming to Citrus in August, Spor was dean of enrollment services and dean of community advancement at El Camino College. He provided leadership at the Compton Center and chaired and co-chaired many committees, including the El Camino College accreditation self-study.

"Dr. Spor is an excellent choice to lead the many programs, departments and offices comprising Citrus College's Student Services Division," said Joanne Montgomery, president of the Citrus Community College District Board of Trustees. "He brings with him a wealth of experience in community college administration and has a strong leadership background.   We are confident that he will be an asset as the college moves toward the future. "

Spor earned bachelor's degrees in psychology and business from Oregon State University after attending Portland Community College. He was granted a master's degree in counseling from CSU Long Beach and earned his educational doctorate in educational leadership from USC. His dissertation was titled "Persistence Among Low Income Community College Students."

Geraldine M. Perri, Ph. D., superintendent/president of Citrus College, said in a memo that Spor's impressive educational and professional background made him the ideal candidate for the job of vice president of student services.

"In this new position, Dr. Spor will manage a variety of college offices and departments that are crucial to providing students with a quality education," she said. "His extensive knowledge and experience will be extremely valuable as the college continues to deliver services that help students achieve success, complete college and meet their educational goals."

Spor has high hopes for Citrus. He said that his mission is to encourage faculty and students to work together more closely, improve the campus experience for everyone, and actively listen to what students and staff have to say.

"Any place I have ever gone, I find it is always best to listen," Spor said, "It is important to get to know the place, the people, the students and find out why things are the way they are."

"I hope that he will be able to understand student needs and delegate issues concerning us in the right way," said Sarah Regan 20-year-old student, "Especially because he is handling services for the students."

After a lengthy search, Citrus College has hired a new vice president of student services. Arvid Spor brings with him an optimistic attitude for Citrus' future along with 13 years of community college experience from his tenure at El Camino College.
---
---