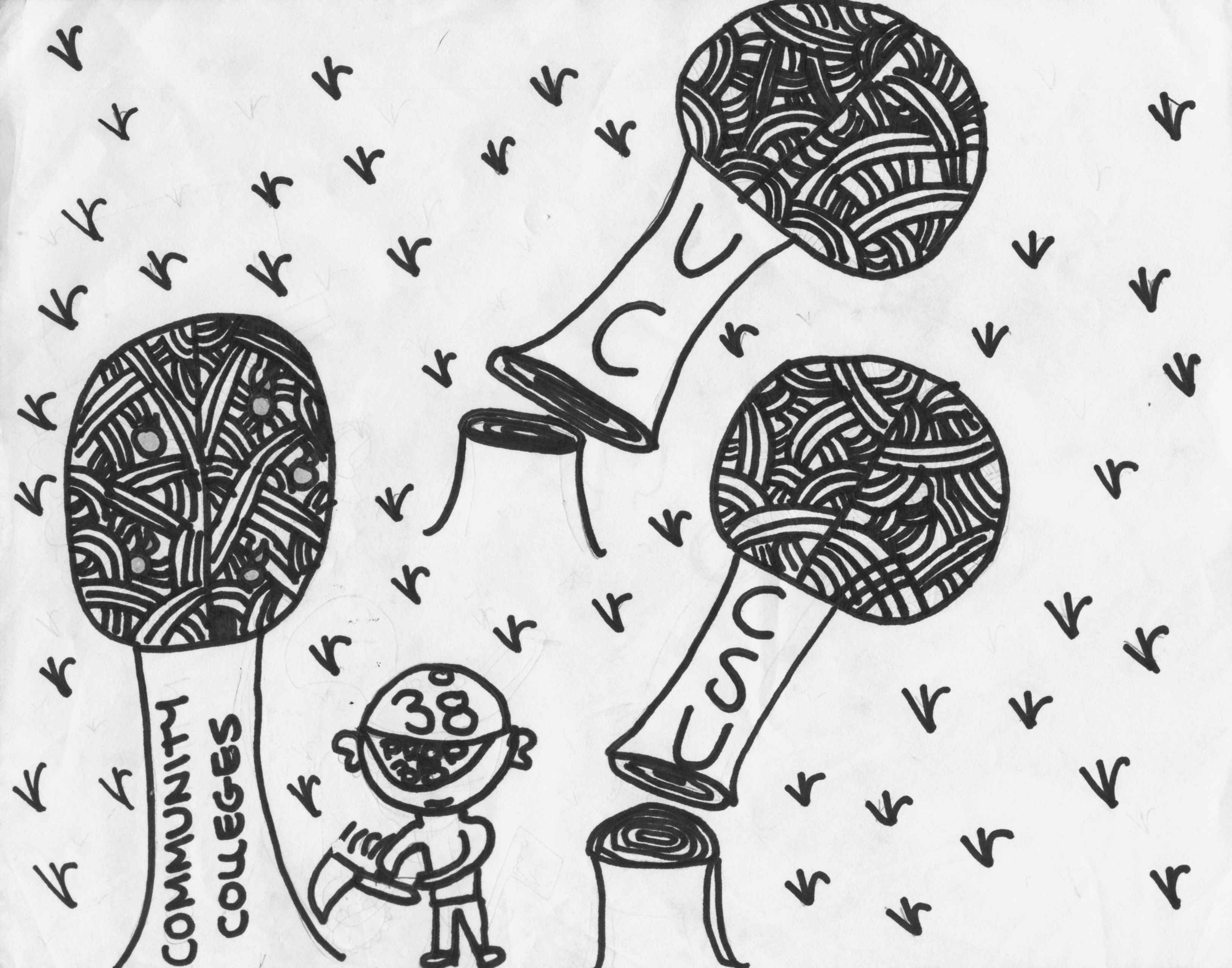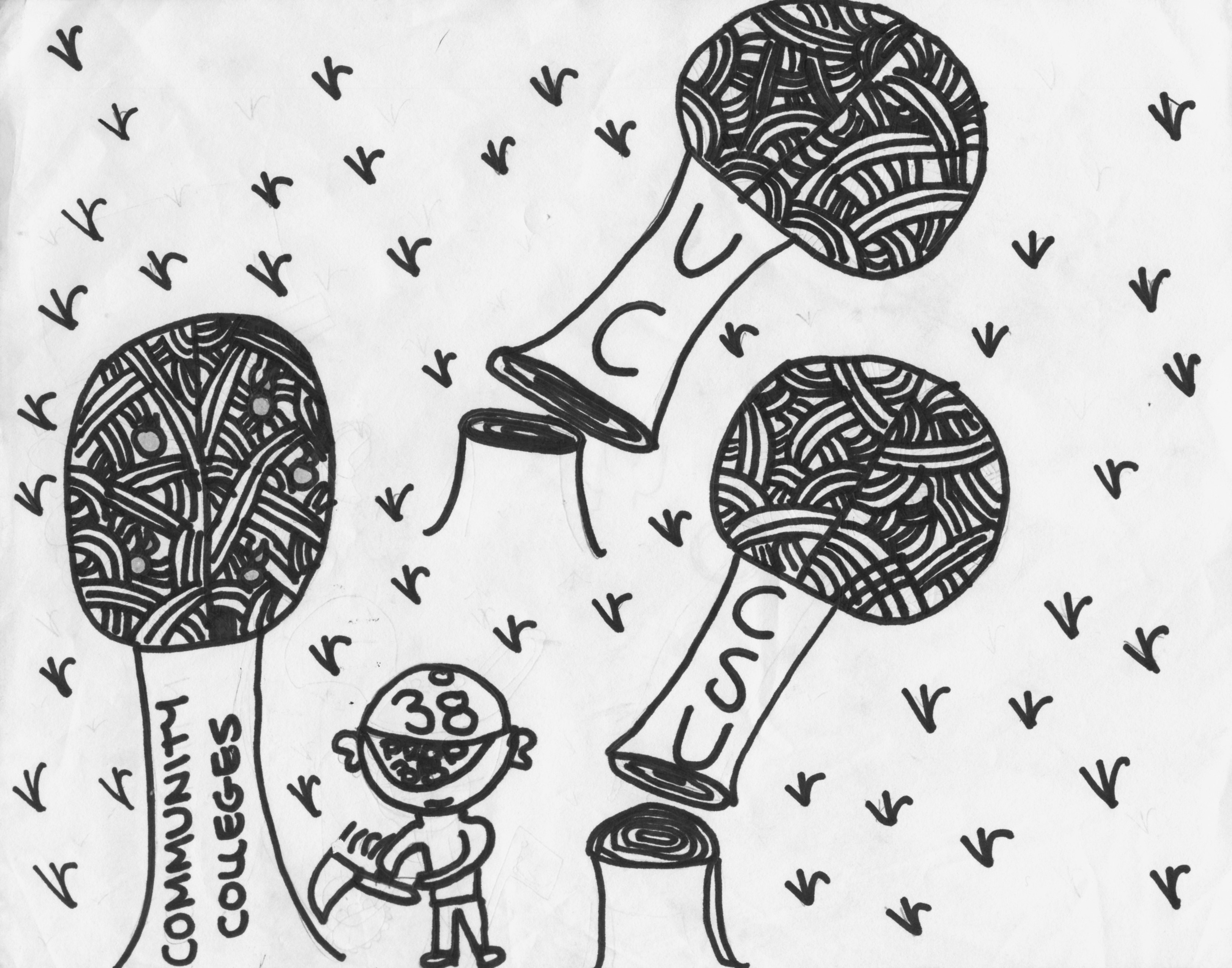 ---
If voters pass Prop. 38, the future looks dim for postsecondary education in California.

Prop. 38 is competing with Gov. Jerry Brown's tax initiative, Proposition 30. If passed, Prop. 30 would use a marginal increase in state sales tax and income tax to give funding to K-12 schools, community colleges and CSU.

Only one of the two initiatives can pass.

The commercials in support of Prop. 38 portray it as the knight in shining armor that will make up for all the cuts that have been made and give K-12 schools and Early Child Care programs the funding they need. But the state is writing checks that Prop. 38 can't cash.
In keeping with California tradition, Prop. 38 would raise income tax for the wealthy to fund its provisions. Unfortunately, most Californians earn more than $7,316 annually (high rollers that they are), so their taxes will increase.
It should also be mentioned that for anyone with an annual income greater than $30,000 per year taxes would be increased by 1.1 percent or more based on income.

However, you have no reason to fear that your tax dollars are going into politicians' pockets. They're actually going to pay politicians' debt. 30 percent of the proceeds from Prop. 38, or roughly $3 billion annually, will be allocated to pay debt that the state owes K-12 schools.

What's more, the ballot initiative will do nothing to alleviate the $961 million that the state owes the California Community College system.

That 30 percent, however, also includes General Fund revenue. For those who don't understand politician-speak, General Fund revenue just means that some of that money will go to the state not schools. So you see, you have nothing to worry about.

In fact, the only people who should be worried about Prop. 38 are people who like it when schools have things like buildings, classes, teachers and those friendly people who serve lunch.

Prop. 38's 27 pages don't mention the $6 billion in "trigger cuts" that are already scheduled for the middle of this school year. These cuts will affect schools from kindergarten to the universities, including a $209 million dollar cut to the California Community College system.

Prop. 38 will, however, provide $1.5 billion to K-12 schools next year. Doesn't that just remind you of kindergarten logic? What the government is essentially saying is "You give me your dime and you can have my penny, and a penny is bigger than a dime, so you win."

While money can't buy happiness, the quality of our education is proportional to the amount of funding schools receive. Because of recent cuts, the number of classes offered has been reduced while student to teacher ratios continually increase. In addition, more than 40,000 educators have been laid off in the past three years.

Text taken directly from Prop. 38 states, "California is shortchanging the future of our children and our state. Today, our state ranks 46th nationally in what we invest to educate each student. California also ranks dead last, 50th out of 50 states, with the largest class sizes in the nation."

In recent years, schools have had to cut student services, programs and part-time faculty to make up for losses in funding. This means that departments that employ part-time faculty, such as the financial aid office, are understaffed and overworked.

While Prop. 38 does set regulations on how the grants would be used, it doesn't demand that schools show improvement in performance rates for upcoming years. It also states that the funds will be designated at public meetings. Some voters fear that $4.2 billion grants in the hands of the PTA might not be put to their best use.

So, if Prop. 38 is enacted taxpayers will pay the government, so that it can pay schools money that it should have paid years ago, with a little extra for the government to keep.

It also means that the government will take $6 billion dollars from schools, including a $209 million cut from California Community Colleges, in the middle of the school year.  In fact, Proposition 30 is the only ballot initiative capable of preventing the cuts.

So if you are planning on voting "yes" on Prop. 38 you must enjoy the thrill of not knowing how many classes will be available next term, or which teachers will still be around.

If you were so inclined, you and a few of your friends could make a "No on Prop. 38" commercial, but unfortunately a group of college students being turned away from an overcrowded class just isn't as cute as little kids in a playground talking about funding. But when Nov. 6, that fateful day, arrives you know what to do.

The passage of Proposition 38 would be hugely detrimental to community colleges, but we just can't compete with commercials showing children laughing, playing and enjoying their well-funded schools, so we'll just have to deal with it.
---
---