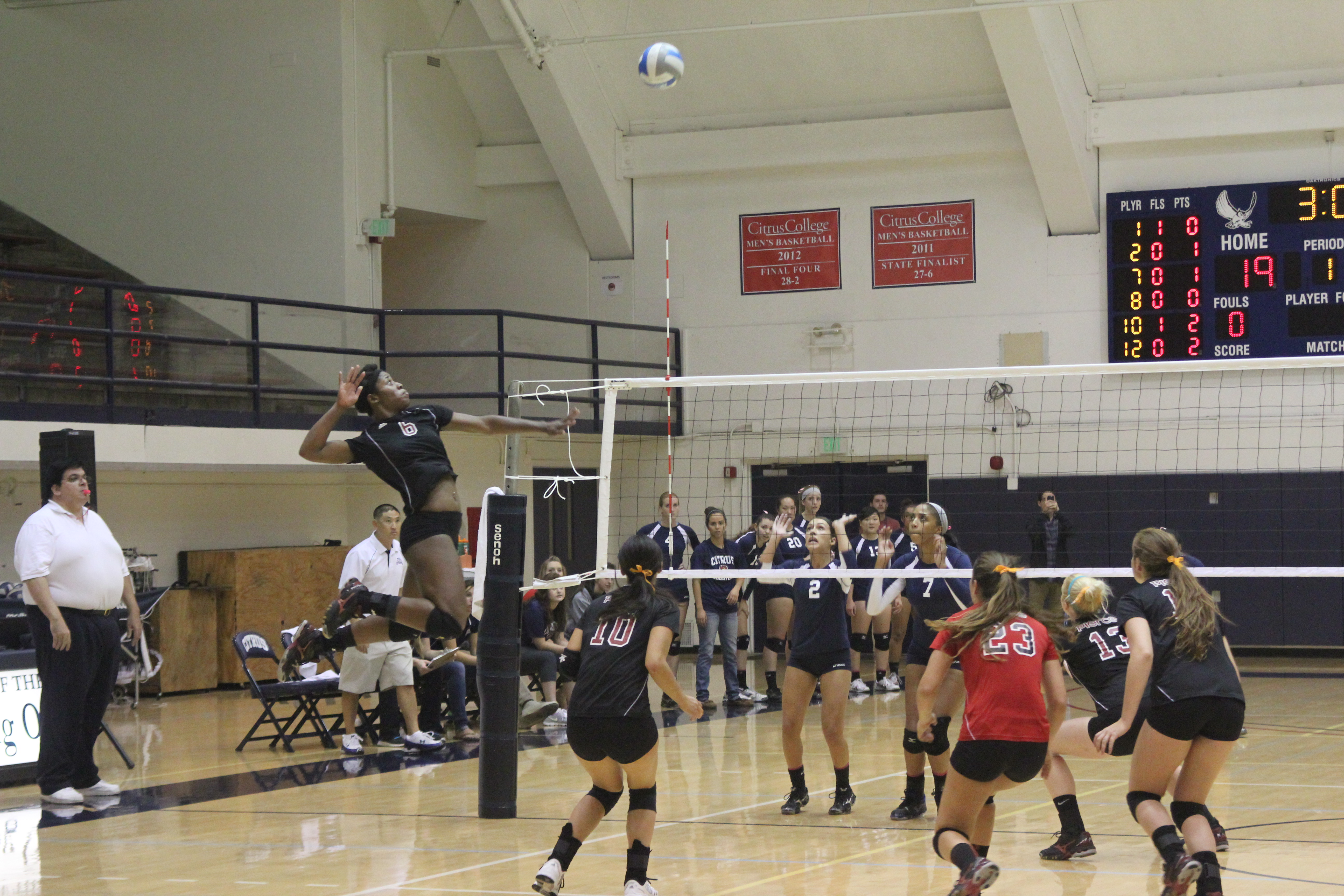 ---
Playing a team that is almost twice as big as yours, who also happens to be number one in the state, is not particularly something any volleyball team looks forward to. It showed Wednesday night, after #17 Citrus lost against #1 LA Pierce College in straight sets, 27-25, 25-21 and 25-26.
Undefeated now for 55 games in a row, Pierce (22-0, 7-0 WSC) consistently put the pressure on Citrus College (10-6, 4-3 WSC) as they won three sets in a row.
"Our effort. I liked our effort." said Citrus head coach Shin Jung, "If we didn't have that, we would have been demolished."
It seemed like Citrus could not really focus on only one player from Pierce since every player provided fire with every play, but Danetta Boykin and Sakurako Fujii, both outside hitters, needed to be kept an eye on as they each scored over 10 kills for the Brahmas.
"Pierce has a complete team," said head Coach Shin Jung, "we can't just try to shut down one player because everybody else is as good. But mentally, we were ready. Physically, we were ready."
In fact, Citrus was very close to winning the first two sets as they ended the first set 27-25 while holding three set points in the process. The pressure got to the Owls though, and they quietly lost the next two sets.
"Communication was lacking and we just needed to get our heads back in the game," stated Kim Collins, sophomore middle blocker for Citrus College. "We have to come back stronger tomorrow and play Canyons on Friday."
Brahmas head coach Nabil Mardini said it hasn't been hard keeping his nearly-invincible team motivated through their astronomical win streak.
"That's part of the challenge. For me, it's not hard," Mardini said. "You gotta come to practice, you gotta keep getting better. You know everybody's gonna give you your best game. You just have to be prepared."
Citrus hosts College of the Canyons on Friday, October 26 at 7 p.m.
---
---