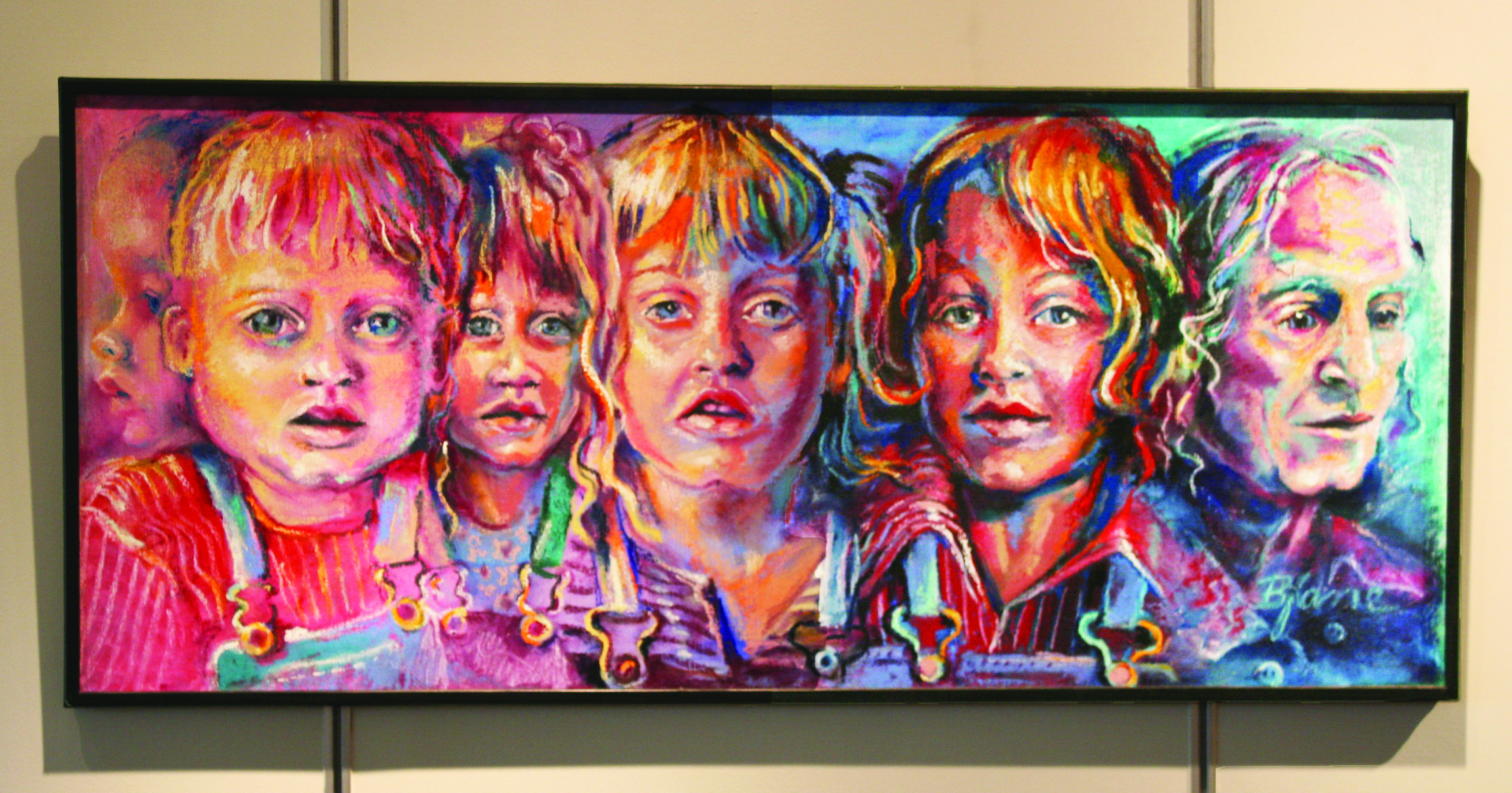 ---
An opening reception is scheduled today from 6 p.m. to 8 p.m.

Lane began painting 29 years ago at the age of 19 when she was a student at Citrus College. She received a grant to continue her studies and used it to take an art class.

"Creativity is so important to the human soul," Lane said.

Some of the works that can be seen at the gallery are paintings of street life featuring people walking and vehicles on city streets and at intersections. Other paintings are of family portraits of her children.

In one self-portrait, Lane is seen looking into the sunset with faded mountains in the background.

In the painting she utilizes the artistic technique of forced perspective to tell the viewer to focus on her, since the painting holds special importance to Lane. She said it reminds her of a moment in her life where she had to deal with the passing of a relative.

Another piece in the exhibit shows Lane posing while painting her likeness with the help of a mirror that captures the image of a beautiful garden behind her.

The artist said that the painting illustrates her many different sides.

Lane says she wants students that are artists to use "Out Of The Closet" as a source of inspiration to express themselves through artwork and feel liberated.

From 1981 to 1996 Lane actually took a break from exhibiting—but not painting—after her oldest daughter Tanya was born. When her youngest child Tammy was born with autism in 1991, she extended her hiatus from exhibiting in order to care for her.

Lane returned to exhibiting in 2006. Since then she says she has completed 300 pieces of art and 60 exhibits.

Self portraits usually project the way the artist is feeling, and Lane agreed with that concept.

"Each self portrait is [created] for a reason, whether it is sadness or excitement," she said.

Lane is also an art instructor at the Creative Arts Group Gallery in Sierra Madre, a non-profit organization, and hopes to encourage people to do artwork whether with ceramic, airbrush, or sculpture.

"She does a lot of work that seems to be Los Angeles centered," added library technician Karen Praeger, who has followed some of Lane's artwork at the L.A. County Fair and the Creative Arts Group Gallery.

Praeger also describes her as very friendly, charming, and outgoing person.

The "Out Of the Closet" exhibit will run through Dec. 7 at the Hayden Memorial Library.

The gallery is open from 7:30 a.m.-7:30 p.m. Monday through Thursday and 8 a.m.-4 p.m. on Friday.

"It's a great opportunity for students to see exceptional work," said Citrus College art professor Michael Hillman.

The "Out of the Closet" Exhibit at the Hayden Memorial Library will showcase Citrus College alumna BJ Lane's self-portraits and landscapes, and will run through Dec. 7.
---
---