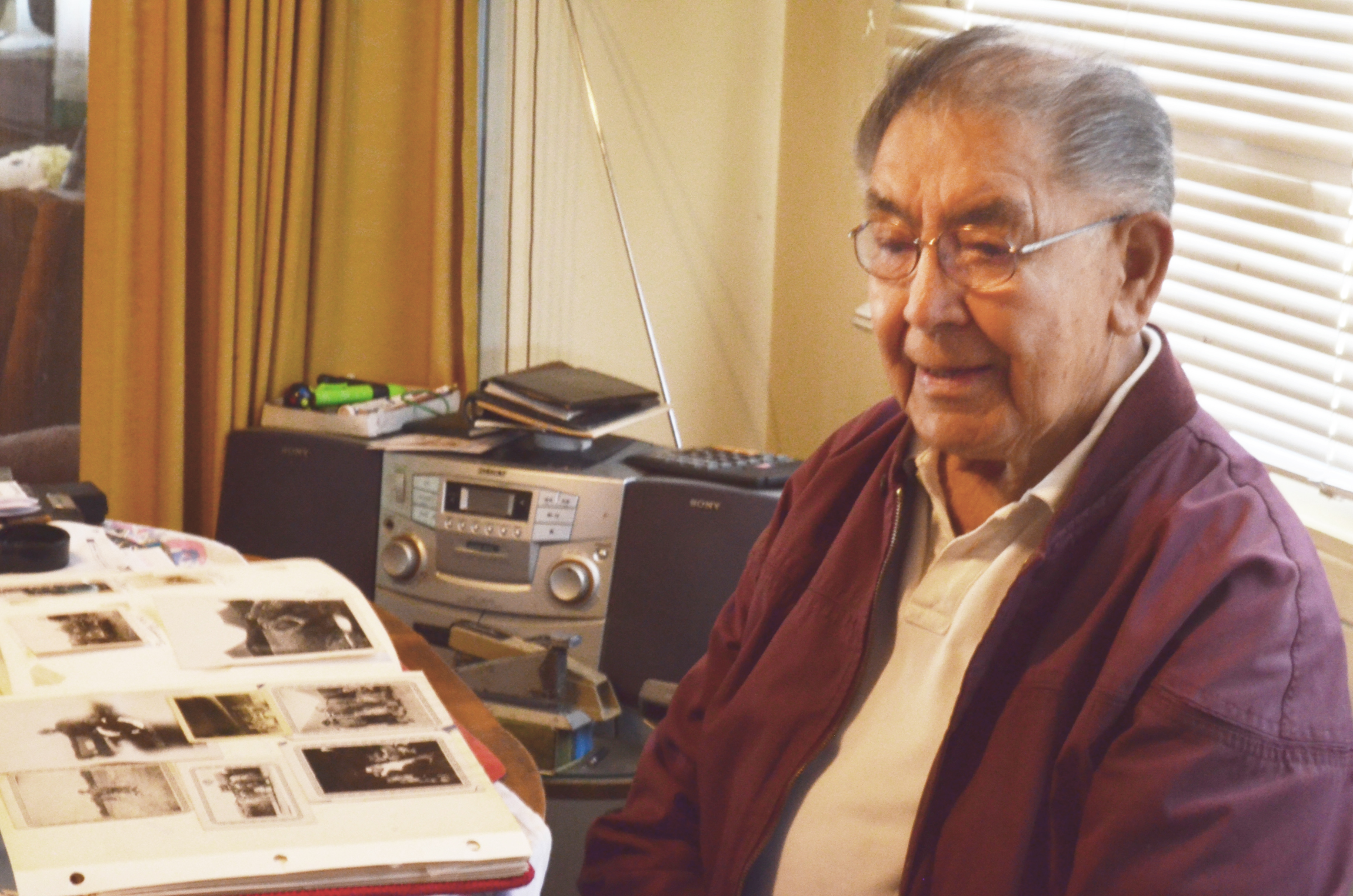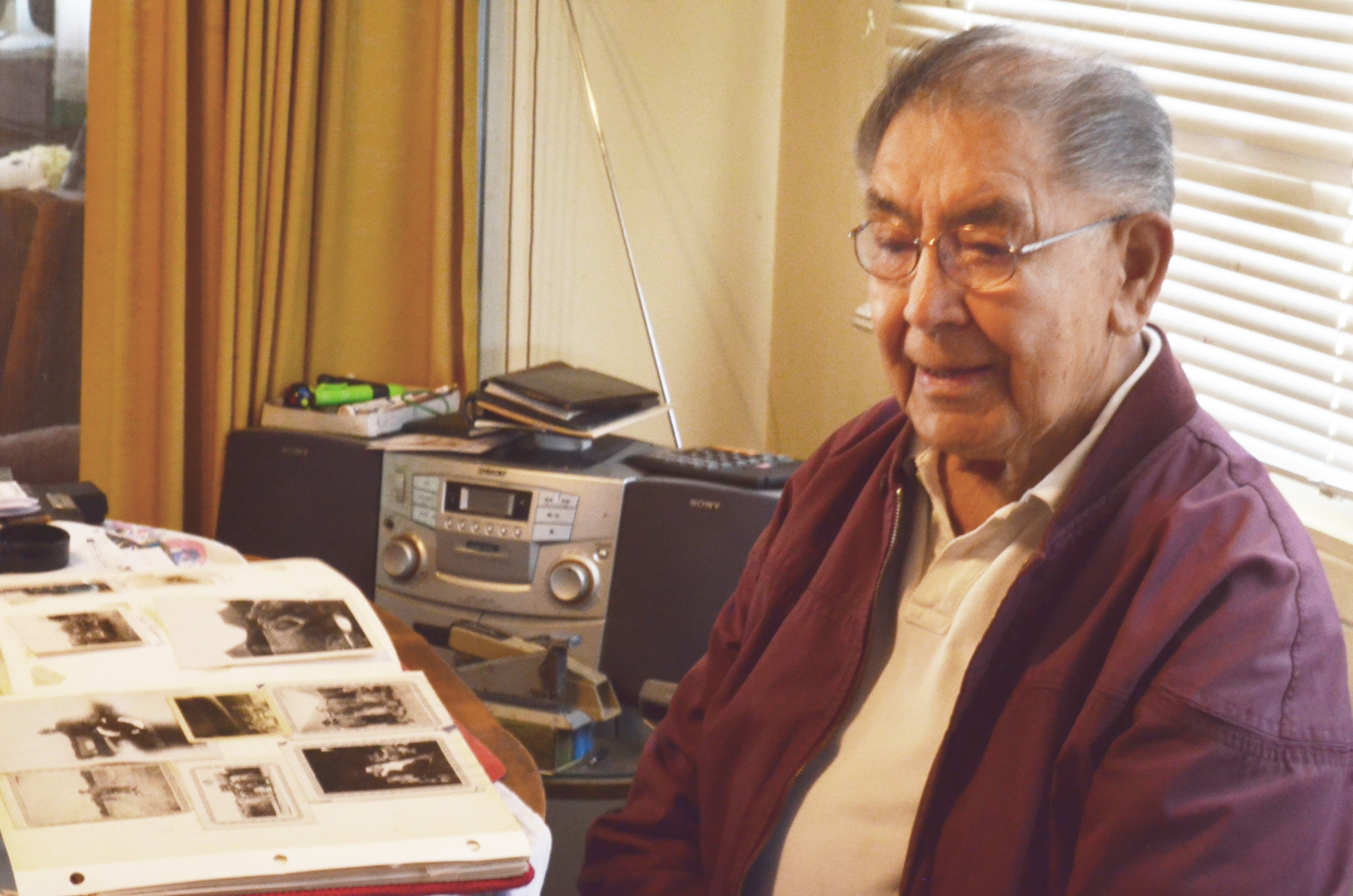 ---
"Sometimes my memory fails me, but I remember my time in the war as if it were yesterday."  —
Johnny Granados, 92, resident of Azusa.
Johnny Granados was born in Emporia, Kan. on May 23, 1914, into a family of seven brothers and two sisters.  His parents Pomposo and Lucia moved the family west to El Monte, California in 1924.
Granados was drafted into the Army during World War II on Jan. 22, 1942. His military journey began in Camp Roberts, Paso Robles, to Camp Barkley in Abilene, Texas.  He was then transferred to Desert Center in California, then moved to Fort Dix in New Jersey and finally to England in January, 1944.
When he was stateside, Granados trained with the foward observer units but he was trained primarily with the 105 Howitzers artillery unit practicing their maneuver strategies.
When he went to Europe, he was assigned as a forward observer, driving an officer and two armed soldiers at all times.
Forward observers supported fellow soldiers by relaying instructions to adjust ground or naval gunfire.
Granados drove officers traveling close to the front lines to pass along intelligence.  This prepared the troops for engagements with hostile forces.
He was also responsible for selecting and training the two soldiers who were with the forward observations unit.  Part of the hardships of war was having to replace those two soldiers if they were wounded or killed.
"It was very hard. Those men were my friends," he said.
Granados said he felt his job outside of the trenches played a large role in his survival on the front lines.
He also served with the 3rd Army under legendary Gen. George S. Patton, traveling in France from Utah Beach with the troops to St. Lo and then on to Paris and to Metz.
On D-Day, June 6, 1944, he was with the first Army units that crossed Utah Beach on the Brittany Peninsula in Normandy, France.
"That moment will never go out of my mind," Granados said.
When his unit disembarked from the barge, Granados' jeep was the first one off.  To his surprise, it sunk so deep he could taste the water. He thought he would have to abandon the vehicle, but somehow it managed to float.  He then hit the beach to become part of the now legendary D-Day European invasion.
Granados and his fellow soldiers were very aware of their marks being made on history.
"Oh yes, we knew," he said.  "Soldiers can be very gossipy, plus we had our military publication Stars and Stripes."
During World War II, the newspaper was printed in dozens of editions in several operating theaters.  Some of the editions were assembled and printed very close to the front lines in order to get the latest information to the troops.
Granados recalls a time he encountered a sniper at the top of a hill shooting at another group of allied soldiers.  Soon, the sniper had shot and killed the soldier manning the machine gun protecting them, leaving them vulnerable.
"I remember that their position was interfering with the radio and they could not reach anyone for help. Our lieutenant ordered them down the hill.  I didn't think it was the right thing to do, but I followed orders," he said.
"I remember seeing our lieutenant starting down the hill and run behind some trees. The trees were booby-trapped and he was injured.  Then the sniper shot the second guy in the back of his legs and I told them both to stay there and that I would send help back."
"When I got up to run, I remember falling so hard that I went very deep into the snow.  Still, I could hear and feel the bullets flying past my head. Soon I picked up frequency for the radio and called for help that didn't come until 5 or 6 in the morning."
"Then we had to go back up the same damn hill we had just barely made it down from safely.  When I reached the top, I remember clearly a deep feeling of desperation.  I don't know if it was because of the darkness or the cold, but it was the only time I truly felt scared. I thanked God for saving my life that night."
Granados had more than his fair share of close calls.  He remembers a time his lieutenant and an armed soldier were in a building when the power was blasted out by the Germans. After he was ordered outside to assess the situation, a shell came down and blew up the building he had just exited, killing the lieutenant and injuring the sergeant.
Granados also remembers many stories of good times in farm houses where people took them in and shared their food, as well as stories of frightening encounters with the Germans.
In September 1949, he began working for United Insurance of America. Just three months later, Granados was being presented to the company as the top salesman in the company for the quarter. He stayed with that company for 44 years.
Life has changed in the years since he served his country. Although he never returned to Europe after the war, his memory is clear when he tells his stories.  His granddaughter, Nina, who lives with him in Azusa with her daughter Alexis said, "He's my hero from all the things he experienced in the war. I love the stories."
He reminisces about old friends who are no longer here and speaks fondly of those who come to spend time with him as he looks at many pictures of children and adults alike.
Although he wonders what the future holds for him, he just takes it one day at a time.
---
---