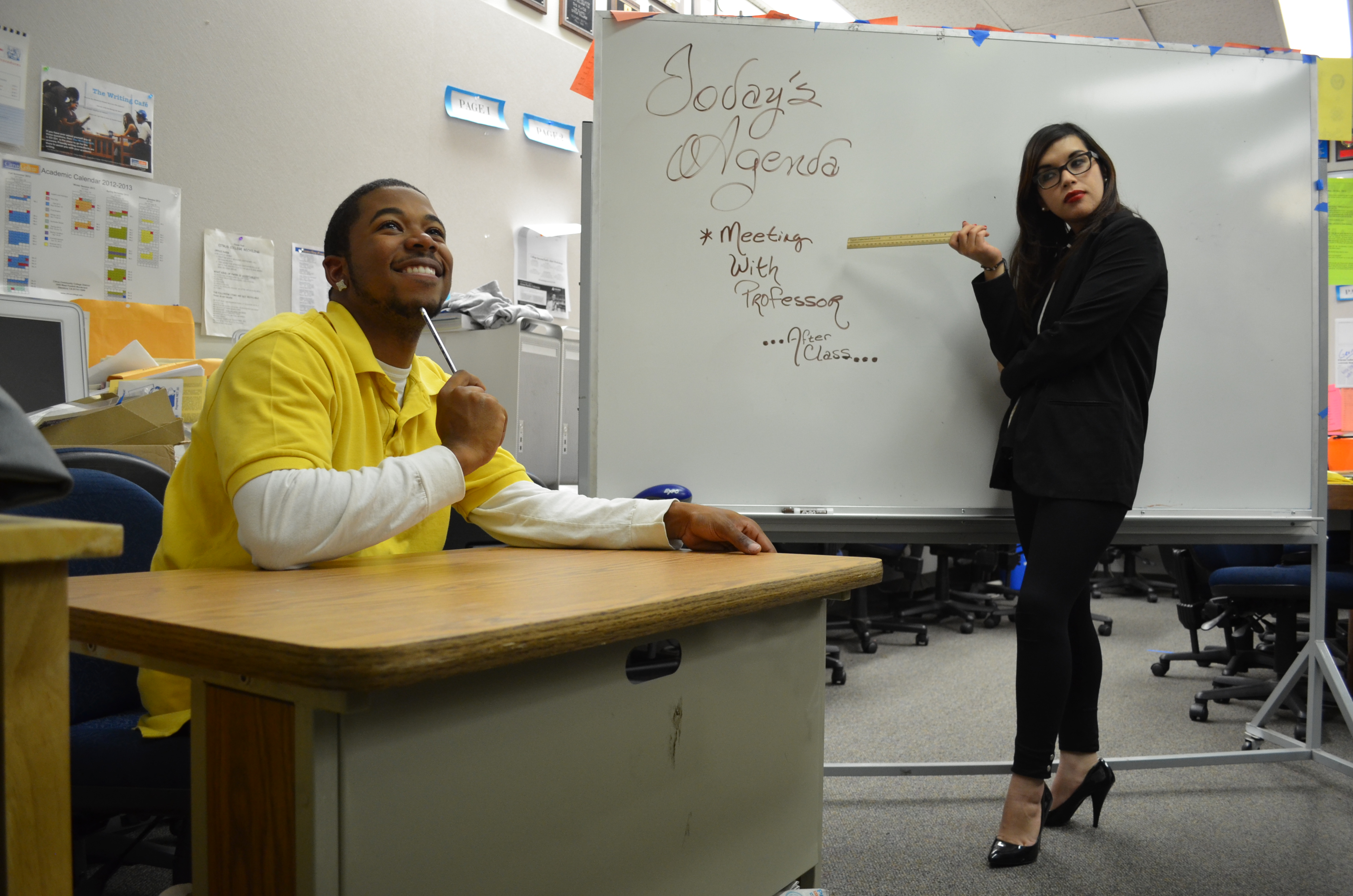 ---
What responsibilities, if any, do consenting adults have when it comes to mixing sex and education?

*    *    *    *    *

David Tate: I'm pretty sure we've all had a crush on a teacher at one time or another. So which one of your teachers made you want to do some extra studying?

Melanie Gudino: I had a crush on my history teacher when I was a sophomore in high school. He was in his early twenties—really young. I think he had just got out of the military. But high school is a different story.

DT: I think we can both agree that high school students are rightfully off-limits. But we're in college now. Do you think there's anything wrong with students and professors starting relationships?

MG: I don't think so. What happens if a student and a professor meet outside of campus, like at a bar or any social event,  and they get involved? In 45 states, it is not a crime for school employees to have sex with students age 18 and older according to Counter Pedophilia Investigative Unit. Those high school kids turn into college students, where they constantly hear about how they're adults now—if that's really true, what's wrong with an adult relationship with a professor?

*    *    *    *    *

To get some clarification on why the school frowns upon student-instructor relationships we talked to manager of human resources/staff diversity Brenda Fink.

"The concern that the college has is the conflict of interest that can occur even when a relationship may be in a positive place," Fink said.

"If a relationship spoils or goes bad in some way it becomes very difficult and very awkward in a classroom situation and often both parties end up feeling some level of harm."

And to get a better idea of the faculty's perspective on things, we figured the best person to talk to would be a faculty member. Academic Senate president and former Glendora Police Department lieutenant Jim Woolum had some extra information for us.

"Relationships between students and professors aren't anything new." In fact, Woolum said he knows of two Citrus College professors who ended up marrying Citrus College students. But the important distinction Woolum wanted to make was that the professors in question went about things "the right way."

"The right way to do it, is to start with both parties being single," Woolum said.

"The second criteria would be to make sure that the student is not in the instructor's class. When the instructor has control of a grade, success, or progress. I think at that point any relationship other than a professional instructor-student [relationship] is inappropriate."

*    *    *    *    *

DT: For men, a sexual relationship with an older woman is a popular fantasy. I think the woman in a position of power is another thing that makes the relationship even more appealing—if the professor is an attractive female it's a double whammy.

Let's say you have an English research paper due and you end up doing your English professor instead. I don't think the average student is going to handle a failing grade like an adult and male professors have to be especially cautious.

MG: I think that students have to be responsible as adults if they start (or end) a relationship with an instructor. We tend to get upset easily, but it's important to realize actions in the heat of the moment have far-reaching effects on other people's lives including the professor's job.

DT: I feel like a professor should remove himself or herself from that situation. I just couldn't see myself attempting to start a relationship with a student, no matter how good she looks. For one, it's just dumb given all the things that could go wrong.

Two, I think an instructor's control over a student's grade is control over a part of a student's future, and there's a huge potential for abuse. So I guess for professors, once a student is done taking your class and you clock out then I think the relationship would be OK—but if it was me, I would be worried.

MG: Do you think we're hearing about more of these cases for a reason?

DT: I spoke to a professor about this, and she said that it's not an increase in the rates of student-teacher relationships, it's an increase in the rates of people getting caught. I think it's a little bit of both. I know some guys will forward a 10 p.m. sext message from a girl to all their close friends before 11p.m. I don't believe that those guys can suddenly flip the discreet switch to OFF, especially when showing photos of a teacher will win them the admiration of their peers. Technology and Twitter have changed everything.

MG: It's 2012, I don't think people are more sexual than ever before I just think they're more open about it. There isn't anything wrong with a student approaching a teacher as an adult, in a respectful manner, so I think professors should be allowed to do the same.

*    *    *    *    *

It maybe a fantasy to have sex with a teacher but it doesn't mean you should. When you play with  fire in this situation you could get everyone burned. While technology and social media expands, everything will come back to you via text, email, or video.

It might be hard not to think anything sexual about an attrative professor but we'd advise avoiding too many private study groups with your teacher.

The vast majority of college students are adults, and though sexual harassment lawsuits and public perception can muddy the ethical waters, there is no provision in the Citrus College administrative policies that forbids an instructor from engaging in a consensual sexual relationship with an adult student.
---
---