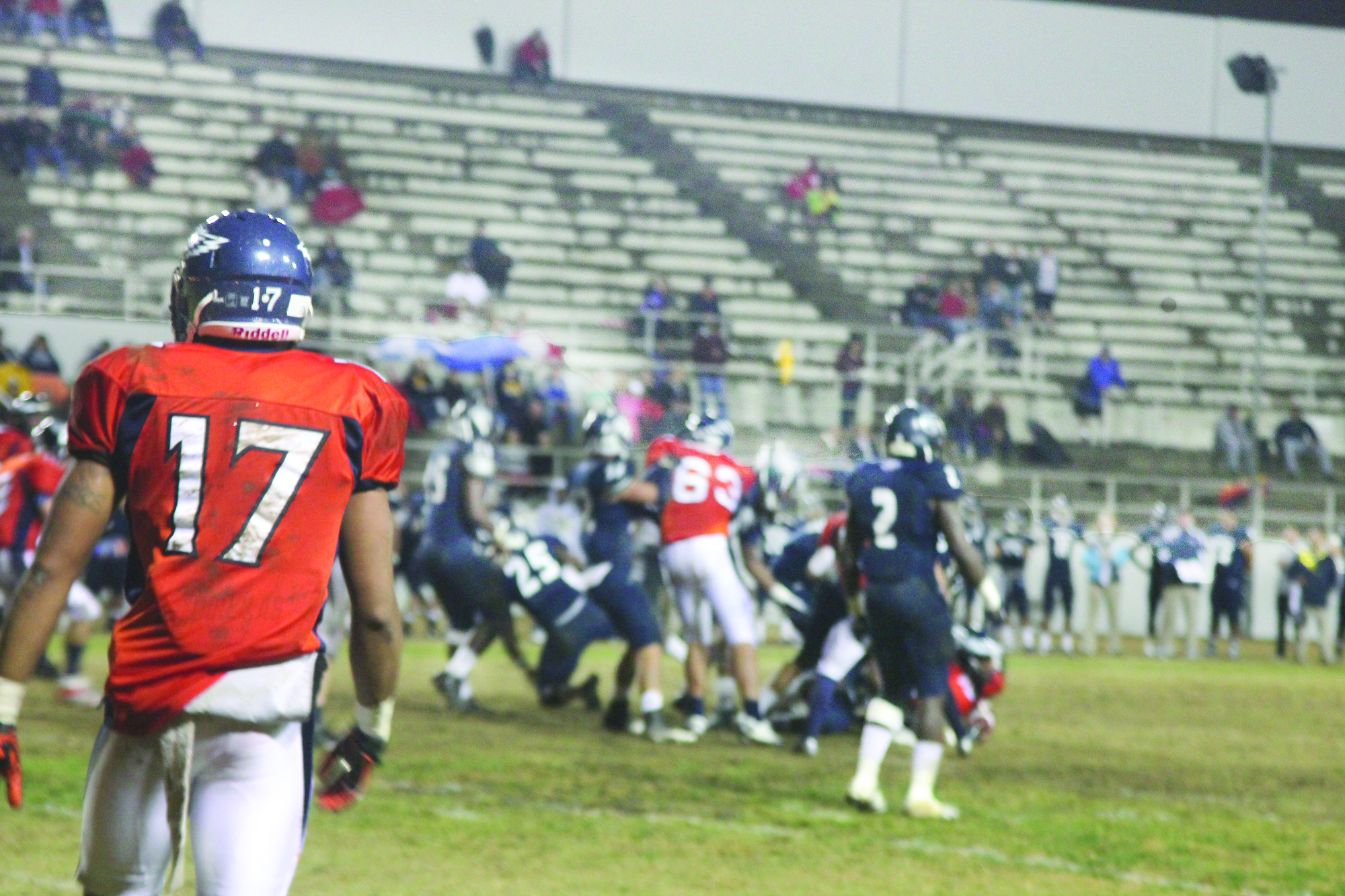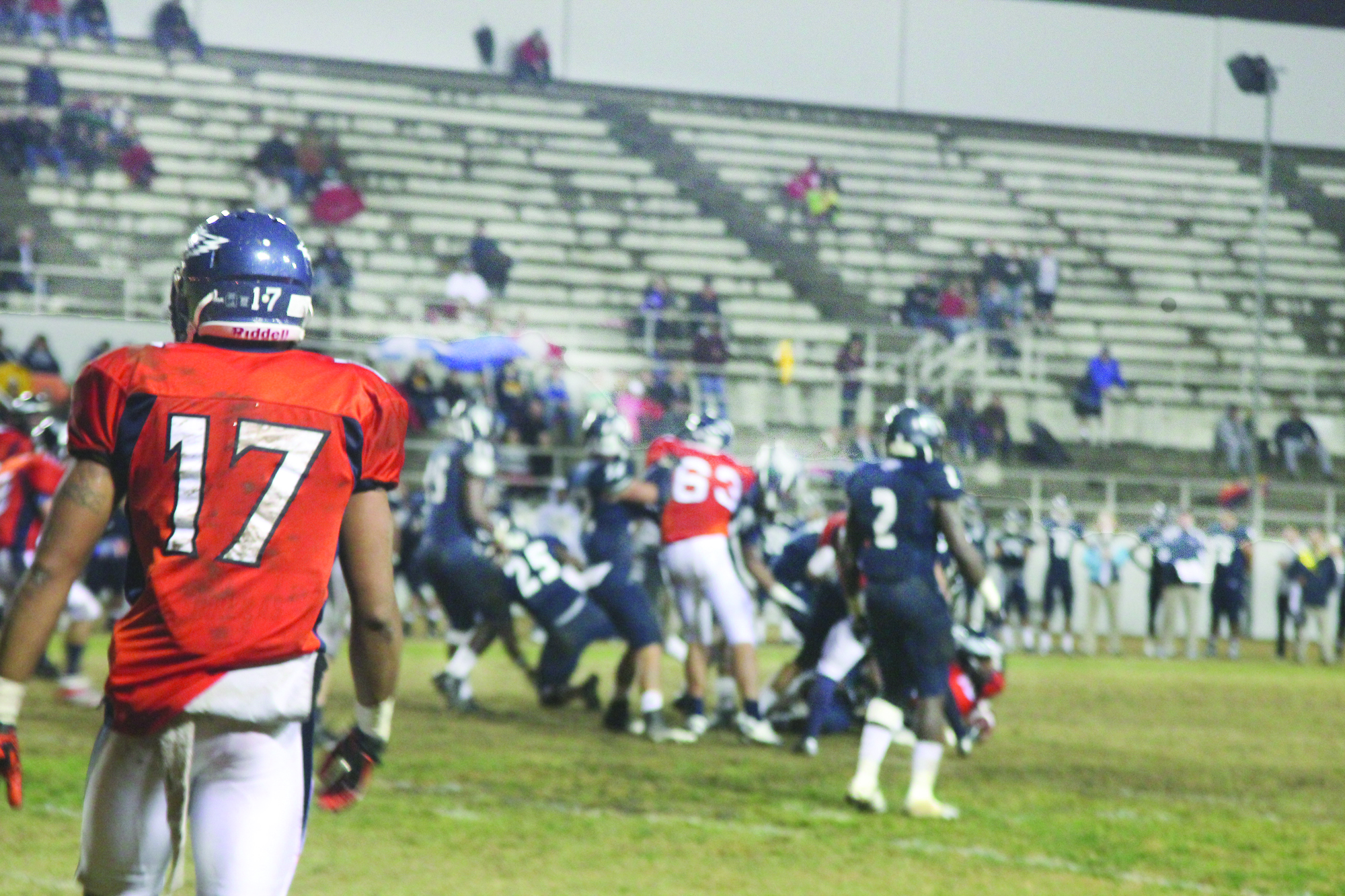 ---
But what happens when you catch all of the breaks and still come up short?

That's the question that will plague the Fighting Owl football team (7-4, 4-4 SCFA Central Conference) all of next year after losing 31-24 in a hotly contested Western State Bowl game on a rainy Nov. 17 night against the Fullerton College Hornets (7-4, 5-1 SCFA Southern Conference).

Citrus ran 95 plays to Fullerton's 65 and gained an extra 200-plus yards in Hornet penalties. Owl quarterback Bernard Porter completed 32 passes for more than 300 yards with a touchdown and no interceptions, and was later named offensive player of the game.

So how did the Owls let this one—their first bowl game in five years—slip away?

"We made a couple of errors," said Citrus head coach Ron Ponciano. "You can't do that in a big game."

The mistakes weren't apparent until the waning moments of the first half. Citrus looked to snap a 7-7 tie on Isaiah Kepley's 32-yard field goal try, but the kick was blocked by Hornet defensive lineman Cody Clay as time expired.

The block gave the Hornets some badly needed momentum. Their previous three drives had resulted in two three-and-outs and a goal-line fumble.

Fullerton would go on to capitalize on another Citrus mistake after the half, as a missed tackle in the flat by defensive back Stace Woodward allowed Hornet wide receiver Ryan Longoria to score on a 34-yard screen pass from Conor Bednarski.

"We knew [Citrus] was going to come out and play hard," said Hornets head coach Tim Byrnes. "We just needed to stop making mistakes . . . Luckily, we cleaned that up in the second half."

Instead, it was the Owls who looked like they needed a team talk. Ponciano said he did just that after a rugby-style punt by Citrus punter Chris Laros on the first possession of the third quarter was blocked by Hornet defensive lineman Andre Mckinnon. Najee James scooped the loose ball up for a 52-yard TD that gave Fullerton a 21-7 lead before five minutes had elapsed in the half.

"What do you tell [your team] there?" Ponciano said.  "It was early in the third quarter, so you just have to forget it."

The team took their coach's words to heart. On the next possession, Porter found sophomore wide receiver Michael Ball on a post route over the middle for a 15-yard touchdown.

Field goals from both teams made it 24-17 Fullerton, but Citrus running back Phillip Sainz tied it up at the 13-minute-mark of the fourth quarter on a 27-yard run.

The teams would trade scoreless possessions until Fullerton running back Jamison Sterns broke the deadlock on a goal-line carry to give the Hornets a 31-24 lead with only 2:35 remaining.

Porter managed to drive the Owls down to the Fullerton 11-yard-line, but Hornet linebacker Jake Houts stuffed Donovan Holmes on a pitch play for a 5-yard loss.

With all three of their timeouts remaining, Citrus had a slim chance to get the ball back and tie it up. Sterns extinguished all comeback hopes with a 17-yard scamper on the first play of the possession to lock up the bowl title for the Hornets. He would later be named Most Valuable Player.

Ponciano put a positive spin on things following the loss, choosing instead to focus on one of the best seasons for Citrus football in recent years.

"I told [my players] I was really proud of them," Ponciano said. "Hardly anyone in the world thought we were going to win seven games against good opponents, and I thought we could've won a couple more."

Owls playoff update: Women's soccer fell to Ventura 3-1 in the first round of CCCAA playoffs. It was the first ever postseason appearance for the Lady Owls. Volleyball faced off against Orange Coast Nov. 20. Results were unavailable as of press time.

Many sports fans are familiar with the saying "better lucky than good"—sometimes, no matter how well a team executes its gameplan, it can still come up short thanks to a bad call or an untimely slip and fall.
---
---