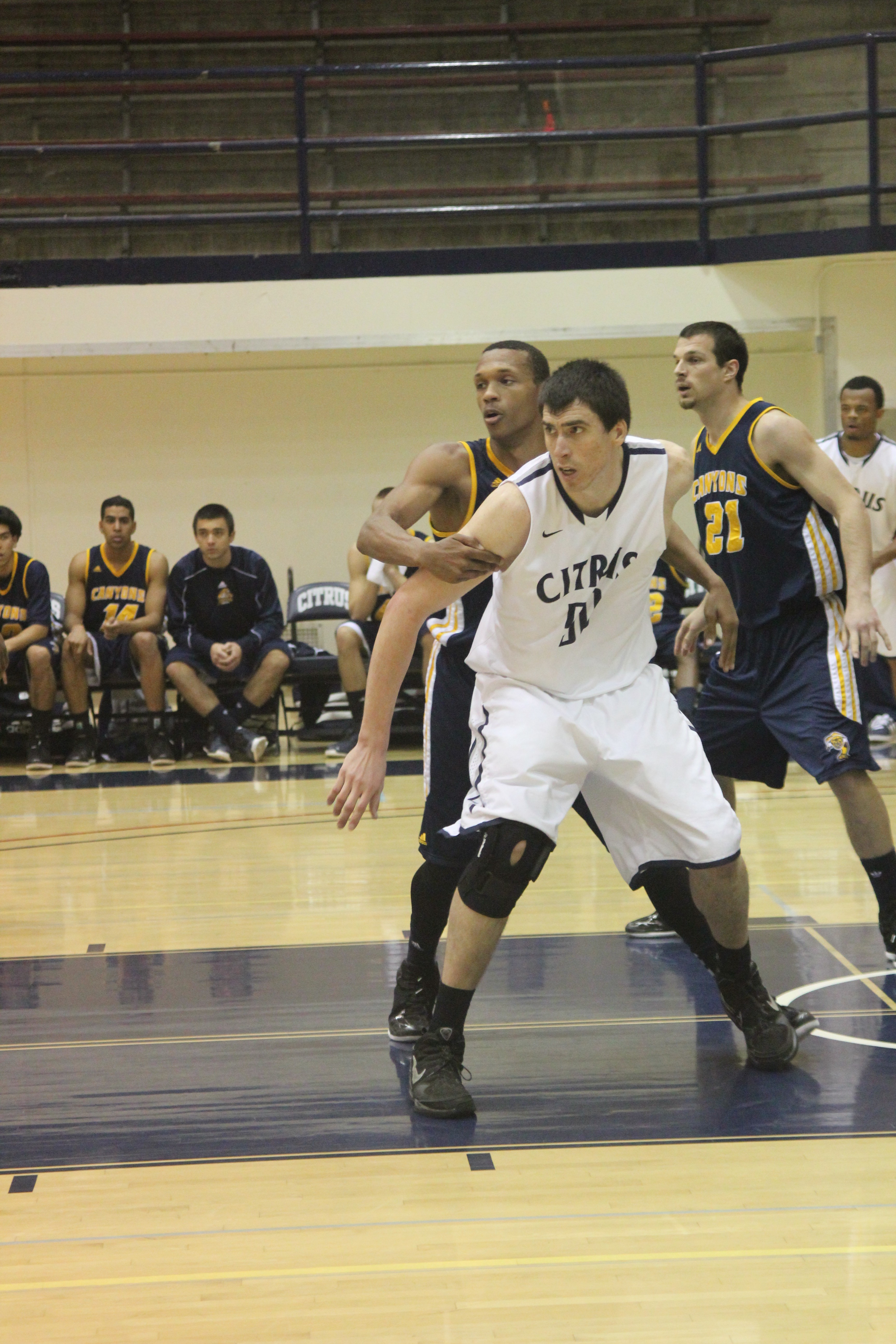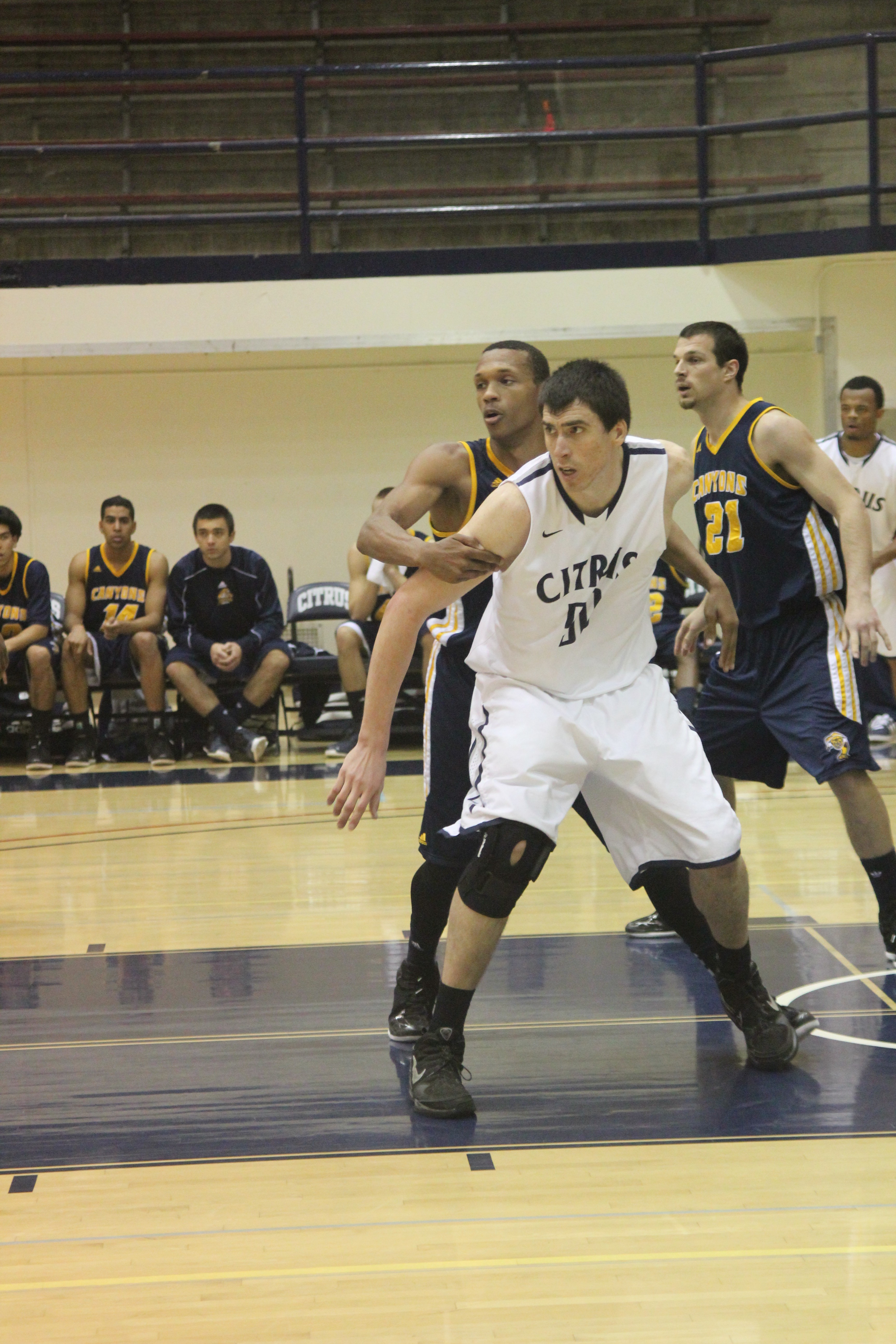 ---
The average person may think that being tall is the only requirement to play center for a basketball team. However, height alone does not equate to success on the court. Determination to fight through adversity surpasses the issue of stature.
Sophomore "big man" Brent Watkins, 23, never played a second of organized basketball before arriving at Citrus College.
The 6'10, 240 lb. giant is the anchor of the Citrus men's basketball team. Hard to imagine any program would neglect to see his raw ability.
"I got cut my freshman year at Temple City," remembers Watkins.
Rather than give up, Watkins improved his game at local parks, where the elbows and rough style of play forced him to toughen up and develop an outside shot. "When you play at the park there are no referees so you have to play with a lot of contact," he explained.
After graduating from Temple City High School in 2007, Watkins stepped into the Citrus College office of head basketball coach Chris Victor and asked for a tryout.
Victor suggested he enroll in the basketball class open to all students. Watkins would follow this path, and it would ultimately yield results.
Watkins did make the fall 2011-2012 team. Coming off the bench, he provided energy and a low post presence averaging eight minutes per night. His strongest contribution to the team was his accuracy, as he led the team in field goal percentage.
This season the towering center has established himself as one of the team's top players. He now leads the state in field goal percentage at a phenomenal 74.3 percent. Watkins averages 10 points per game, and leads the Owls with 7.5 rebounds a game.
Watkins' biggest fans are his siblings Ryan and Corrine. Corrine, in particular, mentored her younger brother and fostered his love for the game.
Sophomore guard Jordan Mackie said that Watkins has helped the team recover from a shaky start.
"Brent's hustle and quiet focus sets a great example," said Mackie.
However, despite Watkins' contributions the Owls are struggling. The team is 13-10 overall.
It didn't help when Watkins sprained his MCL during an early season practice. The injury sidelined him for several games. Yet he never lost his resolve to return and help the team in any way possible.
"He's a great kid to coach, off the charts," Coach Victor said.
One example of Watkins' effort can be seen before practice. He runs up and down the bleachers for strength, endurance, and conditioning, knee brace and all.
In Watkins' first game of the season, the Owls won a Jan. 16 double overtime thriller over L.A. Valley College, 100-92.
"It was definitely the best moment that stands out this year," Watkins said.
But it was the next game on the road at Bakersfield where Watkins had his breakout performance of the season. He scored 23 points and grabbed 9 rebounds in a 70-61 win.
A geology major, Watkins earned a 4.0 GPA in the fall of 2012. Recently, he applied to Cal Poly Pomona and wants to pursue a career in either research science or teaching. His hobbies include watching TV and camping.
Since Watkins might feel more comfortable hiding in the shadows, he is unable to compare his game to any NBA star.
However, after watching him play, Tyler Hansbrough of the Indian Pacers comes to mind.
Watkins recorded a double-double in his last regular season game at Citrus, as his 11 points and 10 rebounds powered the Owls to a 85-67 win over Bakersfield Community College.
The next opponent awaiting Citrus is Santa Monica College in the first round of the WSC South tournament at 5 p.m. at Canyon College. With the team's postseason hopes in the air, it may be the culmination of one man's never-quit attitude and an end to his tenure as an Owl.
---
---