---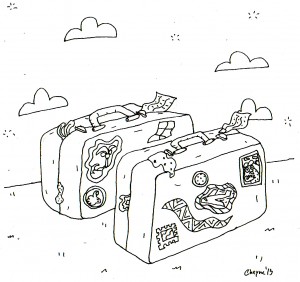 Listen up, Owls: It's time to spread your wings and fly away from the nest. Sign up for the Study Abroad program, and plan to spend 12 weeks in London.
With American Institute for Foreign Study, students can travel to London in the fall, Spain in the spring, and Italy in the summer.
Why study abroad you ask? Why not study abroad is the true question. Having your eyes opened to new experiences, people, food, and culture is an experience that should not be missed .
Now is the time to trek around the world, and money should not be an obstacle. Yes, it can be costly, but financial aid and scholarships are available to help finance a semester abroad. Living in these countries will never be as inexpensive as it is when you tour as a student.
Citrus students enroll in 12 units taught by community college professors. Eligibility for the trip requires a cumulative GPA of 2.5 in at least 12 units of previous college level course work. Courses taught abroad are transferable.
The study abroad program includes housing in a shared homestay or student apartment. Homestays include twin room accommodation, continental breakfast Monday through Friday and a shared kitchen with a local family.
Student apartments typically house 2-6 students. Apartments include shared bedrooms, equipped kitchen, living area and bathroom. You're on your own for food, however.
Immersing yourself in a new culture is a great learning experience. It benefits you in the long run, when you are applying to universities or looking for a job. A semester abroad displays independence, adaptability, and cultural knowledge.
Most community college students still live at home with their parents. A semester abroad can be a way of branching out without having the stress of moving out of your parent's home.
Yes, there are other ways of living than the one we are used to. Moving out of our comfort zone may sound intimidating but it will open doors and lead to new friendships.
You get to leave the nest, without the commitment of signing a lease.
Living independently can give you freedoms you've never had. The legal drinking age in Europe is 18 years old, so you can walk to the local pub and enjoy a pint of your favorite ale.
Besides the sightseeing and tours, you also get to party in another country. So if teatime is not for you, put on your dancing shoes and hit the town.
Traveling is an experience that you must do. Seeing a picture of the Big Ben is not the same as looking up at it from the London Bridge.
Visiting places so rich in history, art, and beauty can change your life. Having the opportunity to do it and not taking advantage of it would be regrettable.
The only question you should be asking yourself  is "where do I sign up"?
For more information contact Study Abroad Specialist Lynn Jamison in room Technology Center 128. Do it today.
---
---