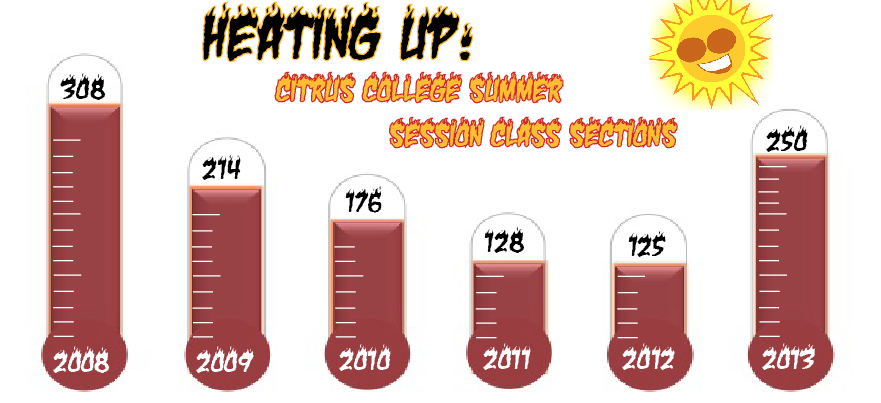 ---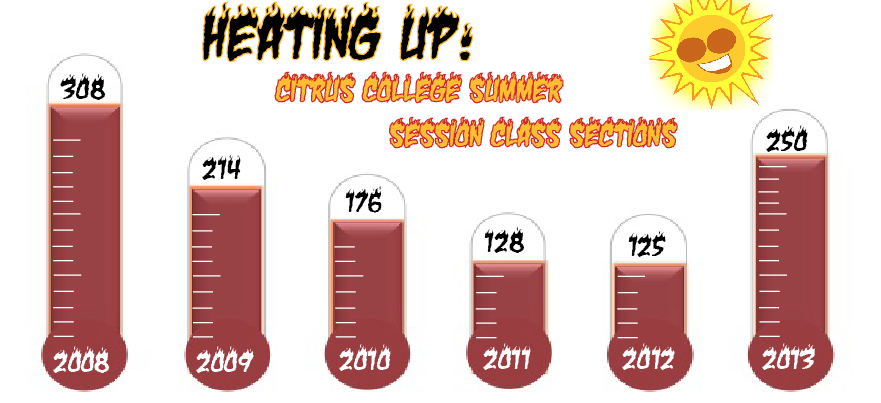 This summer, Citrus College is trying to get students to choose textbooks over the beach.
The college will offer 250 class sections in the 2013 summer session compared to the 125 sections that were available in Summer 2012. The move is in line with recent positive economic news coming from the state Capitol and is the first time Citrus has offered 200-plus classes in the summer session since 2009.
State officials are projecting an estimated $4.5 billion budget surplus for California this fiscal year. If the numbers hold true, the state's K-14 education system stands to come out the big winner.
Thanks to Proposition 98, the 1988 voter-approved law, the state must spend at least 40 percent of General Fund revenue on local schools.
However, if a college does not meet its enrollment target it loses money in apportionment funding, or the amount the state government pays the school per student. In spring 2013, Citrus College fell short of its target enrollment by 3.7 percent. Though 206 class sections were added to the both the 2013 winter and spring sessions following the passage of Proposition 30—one of the driving forces behind the budget surplus—enrollment percentages decreased in comparison to previous years.
Samuel Lee, dean of enrollment management, attributed the shortfall to measures Citrus took against expected midyear cuts in funding. Instead of offering more classes in the fall class schedule and reducing that number in the spring, years of budget cuts prompted campus officials to offer more sections in the spring. That way, the two main semesters would be roughly the same size when budget cuts triggered a reduction in spring sections.
"We added too many sections to spring with a small fall. Our pipeline was small to begin with, so we just didn't have enough students in the pipeline to fill up those spring classes," Lee said. "If we started with more students in the fall, we would've been fine . . . we just had to add a disproportionate amount of sections."
Adding extra summer classes will allow the school to meet its enrollment target for this year, Lee said. And campus officials are optimistic that the additional summer sections will fill to capacity.
"I think that our summer is smaller than it has been in years previous, even [though] we're doubling from 125 to 250 [class- es]," Lee said. "They're all core courses that students need, so I think we'll be OK there. And I think we'll get the newly graduated students for high school, so we'll get them in the pipeline early."
Additionally, new students are not awarded priority registration over continuing students during the summer semester, leaving it a more viable option for sophomores.
"If I can get any [summer] classes, I would take them," said 19-year-old mechanical engineering major Eri Miguel.
"The philosophy is that the incoming students are not competing with the continuing students because they're at different levels in their [studies]," said Irene Malmgren, vice president of Academic Affairs. "If you've been here for a year, you've taken [101] level English and math, now you're on to the [103] level. The [incoming] students are coming [in classes] behind you."
Students were able to view their registration dates Monday at wingspan.citruscollege.edu. The list of summer class sections is also available on WingSpan and at the Citrus College website.
The first day of registration for summer classes is May 20.
"Everybody is really ready to get past the day of having to turn students away," Malmgren said. "We've spent so many years shrinking and closing the door before the line was taken care of. The idea that we can add more students makes everybody happy."
---
---