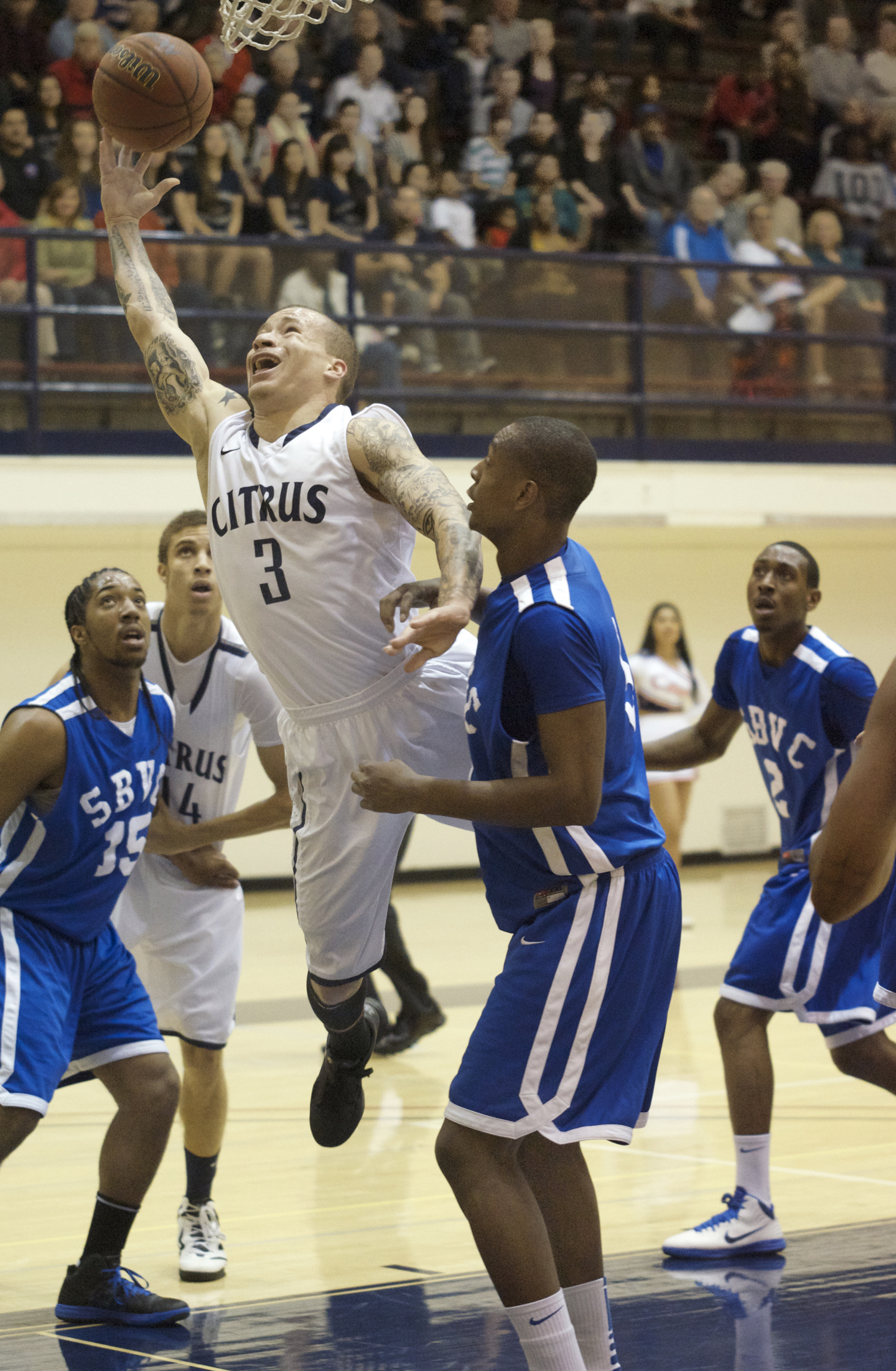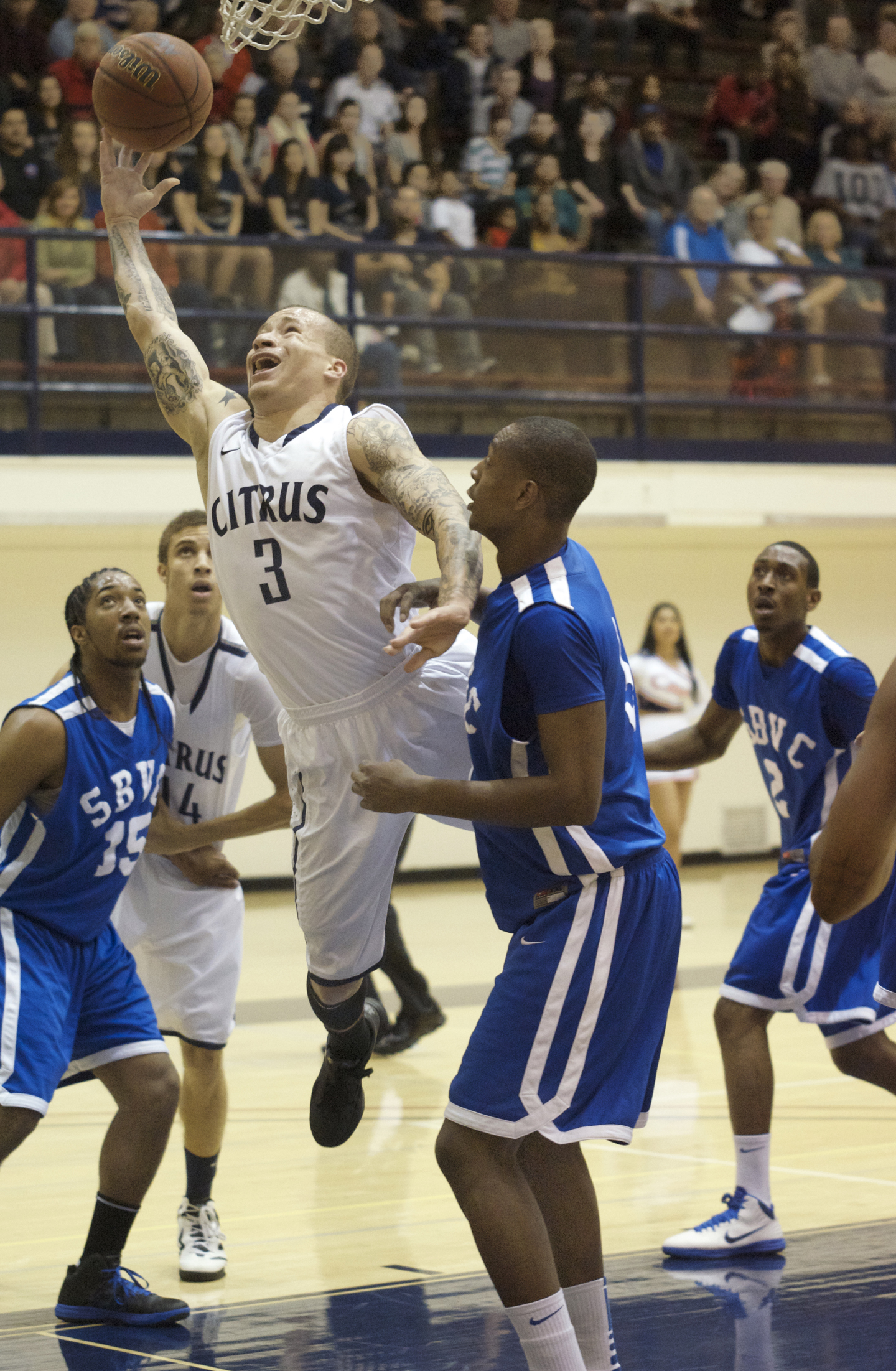 ---
"I wouldn't say I'm religious, but my faith is really strong."
Tattoos cover his arms. Most of them depict the life of Jesus. The biggest image is of the "Last Supper."
Kerry Carter is a 6-foot-2-inch, 205-pound basketball player who plays guard for the Citrus College men's basketball team. He is the 2013 co-winner of the annual Male Athlete of the Year award.
The basketball team ended the 2012-2013 season with a 16-11 record and made it into the playoffs as the #17 seed. The Owls made it to California Community College Athletic Association Regional Round Two against #1 Saddleback College in Mission Viejo, but would go on to lose the game 64-78, ending their season.
Carter finished the 2012-2013 basketball season with a more than impressive 20.4 points per game, 5.2 rebounds per game, 2.7 assist per game, and 2.0 steals per game, leading the team with 54 steals. He is the first in program history to attain those numbers.
In the 2011-2012 season, the Citrus Owls made it to the final four in state playoffs, but succumbed to Fresno City College 69-71.
Carter loves sports. You name it, he has played it: hockey, baseball, soccer. As a kid, he got into basketball and fell in love with it.
Carter said he was genuinely happy when his coach gave him the news.
Head coach Chris Victor has coached the last three Male Athletes of the Year: Lateef McMullan in 2011, James Walker in 2012 and now Carter in 2013.
"It's an honor to have coached them," Victor said. "I'm really excited that Kerry is being honored as Athlete of the Year. I think he represents Citrus as well as a student athlete can."
Victor and Carter have been together in the basketball program for three years and their relationship is close and important.
Teammate Jevion Roland, who plays guard, described Carter as a perfectionist who is deserving of the award.
"He makes others want to work harder, and being around him just creates a lot of positive energy," Roland said.
Carter also appreciates past winners.
"It's nice to have this accolade, following some big-time guys who played basketball before me," Carter said. "I'm stepping into some big shoes."
Carter plans to transfer to St. Mary's College of California located in Moraga, California, where former Citrus and state Athlete of the Year James Walker is playing as well.
St. Mary's has an excellent basketball program, but Carter said he chose St. Mary's for the private college education that it offers.
"Academics is first. Basketball only lasts so long, but the degree I get, that's gonna be forever," said Carter, who is majoring in finance.
Carter said that he chose finance because "there is always gonna be a need for people who know how to allocate money and how to invest wisely."
Enrolled in 15 units, working a part-time job, weightlifting and playing basketball, it's all work and no play for Carter.
"He wasn't such a good student when he came here, but leaving Citrus, he is an excellent student," Victor said.
Carter has definitely developed since first coming to Citrus as a grey shirt, yet he found the time to improve his game.
"His game has gotten a lot better, He's a self-made shooter, stronger player, and off the court, he is very mature, extremely responsible," Victor said.
Carter has a deep faith in God and reads the Bible. He expresses some of that faith through his tattoos with several depictions.
He also wears a WWJD bracelet; "What Would Jesus Do?"
"The most important thing in my life is my faith. None of this is possible without God," said Carter. "I've come along way, especially here at Citrus. I grew up a lot and grew a lot closer to God."
"He's the main reason I've been able to travel these different avenues and I'm getting a little closer to my success."
Carter's best experience while playing basketball would be the cherished relationships he developed with his fellow peers.
"Citrus College is truly a family, and that's something you can hardly find at the junior college level, much less any college anywhere," Carter said.
---
---