---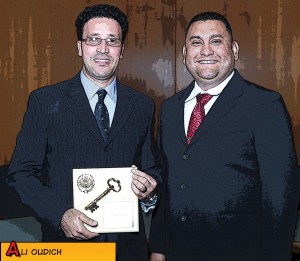 Ali Oudich (w/Jesus Gutierrez)
Originally from Rome, Italy, Ali Oudich came to the U.S. to pursue his dream of teaching mathematics. He enjoys helping students who struggle with math. Jesus Gutierrez encouraged Oudich to become a Supplemental Instruction leader for math and physics. He will be transferring to Cal Poly Pomona to pursue a bachelor's degree and eventually a master's degree in math.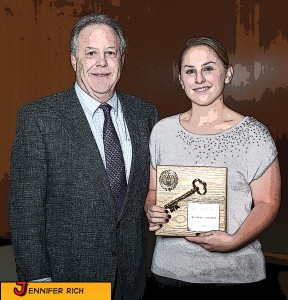 Jennifer Rich (w/Kenneth Guttman)
Jennifer is majoring in biopsychology. She is interested in how information is carried from the brain throughout the body. She has been accepted to UC Berkeley and plans to transfer this fall to pursue a bachelor's degree in psychology. As she pursues her degree, she wants to pursue improved understanding of the brain and how neurotransmitters influence behavior, thoughts and feelings.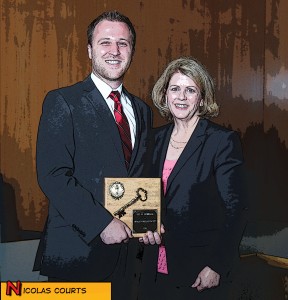 Nicolas Courts (w/Marianne Smith)
Nico Courts began attending Citrus where he mentors, tutors, and conducts workshops for differential equations and calculus III. Courts loves helping people in all levels of math. Courts said that his success has resulted from his taking advantage of the resources and opportunities available at Citrus. He will be transferring to UC San Diego on a scholarship to study mathematics. His long-term goal is to  eventually a Ph.D. in mathematics and become a college professor.
Stephanie Eaton (w/Margaret Shearer)
Stephanie Eaton dropped out of high school and traveled to Mexico where she gave birth to her son Ethan, who is the driving force in her life. In order to support him she decided to attend adult school where she graduated as valedictorian of her class and began Citrus with plans to transfer to Cerritos College for a degree in dental hygiene. She enjoys sword fighting with her husband, graphic design, and volunteering.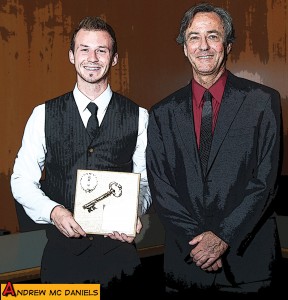 Andrew McDaniels (w/Brian Waddington)
Andrew McDaniels has had the opportunity to work in foster care and juvenile detention programs. He says that he takes the time to explore different points of view and challenges himself to not only know information but to ask "why?" He plans to transfer to UC Berkeley and major in sociology and philosophy. From there he plans to attend law school. This summer he is traveling to India to volunteer at an orphanage.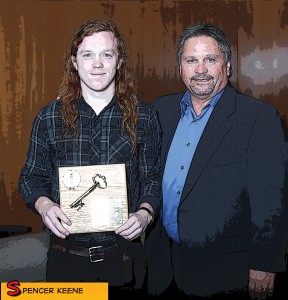 Spencer Keene (w/Tim Jaquette)
A quiet and focused individual, Spencer Keene enjoys playing guitar, learning new information and helping others. He was legally homeless the first year he was enrolled at Citrus College. He said that he understands the importance of working hard, even if all odds are against you. He enjoys performing with his band, Silent Planet, and is pursuing a degree in the performing arts.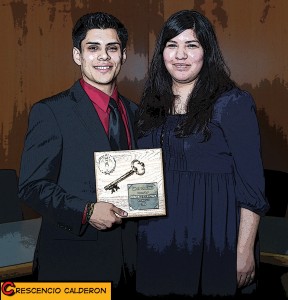 Crescencio Calderon (w/Maria Leduc)
Crescencio Calderon is an undocumented student who is determined to do something for himself, his family, and his community. Citrus College educational advisor, Maria LeDuc came to his high school and told him that he could go to college.Calderon became the vice president of the honor society, cofounded the AB 540 and H.O.P.E. support groups and served as the student trustee. He is transferring to UCLA with a major in political science.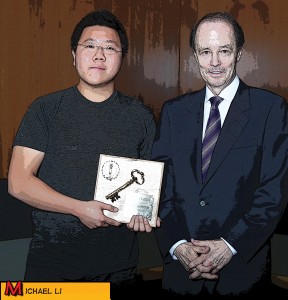 Michael Li (w/Dale Salwak)
Michael Li is a member of Phi Beta Kappa and is a participant in the Tutoring Center. This summer he will attend an intensive class focusing on ancient Greek and a concentration in Plato. He will be transferring in fall 2013 to UC Berkeley with a full scholarship to study history specializing in neo-platonism of the Italian Renaissance or pre-communist central China.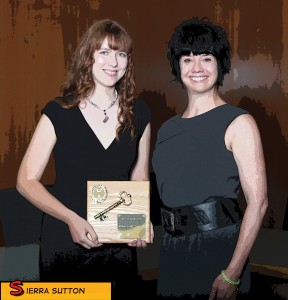 Sierra Sutton (w/Denise Kaisler)
When Sierra Sutton first attended Bobby Goodman's plant identification class, she met a group of students who shared her love of nature, and she knew that she had found her career path. She is pursuing a major in forestry and plans to transfer to the University of Northern Arizona. She is considering studying silviculture, the maintenance and cultivation of trees.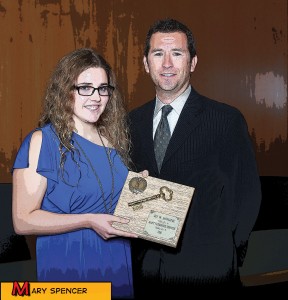 Mary Spencer (w/Andrew Silva)
An athlete as well as an outstanding student, Mary Spencer is a member of the Citrus swim team as well as the Women in Engineering  program. She has participated in STEM events including launching Estes rockets with local elementary students in the GATE program. She will be transferring in fall 2013 to UC Berkeley to pursue a degree in social and behavioral sciences.
---
---