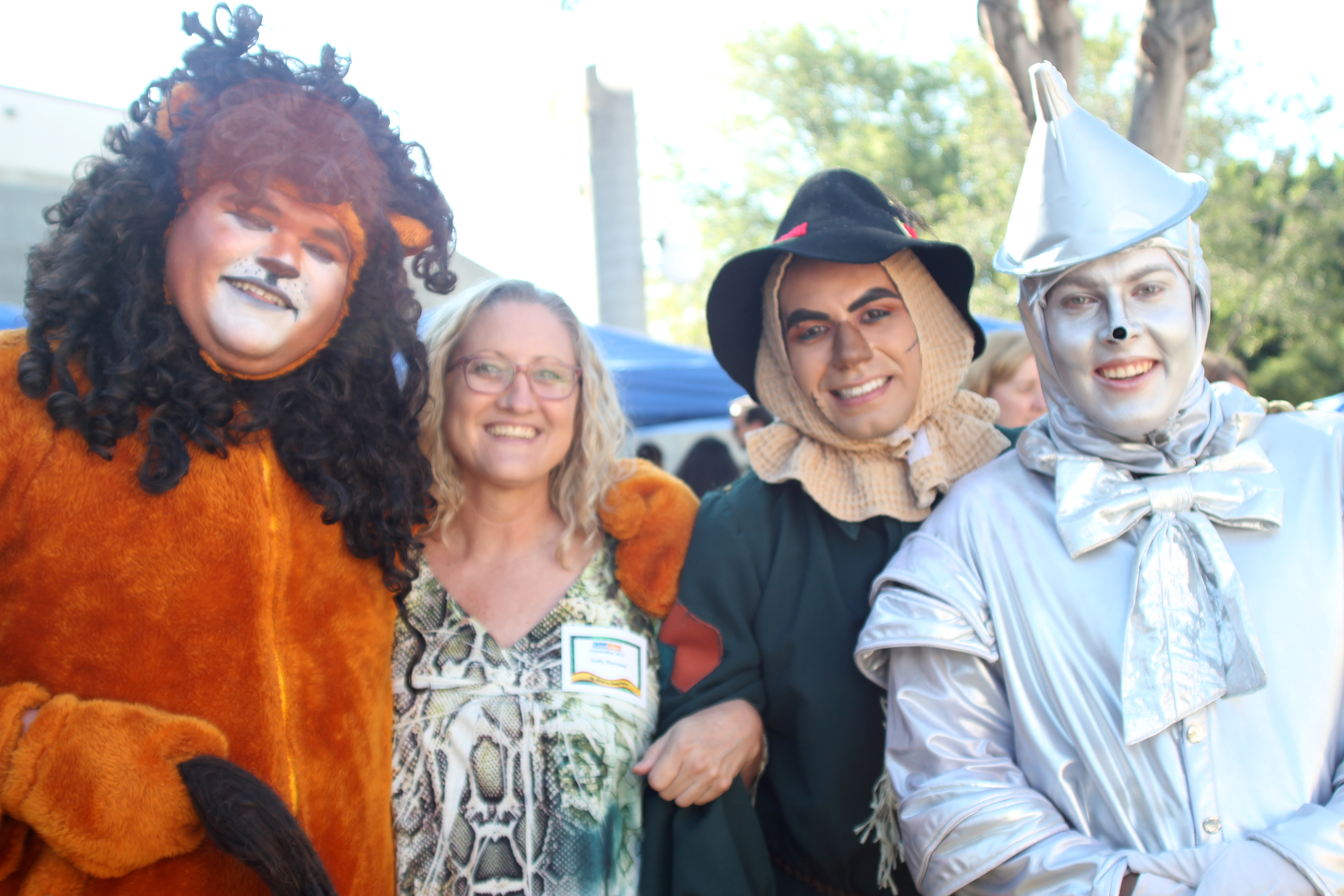 ---
This slideshow requires JavaScript.
Degrees, Certificates, and Transfer, Oh My!
The theme of Citrus College's Fall 2013 Convocation was 'The Wizard of Oz/ Road to Completion."
A long yellow brick road painted on cardboard led to the Haugh Performing Arts Center where the characters of "The Wizard of Oz" awaited the faculty members.
Convocation Day is an annual assembly of staff, faculty and administrators who come together to discuss what lies ahead for the academic year.
The goals are to challenge the faculty and staff to become more involved with their students and create a nurturing environment for growth.
Music professor Bruce Langford was the master of ceremonies. Langford started things off by appearing on stage dressed in a Dorothy outfit complete with a "Toto" companion and falsetto rendition of  "Somewhere Over the Rainbow."
Langford would however be interrupted by Robert Slack, dean of fine and performing arts, and led off stage.
After the musical number, Dr. Geraldine M. Perri, Ph. D. superintendent/ president of Citrus College delivered her opening remarks.
"We committed to be a college of completion and this year again I am going to challenge you to take that vow again and reaffirm your commitment to our students' success and continue us on the yellow brick road, " Perri said.
Langford would return to the stage for introductions of promoted staff and new faculty with the assistance of the characters, played by Citrus College students, Garrison Holder (Cowardly Lion), Brandon Jenkins (Scarecrow), and Garrett Smith (Tin Man).
The events included the presentation of the college's employee longevity awards, as well as the "Shining Stars," which recognizes employee accomplishments in categories such as excellence, diversity and integrity.
Receiving the Shining Star award for collaboration based on his work with the California Math and Science Project, was math professor Jesus Gutierrez.
"It came as a surprise, I was just sitting in the audience and realizing the high caliber of people being recognized, I'm very proud to be named among them," Gutierrez said.
Following the Shining Star awards Perri delivered her State of the College address to the faculty.
She recognized that over the last few years less that half, 46 percent, of American students finish college, and that only one in four high school students graduate ready for college.
It is due to these statistics that a national call to action was made in 2011 and in response to this The California Community Colleges Board of Governors formed the Student Success Task Force.
Perri had help getting her point across with some brilliant videos. The videos were voiced-over scenes from "The Wizard of Oz" where Dorothy meets the Lion, Scarecrow, and the Tin Man.
Towards the end of her speech Langford interrupted Perri, to inform her that if she clicked her heels three times and said "college of completion" he would guarantee her a wonderful surprise.
And in fact after Perri clicked her heels the president of the Citrus College Foundation, Thomas Gerfen, and director of development and alumni relations, Christina Garcia, presented Perri with a check for Citrus College in the amount of $538,717 that was donated to and raised by the Citrus College Foundation in this last fiscal year. More than $300,000 of this money can be used as seed money to establish the Citrus College Institute for College of Completion.
"We really want to be about completion so [Convocation Day] just helps everybody get on the same page," Garcia said, "that's what I like most about convocation."
---
---