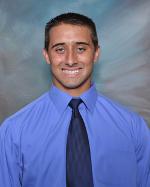 ---
With a new season coming into play, Andrew Cameron, Larry Cutbirth, and Tyler Pruszynski are the three quarterbacks being considered for the starting quarterback position for the Fighting Owls.
Cameron, who was a red shirt last season, is shorter than his fellow teammates yet possesses speed, agility and strength that he uses to his advantage.
"I'm not 6'6" but I use my mind a lot more on the field," Cameron said.
At Diamond Bar High School, he prepped three varsity seasons for the Brahmas where he was an All-Sierra League honors as a junior. As a senior, he earned the All-Hacienda League and All-San Gabriel Valley honors.
Having a previous experience at the college level, Cameron played in 2011 for the Graceland University Yellow Jackets where he threw 10 touchdowns while passing for over 900 yards.
To enhance his performance in play, Cameron has been taking measures to better himself for the upcoming season.
"I've been hitting the weight-room really hard this past season," Cameron said. "I've gotten a lot faster speed-wise and my arm strength went up."
Cutbirth prepped for four varsity seasons for the Eagles at Etiwanda High where he passed for 2,226 yards, threw 36 touchdowns, and rushed for 6 touchdowns.
He also was an All-Baseline and All-Inland Empire selection as both a junior and a senior and was a second-team All-State selection counting the All-CIF honors as a senior.
"The quarterback position allows me to be in control of the game," Cutbirth said. "I like having the ball in my hands."
Although Cutbirth's strong suit is not with divvying up and reading the defense, there are attributes that he feels he can bring to the vacant position.
"I run as far as I could pass and I'm very diverse on the field," he said.
Tyler Pruszynski made appearances in four games for the 2012 season for the Owls where he threw a pair of touchdowns and one interception.
His high school experience includes prepping three varsity seasons for the Bishop Amat Lancers, completing 62.5 percent of his passes for a total of 356 yards.
"I chose the quarterback position because I'm not athletic enough for line-backer or wide receiver, but I've been playing this position all my life," he said. "It is second nature to me."
His proficiency is the deep ball, has a quick release and his ability to read the defense well, are some of Pruszynski's strengths.
"I'm pretty strong," Pruszynski said. "It's hard to take me down."
The Owls first home game is on Sept. 14 at 1 p.m. against Moorpark.  Students get in free with an ASCC sticker.  General admission is $6.
---
---