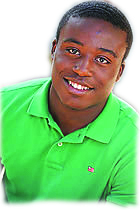 ---
From high school running back to college screenwriter, the progression of creativity has not gone unnoticed.
Chris McKinley, 20, is one of three screenwriters chosen from Neil Weiss' screenwriting class to have his screenplay acted out for Emerging American Voices.
Emerging American Voices debuted two years ago and with its success Cherie Brown, professor of performing arts, decided to bring it back.
"This year I decided why not? We'll just do something really kind of guerrilla-esque," Brown said.
McKinley began his theater career as an actor during his sophomore year at Arcadia High School and by his junior year he was accepted into advanced theater.
"I thought that if I could do this for the rest of my life, I would be a happy dude," McKinley said.
McKinley's script, titled "Life Unsettled," focuses on David who has cancer and the play chronicles his life after his diagnosis until before his death.
McKinley decided to base David's character on his own life. Growing up McKinley led a sheltered life because his father was a bishop. His experiences as a child growing into adulthood with relationships are integrated into the plot.
As the saying goes: "You write what you know." With this McKinley created a script that people could enjoy and laugh at.
"When Neil [Weiss] started reading it, I remember he told me that if I wrote it correctly, that I could get it bought, and that was just money to my ears." McKinley recalled.
The showcase is not about the costuming or stage direction, it is about the words and the raw emotion that the actors must portray in delivering their lines.
Each screenwriter has their own director, Ann Mateo, 24, is the director for "Life Unsettled."
"I've watched [Chris] act, and I've always admired him," Mateo said "you can see his acting style in his writing. Its just raw, thought-provoking and on the money all the time."
The script has not been completed yet but there is constant progression and McKinley plans to film his movie once the script is complete and take it to the Sundance Film Festival.
"It started out as just an assignment," McKinley said, "[but] not only is this a stepping stone but I want to take this as far as possible."
---
---