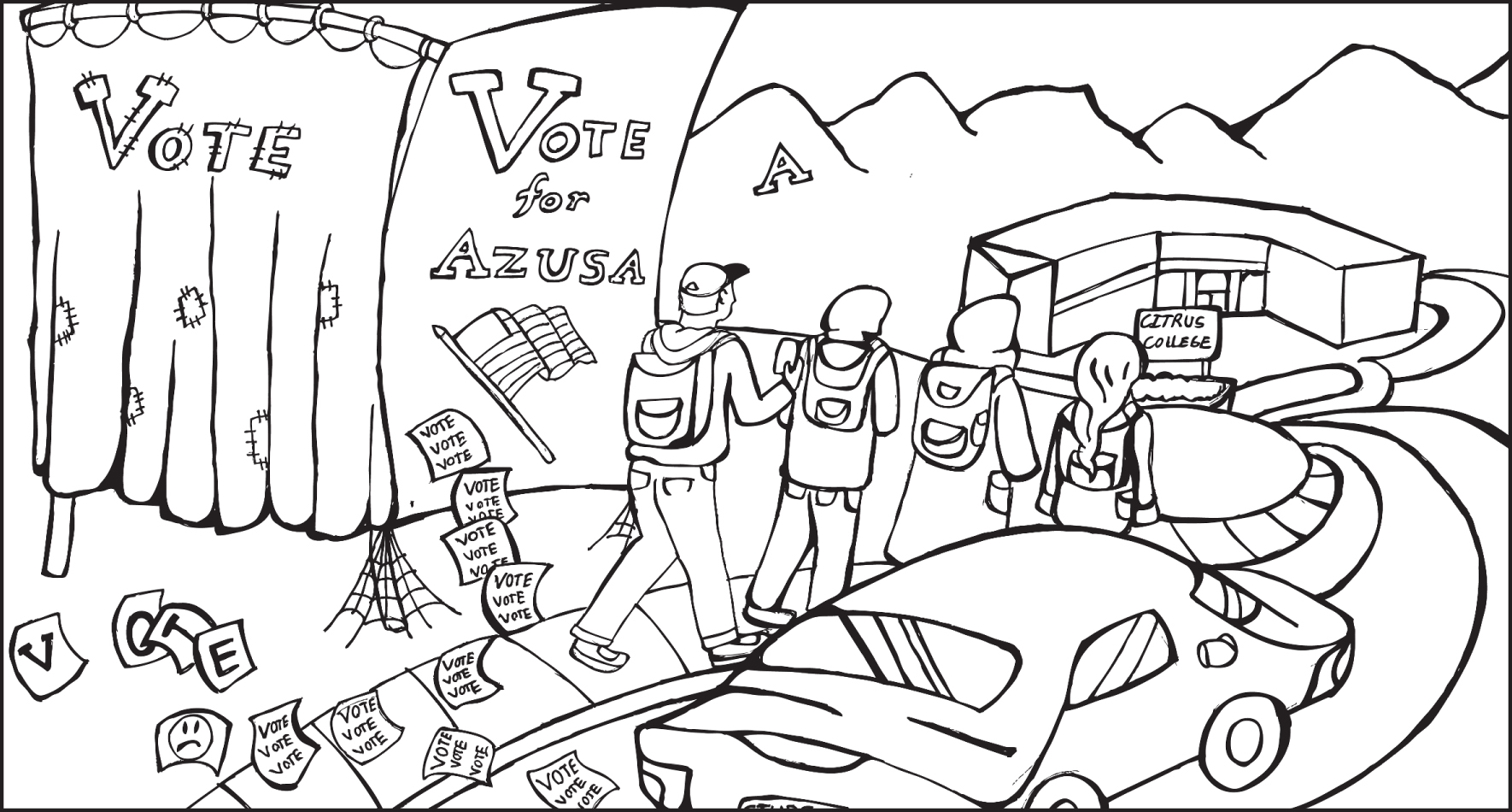 ---
If you qualify to vote in this country, you must register and then exercise that power because every single ballot measure affects your life.
A common mistake many voters make regarding elections is thinking only national elections are important. This simply is not true.
Local elections have the smallest voter pool, meaning that each vote represents more control than in any other political races. It's simple math. One vote out of 34,000 has more influence than one out of 28 million. In fact that's more than 850 times more powerful.
These values were chosen because of the upcoming election for The Area 1 seat representing Azusa residents on the Citrus Community College District Board Member of Trustees. According to 2010 census data, there are about 34,000 residents in Azusa of voting age compared to just under 28 million people 18 years or older in the entire state.
Voter turnout for local elections is anemic at best, especially compared to those in general elections. The 2012 presidential election inspired 11,772 Azusa residents to go to the polls and determine who would be president of the United States. Compare this to the 2,753 votes tallied in the May 2013 election for mayor and city council, and the difference is clear.
Let's pretend for a moment that citizenship is a class with our final exam determined by the percentage of voter turnout of those of voting age.
The voting-age population in this country for the 2012 federal elections was just under 241 million, with 130.2 million people casting ballots. That's 53.6 percent of the population.
As a nation, we're failing, but since we are feeling nice, we will grade on a curve and allow that to be the new 100 percent.
Azusa's 34.7 percent voter turnout for those of voting age now becomes a 64.7 percent in the course. Azusa fails.
If you live in Azusa or in the Duarte neighborhood, which makes up Area 1 of the Citrus Community College District, then you're in the hot seat for either bringing about change or reelecting the incumbent.
Regardless of whether we live in the CCCD or not, all of us still need to register to vote. Local elections happen all the time and unless you're registered, and actually cast your ballot, others make the decisions that affect you the most.
City councils can pass ordinances at any meeting and you get to participate in deciding who votes on these measures. Don't like the cost of your water bill?  You can elect different members to your local water board.
Inaction leaves us with the status -quo.
Whether it's to look up information on upcoming elections or actually registering to vote, it can all be done at LAVote.net. Candidate information, ballot measures and election dates are all available here.
Registering to vote is as simple as entering driver license information, address of residence, date of birth and last four digits of your Social Security number. It really is that easy.
Around two weeks before the election, sample ballots will be mailed out to your residence with all relevant information as well as where to vote.
You can even opt to mail in your ballot if you're concerned about being available to get to the polls in person.
The cut-off date to register to vote for the Nov. 5 election is Oct. 21. After that, those who are not registered will be stuck with the decisions that engaged voters make for you.
Maintaining voter registration will ensure that you influence life in your community. You can decide to get a passing grade in citizenship. Go register to vote and earn your A.
---
---