---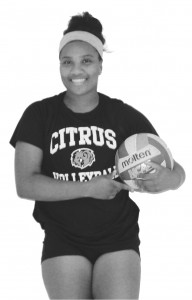 Bump. Set. Spike. These are volleyball terms which almost everyone is familiar with.
However, one term that is not as familiar is the libero.
The libero is a defensive specialist who makes the bump-set-spike possible.
This player is the foundation for a great play.
The Owls libero and captain Kiyhanna Dade, #13, has a record of 130 digs in 11 matches.
Dade, 19, knows what she is doing. A sophomore at Citrus College, she has been playing volleyball for 12 years and has been positioned as the libero since her freshman year in high school.
Dade has played a total of three varsity seasons.
As the main defensive specialist, Dade has to be ready for anything. Her main job is to make a fearless effort to touch every ball that comes into her back-court territory.
But volleyball isn't just a physical game. Mental preparedness is crucial.
Head coach Shin Jung has seen an improvement in Dade since last year's season.
"Her serve receive has gotten a lot better and her defensive reading skills have gotten a lot better," Jung said.
As team captain, she has to take the initiative to pull the Owls together.
"I would have to say leadership is my biggest accomplishment," Dade said. "I think I have done a good job with furthering those skills here with my team."
Setter Amanda Stone agrees. "She knows how to bring the team together," Stone said. "If someone is feeling down she can bring them up because she knows their strengths and weaknesses."
In volleyball, communication is key and Dade makes it happen. During a game, her voice can be heard throughout the gym.
"She brings a sophomore quality that a leader has and her vocal leadership brings the team together," Jung said.
After Citrus, Dade plans to attend the University of Nevada, Las Vegas, where she plans to major in English.
Dade is not sure whether she will continue to play volleyball, but she has made a great impact on the Owls volleyball team.
To catch Dade in action, the next home game is today at 6 p.m. against Bakersfield.
---
---