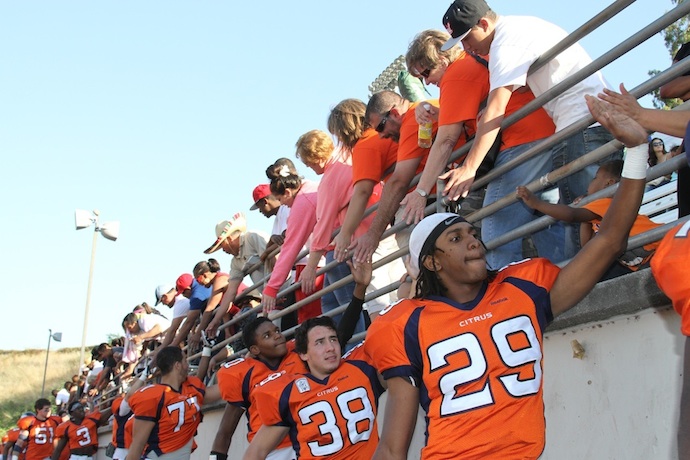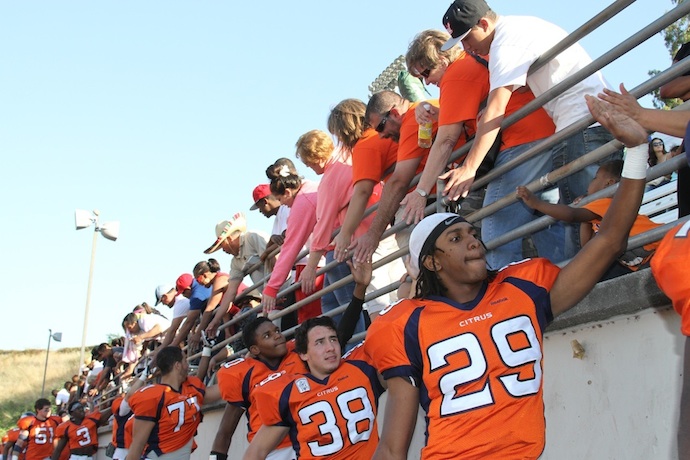 ---
The Citrus Owls (5-3, 2-2) defeated the El Camino Warriors (5-4, 3-2) 42-28 on Nov. 2 at Citrus Stadium.
Larry Cutbirth continued his excellent play as he threw for 308 yards and four touchdowns, while also running for two touchdowns.
Over the last two games, Cutbirth has thrown for 674 yards, 10 touchdowns, and three rushing touchdowns.
Maurice Dupleasis was back in action against the Warriors as he tallied up four solo tackles and assisted on five.
But it was the play of defensive back Charles Flowers, #24, that inspired a defense that gave up 51 points just the week before.
Flowers had five tackles, one forced fumble, one interception and broke up two passes.
Over the last two games against Riverside and El Camino, Flowers has taken part in 16 tackles.
In the two games before the game at Riverside, Flowers had just eight tackles.
Has the improved play of the secondary come too late?
With the Owls dropping games to conference powerhouses Riverside and Mt. SAC, it seems highly unlikely Citrus will catch either in the standings.
Where they stand right now, Citrus is in fourth place with a game in hand in the Central Conference.
Citrus will host Long Beach in their last home game of the season on Nov. 9 at 1 P.M.
Admission is free with an ASCC sticker.  General admission is $6.
National Central
Conference Standings:
Mt. SAC 7-1, 4-0
Riverside 7-1, 4-0
El Camino 5-4, 3-2
Citrus 5-3, 2-2
Long Beach 3-5, 1-3
Desert 1-7, 1-3
LA Harbor 0-9, 0-5
---
---