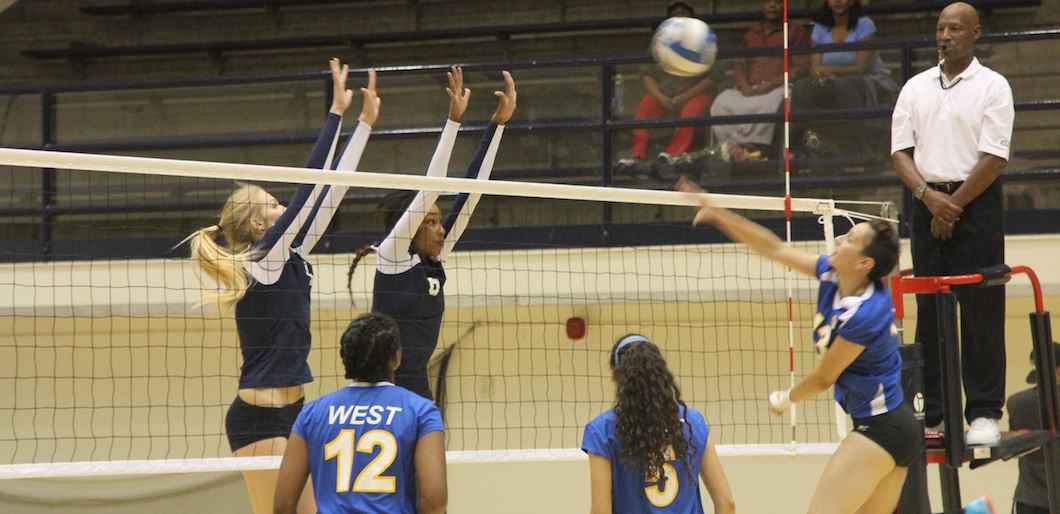 ---
This volleyball player is the middle blocker for the Citrus volleyball team and her job is to protect her net and block shots.
Cassandra Freitag took some time off from the trenches of the volleyball court to answer some questions.
Dillon Cooper: What is your favorite pregame meal?
Cassandra Freitag: Subway.  I like a turkey sandwich with pickles.
DC: What song do you listen to before a game?
CF: "Yeah" by Usher.
DC: Who is your favorite athlete?
CF: Destiny Hooker
DC: If you could play any other sport, what would it be?
CF: Football
DC: How would you describe coach Shin Jung?
CF: Intense, he pushes us to the limit.
DC: As a child, what did you want you career to be?
CF: I wanted to be a nurse, actress, or model.
DC: What was your favorite childhood activity?
CF: Playing baseball with my neighbors and causing trouble.
DC: As a freshman, do you feel any added pressure?
CF: A little, people expect great things but at the same time, being a freshman alleviates the pressure.
DC: If you could have lunch with three people, alive or dead, who would they be?
CF: My great grandma Grace, Marilyn Monroe and Destiny Hooker.
DC: Who are your heroes?
CF:  My great grandma Grace and my parents Chris and Lynette Freitag.
DC: What is your dream college?
CF: University of Texas.
DC: Who is someone on the volleyball team you look up to?
CF: Kiy Dade.  She picks up people and looks to keep me motivated.
DC: What are your career goals?
CF: I want to be around volleyball or a physical trainer.
DC: What is the best moment of your volleyball career?
CF: I shut down Bakersfield's top hitter.  One of the top hitters in the conference.
DC: Who is your favorite actor?
CF: Rachel McAdams.
---
---