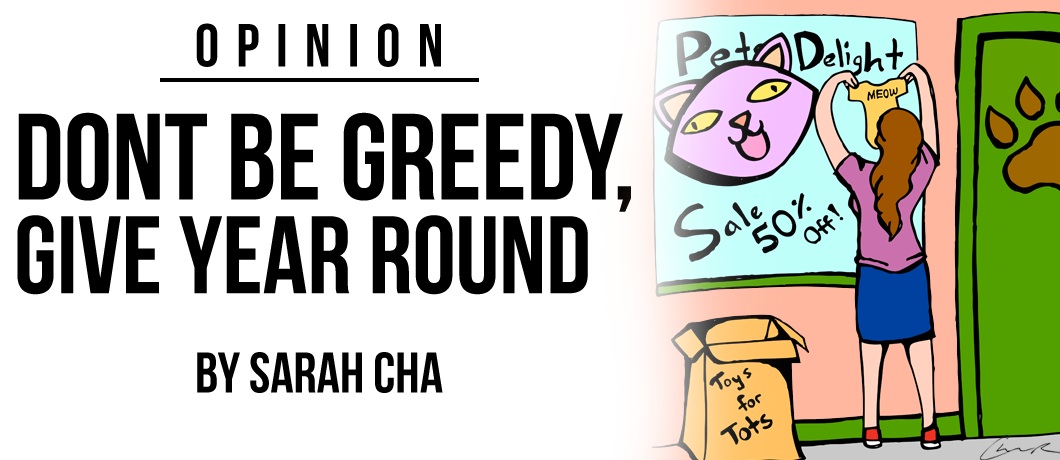 ---
There are many who starve for hope and a future, and we could all do our part in helping them.
However, people seem to be more enthusiastic about giving to others in different countries when natural disasters hit, such as what happened in the Philippines.
Where was that enthusiasm a month ago?
More importantly, what are we doing about the homeless person we see everyday on the sidewalk on our way to school?
It is not a bad idea to give to other countries, but neither is it selfish to focus first on helping others in our own communities.
Although natural disasters and holidays remind us to give to one another, the initiative to give is seldom found.
Giving during the holidays is great, but if you have the power to help someone, you should do so when the opportunity presents itself year round.
Many see the holidays as opportunities for discounts they can get on the next piece of technology or the newest thing on the market, not of how their actions can benefit another person.
Research shows that last year, Americans spent about $310 million on pet costumes, $2.3 billion on tattoos, and then spent about $66 million on getting them removed.
This only shows that we are ignorantly spending ridiculous amounts of money on frivolous things when we could buy a can of soup or a toy for someone who cannot afford it.
Statistics show that in 2012, there were 46.5 million people in the United States who were living in poverty.
With the average minimum wage being $7.49, many individuals are scarcely able to support themselves and their families with basic needs.
Furthermore, in January of 2012, 633,782 people were recorded as homeless in the U.S.
There are many who are aware of these numbers, but still do not find the time or means to help others.
Being "too busy" to should not become an excuse; we should make the time to help.
Opportunities to give are all around us, all it takes is for someone to have the daily initiative to take action.
Our campus provides several ways to help through events such as the Holiday Food Drive, Toys For Tots, Adopt A Vet and Adopt-An-Angel.
Other ways you can help are through homeless shelters, donating to the Salvation Army, and giving to the Goodwill stores.
Access to more ways and opportunities to help can be found through research.
As college students, our problems seem to be coming from all directions, and it is mostly difficult to see beyond the stress that comes along.
But there is always someone who is less fortunate than ourselves, no matter how bad we think our current lives are.
One person may not be able to end hunger nationwide, but their actions speak volumes of hope and inspiration to others.
---
---