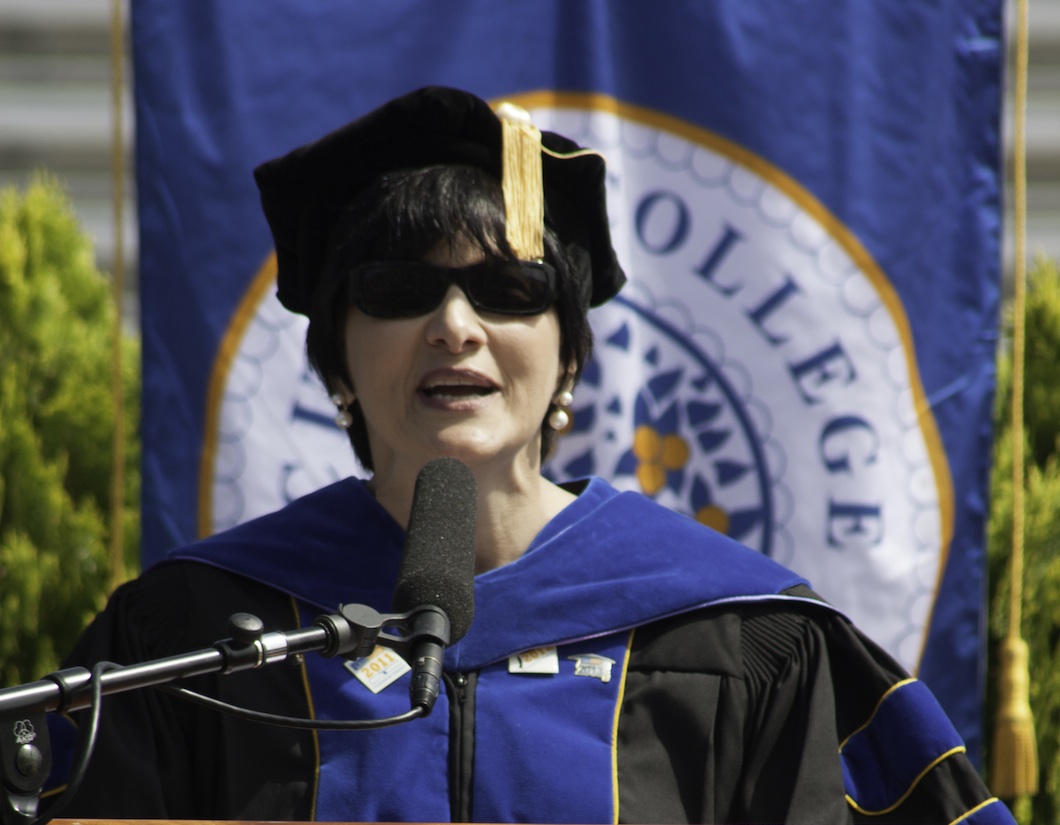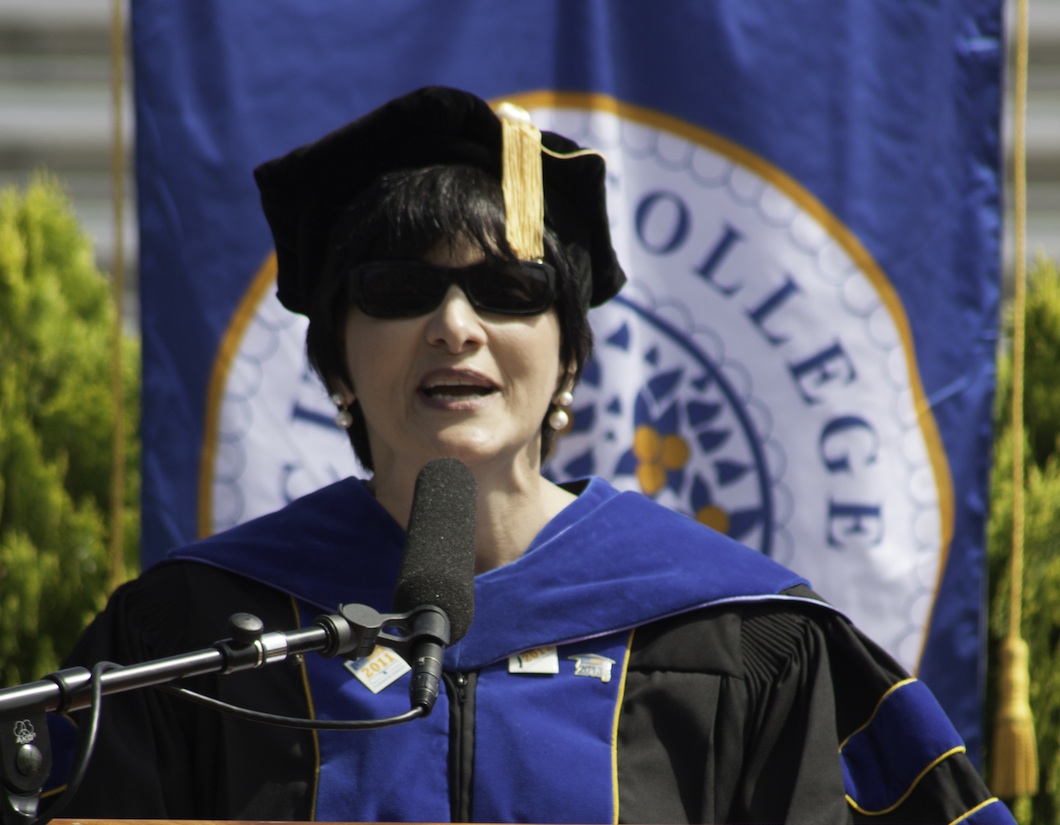 ---
The superintendent/president of Citrus College prides herself on her competitive nature.
"I'm driven," Geraldine M. Perri, Ph. D., said. "[I'm] always wanting to outdo my last success."
Perri has worked in community college education for 32 years.
The Board of Trustees hired her in 2008 to serve as the first woman and seventh superintendent/president in the 98-year history of Citrus College.
At the fourth annual Divercities Awards Ceremony on July 27, Congresswoman Judy Chu recognized Perri as 2013 Educator of the Year.
"When we looked at what she has been able to accomplish at Citrus College it was clear that she should be the one to get this award because she has shaped Citrus College to be outstanding in so many different arenas," Chu said.
Perri was born and raised in the Bronx. Her father was a taxi driver, and her mother was a homemaker until she returned to school and became a dental hygienist.
Perri is the fourth of five children.
"We came from average means," Perri said. "My mom and dad struggled to provide for five kids. It wasn't like we came from a family of money."
Coming from a working class background contributed to her determination to succeed.
However, attending college and pursuing an academic career wasn't always Perri's intention. Her initial plan was to be a dental hygienist, like her mother.
In fact, Perri enrolled in the same dental hygiene program at Hostos Community College in New York City, just as her mother had.
After graduating from Hostos in 1979, Perri attended New York University, majoring in health education, while also working in an office as a dental assistant.
Perri graduated NYU in 1981 with he master's degree in health education in schools and colleges and was hired as an adjunct instructor at Hostos teaching dental hygiene. After one year she began teaching full-time.
At this point in her life, Perri was doing what she had initially set out to do. She had also met Angelo Petrulo, the man she was soon to marry.
The two met while Perri was working at the dental office. Petrulo was one of her patients, when he asked her out on a date the two clicked right away, Perri said.
They married in 1981 after her graduation from NYU, and six years later they had a son, Nicholas James.
In 1996, Perri moved from New York to California. Her first job was in Riverside County as a dean of career education at Mt. San Jacinto College.
Her career path then took her to San Diego, where she worked as vice president of instruction at San Diego Mesa College until 2002. Perri was then hired as president of Cuyamaca College in El Cajon until she was offered the superintendent/president position at Citrus College in 2008.
Her journey from San Diego to Citrus was initiated by former superintendent/president Michael J. Viera, who invited Perri to visit the campus after meeting her on an accreditation team.
"Some years later he reached out to me and told me that he was planning to retire," Perri said. "[He] was wondering if I had an interest in coming up to look at Citrus College as a possibility as a next job."
"The campus was so pretty physically and clean, a very aesthetic setting," Perri said. "At that point I had close to seven years of being a president already, so I thought it would be a smooth transition in terms of the size of Citrus and the responsibilities."
The transition from president at Cuyamaca College to superintendent/president at Citrus was not without its difficulties. Perri took over her responsibilities during the Great Recession, which began in 2008.
After five years of budget cuts, public education is only recently beginning to recover.
Being a leader, comes with working under a spotlight. In 2012 a long period of controversy began between Perri and the board of trustees.
During their July 17, 2012 meeting, the BOT split, 3-2, on a vote to approve Perri's compensation package increasing her salary from $215,000 to $251,000 over four years as long as she receives positive annual evaluations.
The controversy over her compensation has since been resolved. As a result, Perri is expected to receive annual raises until 2016.
LeBaron Woodyard, dean of academic affairs for the California Community College Chancellors Office, said that he has known Perri since she began working at Citrus.
"You have to invest in your people in order for them to do well," Woodyard said, in acknowledgement of her leadership abilities.
Since Perri has been at Citrus, the college has been recognized as one of the top 50 colleges in the nation by Community College Week magazine's list of top 100 degree and certificate-producing two year institutions. Citrus is also among five other community colleges in the California Community College system to reach 100 percent of their target numbers for transfer degrees.
"She wants the college to be a go-to college," Arvid Spor, vice president of student services and interim vice president of academic affairs, said.
With faculty and staff, Perri has pushed Citrus to the forefront of California's community colleges.
Perri stated that her intention for the college of completion is to give the students the tools they needed to complete, succeed and move on to graduate or transfer.
After receiving a check from the Citrus College Foundation for more than $300,000 to fund the effort to make Citrus the "College of Completion" Citrus is in a better position to achieve this goal.
Perri has since consulted with. Robert Johnstone, founder and president of the National Center for Inquiry and Improvement, for guidance in establishing the "College of Completiton."
Johnstone addressed the concerns of the Steering Committee during a Nov. 15 meeting, stating that most institutions are not made aware when their students drop out. A select few organizations on campus that are student-oriented acknowledge when students drop out, but the institutions themselves are not, and this is something that would make a difference for student success.
"My passion right now is the College of Completion initiative . . . [and doing] what we have to do to ensure the success of the students," Perri said.
---
---