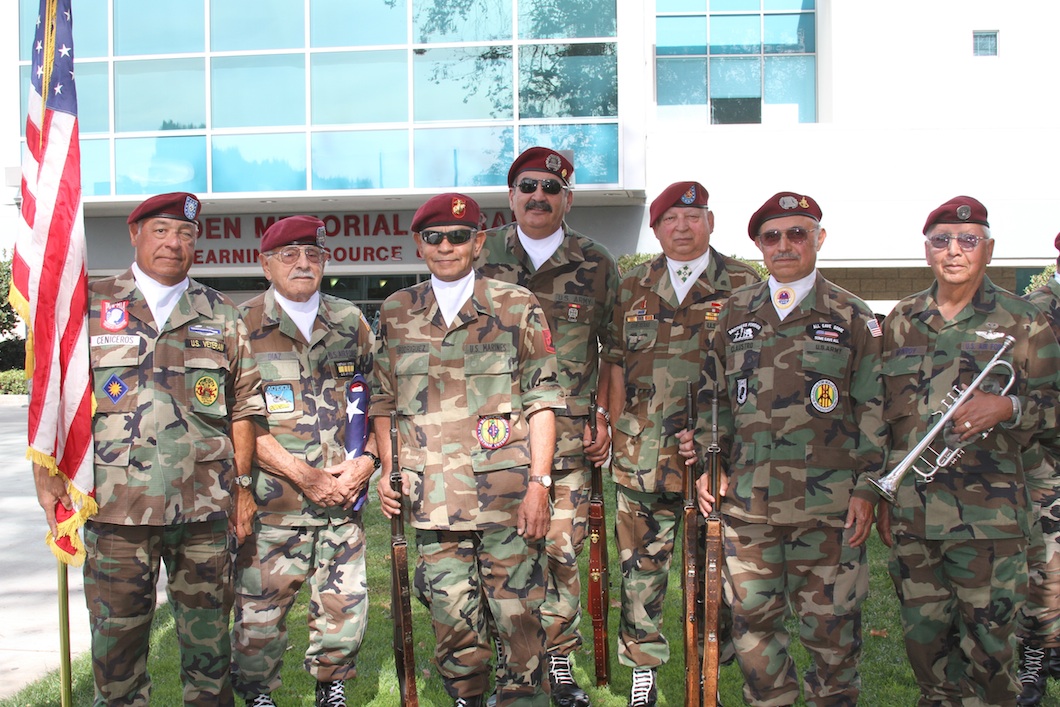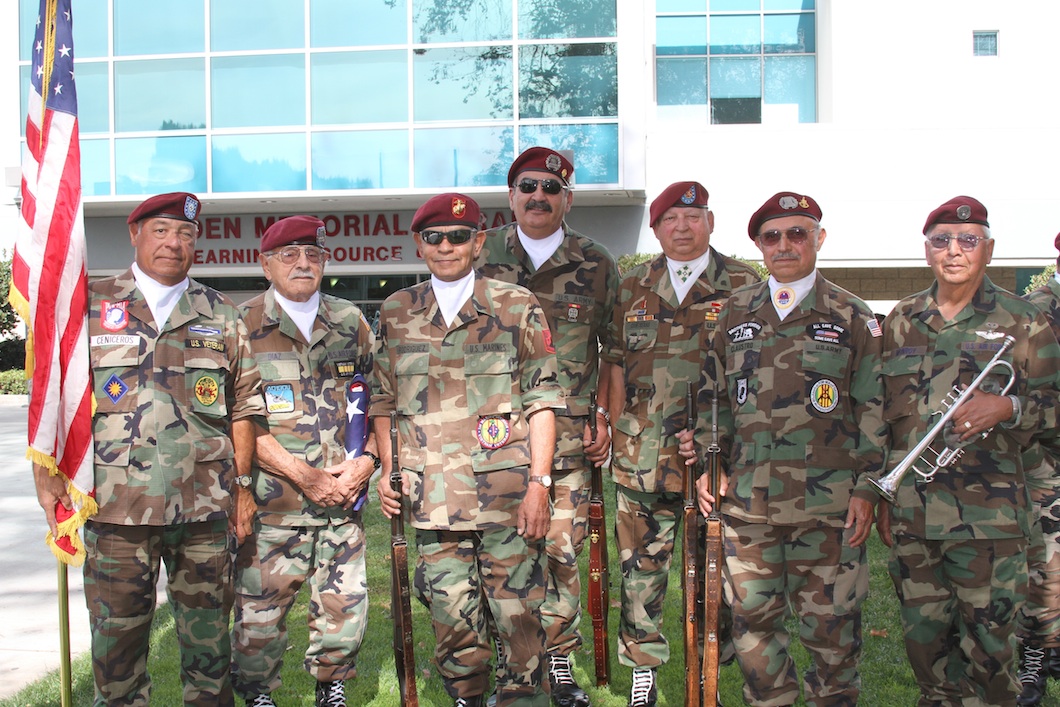 ---
Local dignitaries, faculty, students, and community residents came together recently to honor veterans during the 8th annual "Saluting Our Veterans" ceremony.
The event, which was introduced in 2006, took place Nov. 7, in the Campus Center Mall.
The tribute was sponsored by Citrus College, the Associated Students of Citrus College, Azusa Pacific University, the city of Azusa and the city of Glendora.
Citrus College alumni and U.S. military veterans, Ashley Solano and Fernando Salazar Jr., ASCC "Man of the Year" in spring 2013, served as the keynote speakers.
Solano joined the US Navy in 2006 as an aviation electronics technician and was honorably discharged in 2010. She attended Citrus College in spring 2011 and graduated with an Associates of Science degree in biological and physical science and math and an Associates of Arts in math and science in the summer of 2013. She is planning to transfer to Cal Poly Pomona in spring 2014 as a biological science major.
Salazar Jr. served in the United States Marine Corps from 2000-2004 in Alpha Co. 1st Battalion, 4th Marines, 1st Marine Division, and Camp Pendleton California as a Machine Gunner and Squad Leader. He was a student at Citrus from 2010 to 2013.
After graduating from Citrus with an AA in psychology, he transferred to Cal State Los Angeles where he is currently pursing a Bachelor's Degree in social work.
"Any time I walk into the Veterans Center, it's very welcoming, and everybody has open arms," said keynote speaker Ashley Solano.
"I'm so happy to be a part of it [Saluting Our Veterans]," Solano said. "I'm not a big politics person, but to know that there are so many people out there supporting us and helping us get our benefits, it's a big deal."
Also featured in the service were the AMVETS Honor Guard and Veteran honorees from Azusa, Glendora, Azusa Pacific University and Citrus College. Captain Gabriel Higerd, Azusa Pacific University Honoree; Sergeant First Class Jacob Hostetler, Azusa Honoree; Specialist 4th Class Robert Nelson, Glendora Honoree; and Specialist 4th Class Rose Sayre, Citrus College Honoree were all honored.
Additionally, military vehicles and displays, a patriotic music program, and the Gladstone High School marching band were all featured.
Dr. Martha McDonald, Citrus College executive dean, initiated planning meetings about a year ago to brainstorm different ideas, said Monica Christianson, program director/support counselor for the Veterans Center.
"It was really great," said Christianson. "I think it was bigger this year than we've ever had and it was better this year because we had more wonderful things and we had more people from the community."
"I think it's growing," she said. "The word is getting out."
Tim Petarra, vice president of Young Americans for Liberty, praised Citrus College for honoring its veterans and for providing them with constant support.
"It was nice for the community to come together for the veterans and say 'Welcome home, you're one of us,'" said Petarra, 25, political science major. "It was nice to feel like you're not different."
"Sometimes when you come home you feel like you're in a foreign country, and you aren't used to things," he said.
"I never feel like I'm tackling an issue here by myself," Petarra said. "You cannot beat the service you get from the counselors and the administrators here at Citrus College. You can't beat it."
---
---