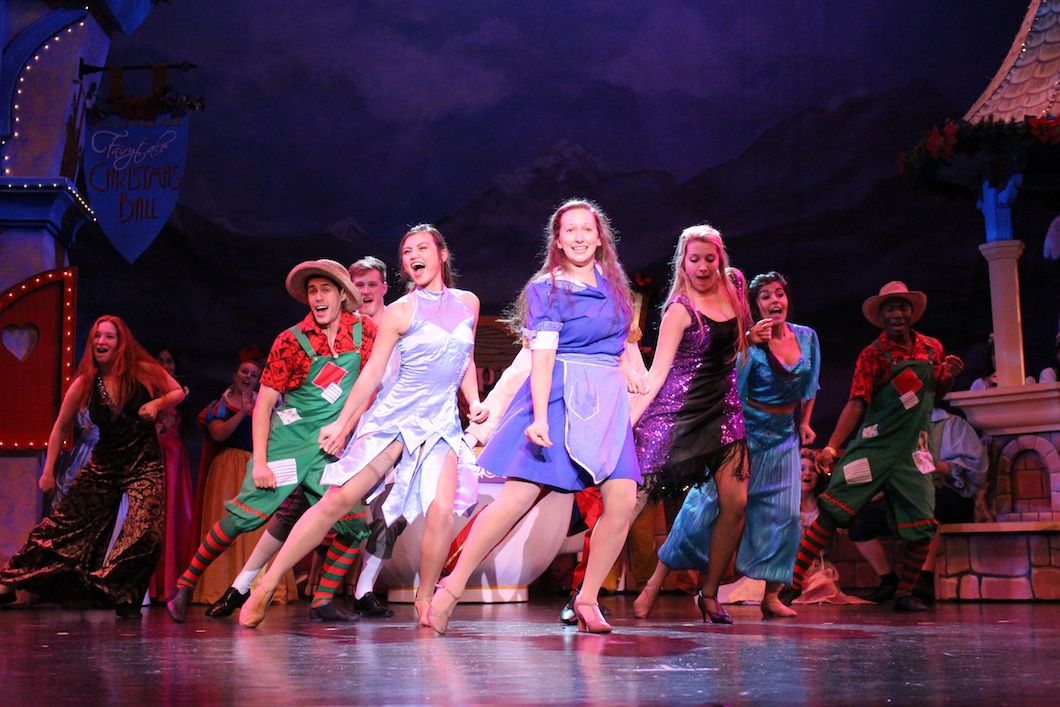 ---
Christmas Is…" graces the Haugh Performing Arts Center with the joys of the season once again.
The annual performance is divided into two acts. The first is a formal representation of the Citrus Singers, directed by Douglas Austin, Citrus Vocal Ensemble and Orchestra, directed by Martin Green and the Women's Ensemble, directed by Vonetta Mixson accompanied by Jeremy Logoet.
The group performs Christmas classics like "Silent Night," "Deck the Hall," and "Jingle Bells."
The second act reveals a boisterous narrative. The story line for this part of the production changes each year. This year's show takes place in Christmastown.
A competition takes place with teams of spirited elves and whoever builds the most toys will win the coveted Giant Jolly Jingle Trophy.
Bradley, played by Garrett Smith, one of Santa's elves, devises a plan to get a team of three other elves – Jingle, Jangle and Tingle – sent on vacation to the holiday wonderland of the "Happily Ever After Resort and Spa," to increase his chances of winning.
Jingle, played by Brandon Jenkins, Jangle, played by Andy May and Tinkle, played by Quincey Hinton, meet the Disney princesses Snow White, Princess Jasmine, Sleeping Beauty, and Cinderella along with their prince counterparts.
The elves later receive a visit from the big toy maker, Santa Claus himself, who is curious as to why his most dedicated and spirited of workers have decided to take off during the busiest time of the year.
As the truth unravels the Giant Jolly Jingle Trophy is still up for grabs and the recipients of this prestigious toy maker award are…well, you just have to go see for yourself.
Directed by Douglas Austin, music professor and director of the Citrus Singers, and choreographed by John Vaughan, interim director of the Haugh Performing Arts Center, "Christmas Is…" takes an entire year to prepare.
"Every year is a little different as far as set designs," John Patrick, set designer and manager of construction said. "We start at the beginning of the year and take four weeks out to do other sets but mainly focus on 'Christmas Is…'"
Pieces of the set are recycled from previous performances. One particular piece that shows its twinkling not-so-pine-scented fashion each year is an 18-foot Christmas tree.
"My favorite part of the show is the Christmas tree that has a mile and a half of lights," Karen Taulbee, stage manager said. "It puts my Christmas tree at home to shame."
This production has its main characters but "with the way the script is written . . . everyone has a shining moment," said Henry Chesney, 20, who plays an elf and Jack from "Jack and Jill."
Citrus performers spread holiday cheer singing and dancing to cheery musical numbers like "Santa Claus is Coming to Town," "Santa Baby" and "As Long as There's Christmas."
Performances are Dec. 7, 8, 14, 15, 21, 22 at 2 p.m. Ticket prices are $24, student/senior $22 and ages 16 and under $15. The Dec. 13 and 21 performances are at 8 p.m. Ticket prices are $22, student/senior $20 and ages 16 and under $15. For more information call (626) 963-9411.
---
---