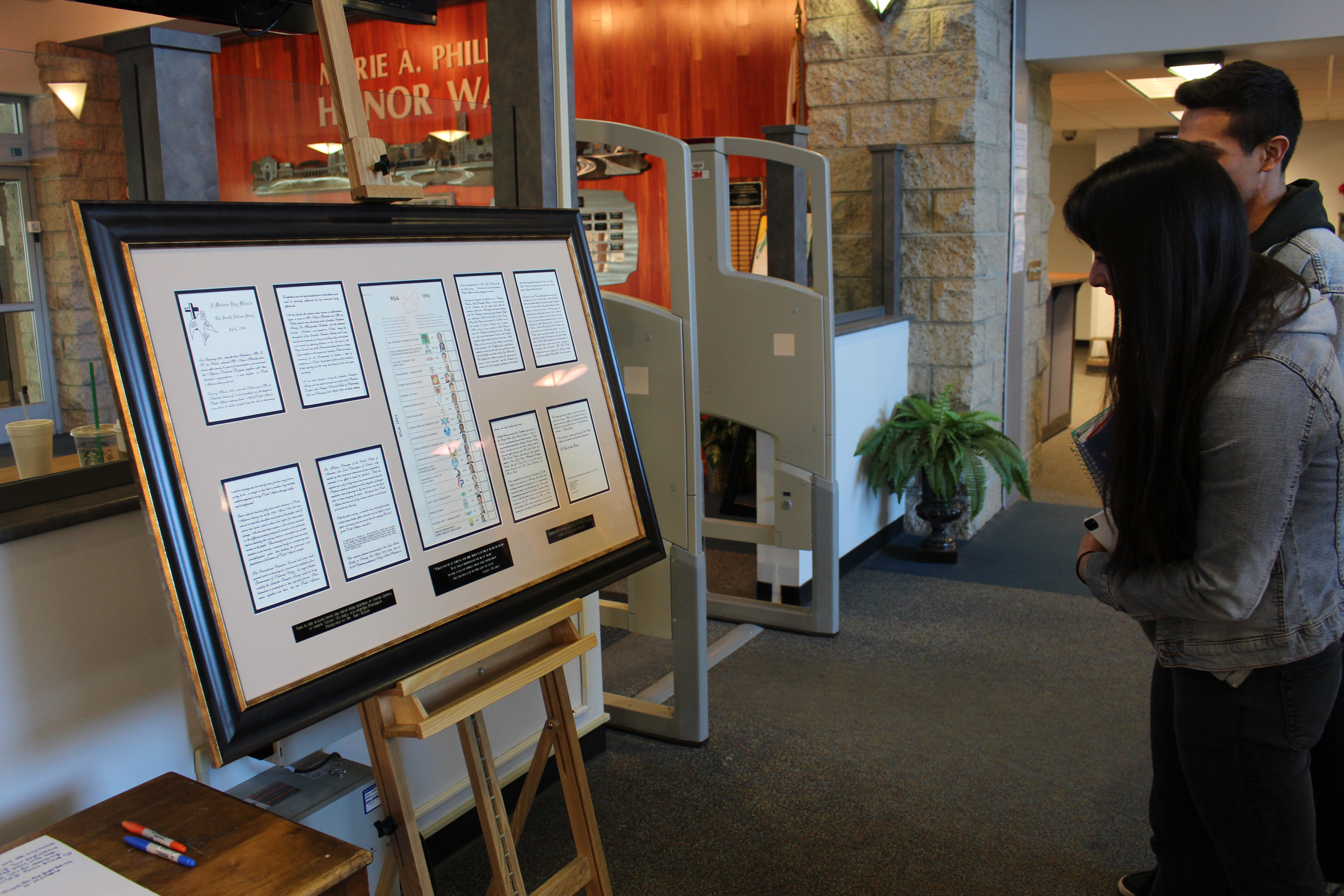 ---
A display has been given to the college and put on display in the Hayden Memorial Library honoring Nelson Mandela, South Africa's former president and anti-apartheid leader.
Mandela died Dec. 5 at age 95. He is to be buried Dec. 14 in Qunu, South Africa, the village where he was born.
In June 1964, Mandela was sentenced to life in prison for sabotage and speaking out against apartheid, a system of racial segregation in South Africa. After serving 27 years, Mandela was released from Victor Verster Prison on Feb. 11, 1990.
On a balcony of Cape Town's city hall the day of his release, Mandela addressed a roaring crowd with these words: "Today, the majority of South Africans, black and white, recognize that apartheid has no future. It has to be ended by our decisive mass action. We have waited too long for our freedom."
Mandela sparked an anti-apartheid movement. Over the course of several years, Mandela and the African National Congress gradually began to disassemble apartheid.
In 1994, the first all-race election ever held in his country, Mandela was elected as the first black president of South Africa.
Dr. John Baker, former interim vice president of student services, gave Citrus College the framed display which includes a ballot from the 1994 election that Baker purchased himself while in South Africa.
"After the first free election in 1994, the NAACP had a bunch of the ballots and they offered them so I purchased one," Baker said.
Born on the island of Kauai, Hawaii in March of 1941, Baker lived in a Japanese community during the attack on Pearl Harbor. He witnessed the Japanese being abused, but the men were needed for sugar plantations so they were allowed to stay in their homes rather than being sent to internment camps.
Memories from Baker's childhood played large role in his participation and fascination with civil rights movements.
"Nelson mandela for me was a very ordinary man, what that means for me is that he is someone ordinary people can relate to," Baker said. "He had great vision for [his] country . . . he wanted to build a common playing field for all the citizens of South Africa."
Baker gave the display to Citrus in order to help students "see his vision" because there is still inequality and racism in parts of the world.
"Nelson Mandela's work and name recognition was prominent for almost 30 years of my life," Arvid Spor, Ed.D, Citrus College vice president of student services and interim vice president of academic services said. "But I doubt that he is very well known to most traditional age college students."
"The display is impressive in that it a piece of South Africa's past and one of the most visible signs of the ending of racial segregation in their country," Spor said.
The display offers students a chance to view a small piece of history that impacted not only the people of South Africa but the entire world. 
"Even though many Citrus students may not have been born yet when he was elected in 1994, I think the items on display represent a fight for equality." Sarah Bosler, Citrus College librarian said. "Whether it's race, gender, opportunity or pay, I believe that young people today can relate to and appreciate that fight."
"From the students who I have spoken to about it, I think they are curious to learn more about Mandela's life." Bosler said. "I know at least one student who has checked out Long Walk to Freedom because the display piqued his interest in Mandela's life and the anti-apartheid movement."
Citrus College, which was founded in 1915, will be celebrating its 100th birthday starting in fall 2014.
The display was presented at the Dec. 3 board of trustees meeting. "The purpose of [the display] coming to the college was as a centennial gift," Christina Garcia, director of development and alumni relations for the Citrus College Foundation said. "It's nice to have something tangible at Citrus where we can celebrate his life."
After viewing the display, students, faculty and staff may write messages at a nearby memorial to honor the anti-apartheid leader.
The display will be in the Hayden Memorial Library until Dec. 13, according to Garcia the foundation will then "find a home" for it elsewhere on campus.
The display will continue to be open to the public even when it finds its new home as it is a part of the centennial celebration, which will conclude on June 5, 2015.
---
---