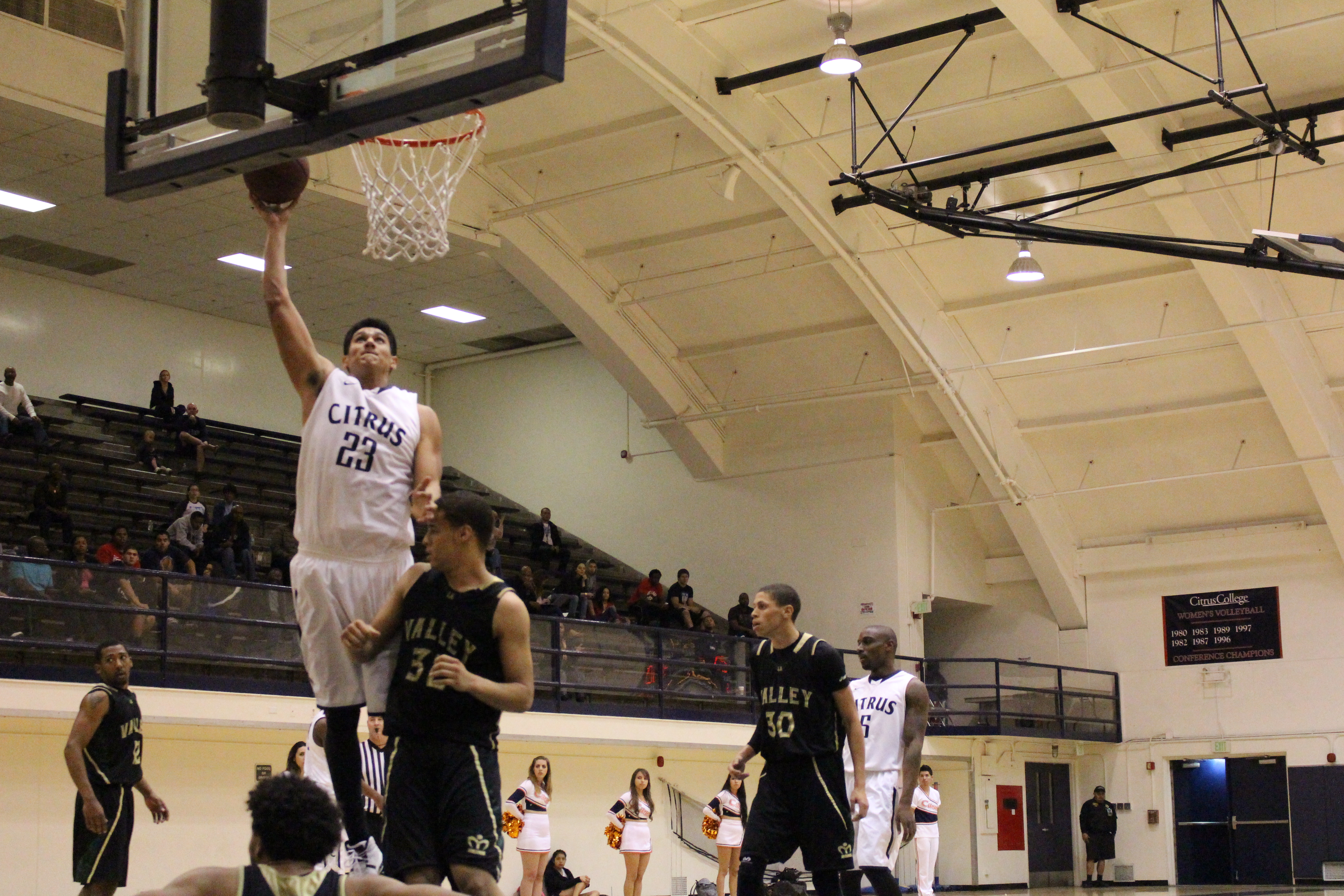 ---
Chris Reyes #23 of Citrus College goes up for a layup against Drew Ruffin Cannon, #32 of LA Valley at the Owls' Nest on Jan. 18, 2014. Reyes finished with 16 points, 11 rebounds and 4 blocks in the 70-67 loss to the Monarchs.
Chris Reyes' high school resume was good enough to land him a Division I scholarship. His time at Citrus College has only strengthened his resolve to continue his basketball career at a top school.
His freshman year at Citrus College, Reyes has excelled on the court, leading the Owls in points, rebounds, and blocked shots. Reyes is averaging a double-double, scoring nearly 19 points and pulling down more then 12 rebounds per game.
After being honored as CIF Division III Co-Player of the Year during his senior season at Damien High School in La Verne, Reyes accepted a scholarship offer to the St. Mary College of California in Moraga, Calif.
The 6-foot-7 forward redshirted his freshman year at St. Mary's, which was a change of pace for the Damien leader in career wins, rebounds, and blocked shots.
After a year at SMC, Reyes returned to Southern California to focus on academics.
Transitioning from a D-1 atmosphere to a community college was difficult, Reyes said, but he has enjoyed being around family and hiking with his family on the weekends.
Reyes has had an immediate impact on the Owls this year, helping what head coach Chris Victor describes as a young team with high character to a 7-4 record in conference play and a 14-8 record overall.
"We have a family atmosphere going on," Reyes said. "I really enjoy coming out and playing with all these guys."
Victor said he and his staff emphasize defense as the most important aspect of their team philosophy.
Reyes has been making his presence known on that end, averaging more than three-and-a-half blocked shots per game.
"He's fun to coach," Victor said. "He's a very coachable kid and listens and plays hard."
Reyes set a school record for rebounds in a single game on Jan. 8 with 24 against Santa Monica College to open Western State Conference play. He also recorded 23 points and six blocks.
"He's not selfish and he's a dominant big man for us," said sophomore guard Therique Card. "He gets basically all the rebounds, and in the paint he's a phenomenal player."
Reyes said he models his game after Kevin Love of the Minnesota Timberwolves. It is easy to compare the two with Reyes' consistent point totals and monster rebounding ability.
Reyes' contributions have been noticed. This season he was named to the Neil Edwards Classic All-Tournament Team. He was also honored with the Western State Conference Male Athlete of the Week for week 5.
Reyes said he plans to return to the Division I ranks at some point, but this season he is focusing on academics rather than on the recruiting process.
Reyes plans to major in marketing after transferring.
"I'm working more on my ball-handling and my outside shot because I know as a smaller big that I'd be used more as a stretch four than a guy who strictly posts up," he said.
"It's only his first year of college basketball, so he's got a lot of room for growth," Victor said. "It's going to be fun to watch him grow."
Citrus College looks to close out the regular season on a high note as they face West LA on Feb, 19 at 7 p.m. in the Owl's Nest. Admission is free for students with current ASCC stickers on their ID cards.
---
---