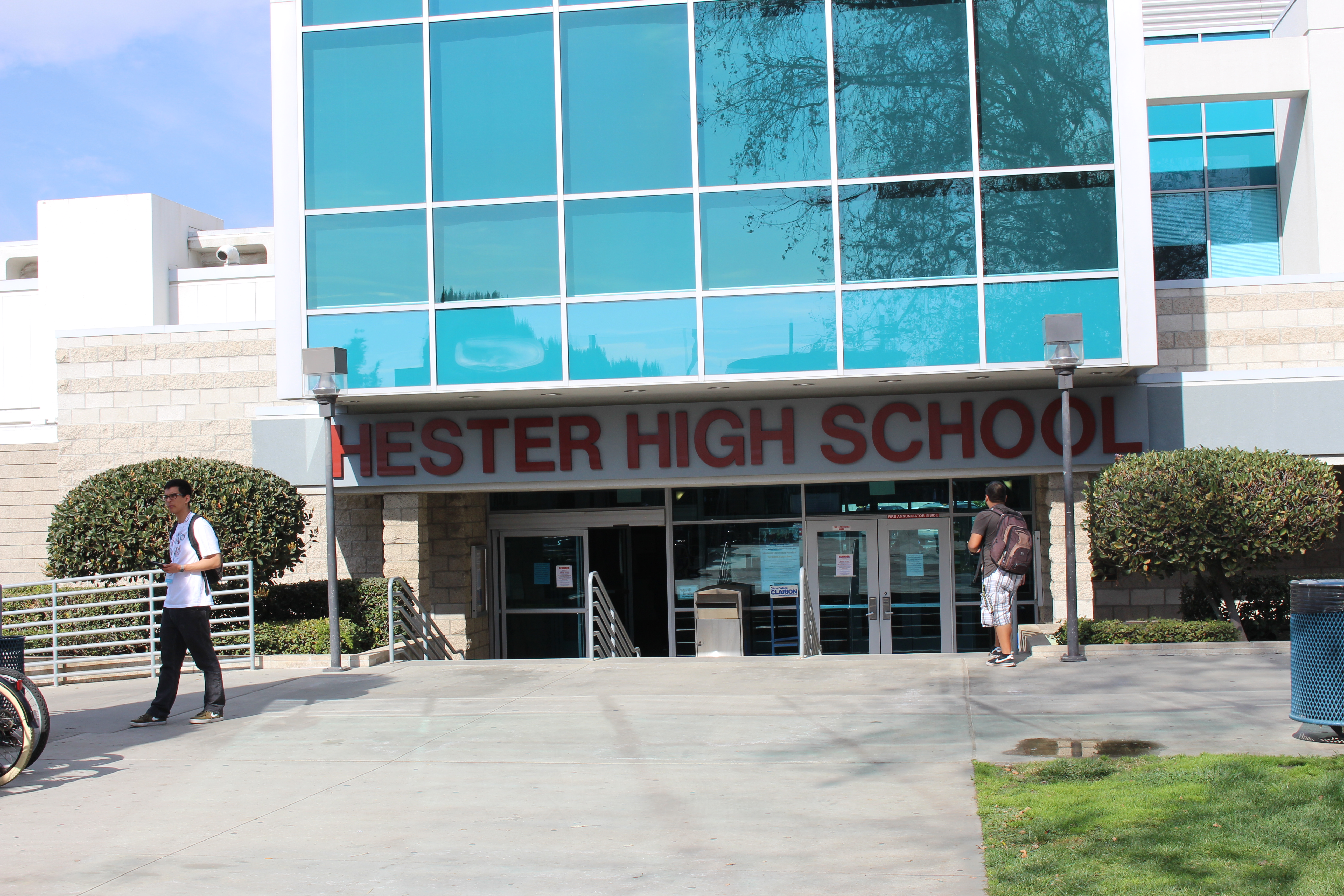 ---
Hayden Memorial Library was transformed into Hester High School during the MTV filming of it's new television show, "Faking It" on Jan. 27-31.  Filming resumed for one day on Feb. 18. "Faking It" will premiere on MTV on April 24, check local listings for showtimes. (Evan Solano / Citrus College Clarion)
Bright lights, young actors, and a film crew took over the Campus Center quad and transformed parts of Citrus College into Hester High School.
For those of you who missed it, MTV filmed segments of their new show "Faking It" on campus during the last week of January.
Filming took place on Jan. 27-31 and returned for additonal scenes on Feb. 18.
While the show is set in the town of Hester, Texas, Citrus was one of the locations chosen as a backdrop. More specifically, the exterior and interior of the Campus Center, and the exterior of the Hayden Memorial Library were rented for filming.
Citrus student Sarah Delgadillo, 20, anthropology, said that it was exciting to have filming take place on campus.
"It was exciting to see a set and to see someone famous at school, and the fact that our school got chosen to be a background for an MTV show" she said.
"Faking It" features two teenage girls, Karma and Amy, who try but fail to become popular. However, once they are mistakenly outed as lesbians, they find themselves suddenly popular. In an effort to stay in the spotlight, the girls decide to keep up the act.
Among the actors filming at Citrus were lead characters played by Katie Stevens and Rita Volk.
Stevens is playing the role of Karma. Stevens auditioned for the ninth season of Fox's "American Idol" and advanced to Hollywood, ultimately being the eighth finalist.
Amy will be played by actress Rita Volk, who has guest starred on an episode of the TNT crime drama, "Major Crimes" and can be seen playing the role of Katnip in the new parody film, "The Hungover Games."
One actor in particular had females out with their phones ready and hearts racing to capture an image: Gregg Sulkin.
The actor is widely known for his role as Mason Greybeck, the werewolf boyfriend of Alex Russo (Selena Gomez), in the Disney Channel's "Wizards of Waverly Place."
Citrus student Chanel Salvador, 20, occupational therapy major, met Sulkin multiple times between filming breaks and "fangirled" each time.
"I thought it was amazing having an MTV show come to our school," Salvador said. "I looked forward to coming to school every day that week."
Renting out campus facilities, whether it be for filming or other purposes generates money for Citrus College.
Money made from facilities rentals goes into a special fund for capital projects.
"Funds for repairs of existing buildings, and more recently, a pool repair, are not bond-funded," said Judy Rojas, administrative services/facility rental supervisor.
"If  money isn't available in individual budgets for different departments, these rental funds come in handy."
Pricing varies depending on hours of usage and location. For example, exterior shots are less expensive than interior shots, and the cost to rent the stadium is higher than both. "Faking It" cost around $17,825 for the first week of filming.
Yearly, Citrus College generates $500,000 due to facilities rentals such as filming, sports, and photo shoots.
"Faking It" is set to premiere on MTV on April 24.
One person who will definitely be watching the program when it airs is Salvador.
"I made a promise to Gregg that I will watch it and will also make my friends watch it," she said. "I seriously cannot wait."
---
---