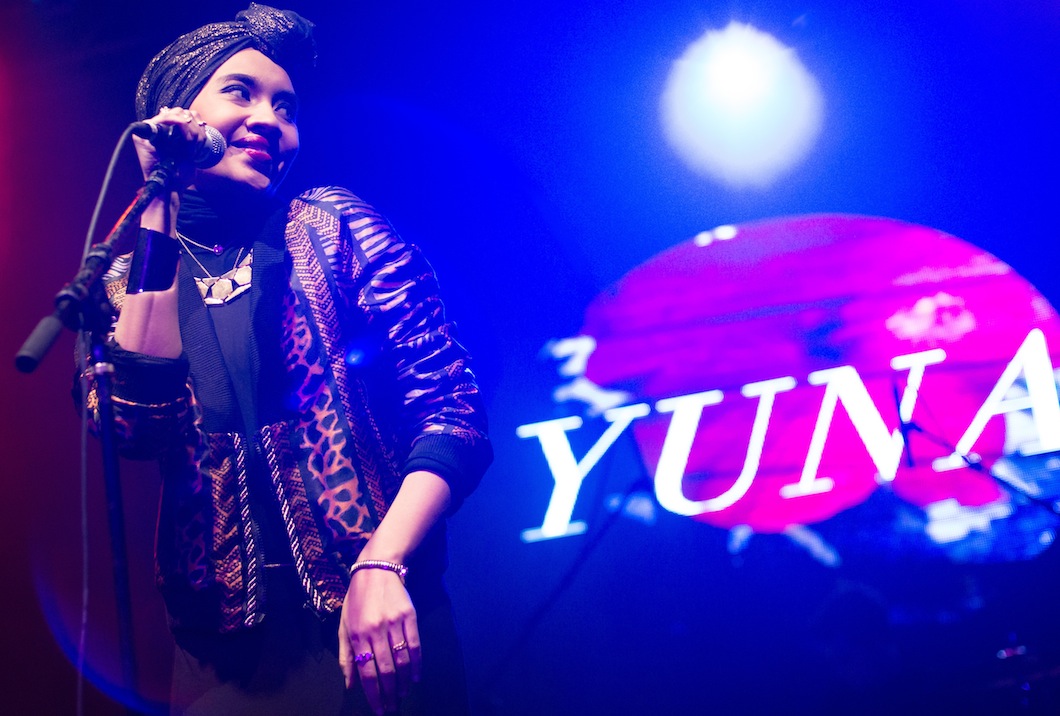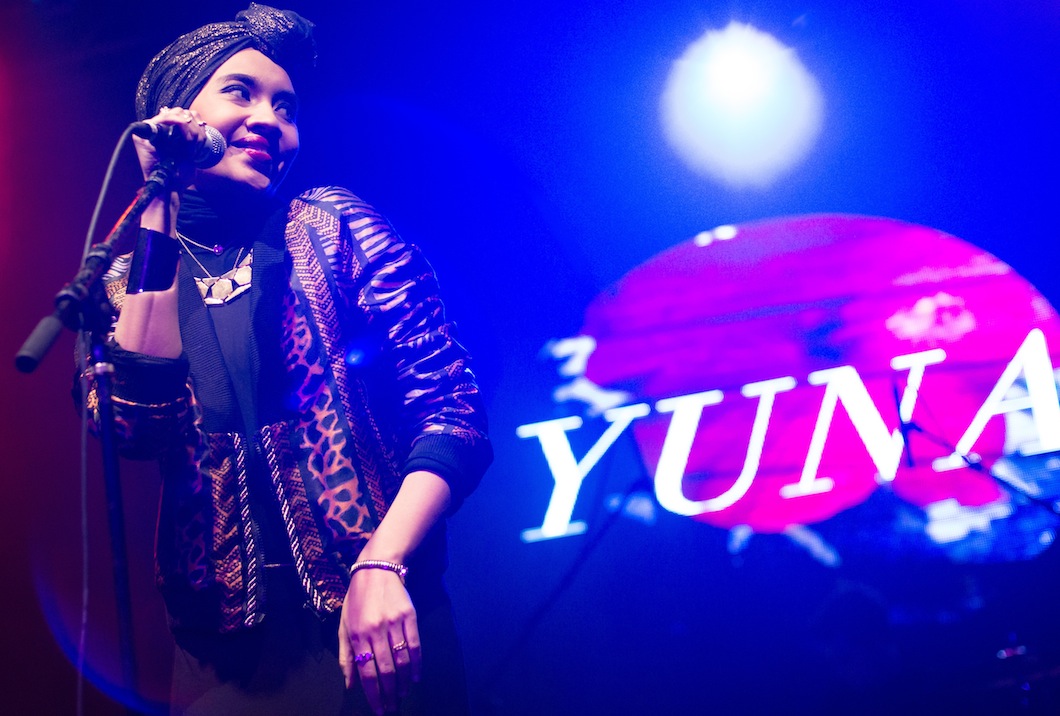 ---
Malaysian R&B/pop singer Yuna will be performing at the Glasshouse in Pomona on Feb. 20 at 8p.m. Yuna is currently on tour for her latest album, "Nocturnal." (Photo by: MattJPhot)
Malaysian singer-songwriter Yuna will be making her first appearance at the Glass House in Pomona.  The singer gained international success with her self-titled album and was praised by publications like Rolling Stone magazine.
The album included the breakthrough track "Live Your Life," produced by Pharrell Williams. Yuna's second album, "Nocturnal" was released in 2013, displaying a more grown up sound from the songwriter.
Tickets for the Feb. 20 performance will be available for purchase at the door for $18.
The show is all ages and will be held at 200 W. Second St, Pomona at 8 p.m.
Q: How has the tour been thus far?
A: It's going really good, it's a little bit cold, but we're doing okay so far. This is my first headlining tour.
Q:How would you describe a Yuna concert to anyone who has never seen you live?
A: I want it to be intimate for my fans and me. People who come to my shows, I think they want to have a good time but at the same time they want to really listen to my songs.
Q: Who are you trying to reach with your music?
A: I don't see it as something for a specific market because when I write music I really imagine it being everywhere. Anybody can enjoy it, young, old, anybody literally.
Q: Is there a central theme to Nocturnal? If so what is it?
A: I don't think there's a theme really, it's just a combination of all of the music that I love and making it mine. There's a little bit of everything, you know. There's a little bit of R&B, electronica, folk, more pop. There's a little bit of everything, it's still me.
Q: There is a pretty dynamic difference in your sound between your self-titled album and "Nocturnal." What were some things you did to enhance your sound and songwriting?
A: When I was recording for my first album it was more of an experiment. I wanted to try a lot of different things. I was still trying to find myself. For "Nocturnal" there were more discussions about what I wanted to do.
Q: Your music been featured in movies like 2012's "Savages" and "The Croods" last year. You even have a song in "Grand Theft Auto 5." What is your reaction to the crossover to American pop culture? 
A: I think it's really cool. As an artist I don't see why you shouldn't do stuff like that because it will only make you grow. I drew a lot of attention from music lovers. For "Savages," I had to learn how to play a ukulele to record the cover song that I made for Oliver Stone. You benefit from the experience.
Q: You have covered some pretty interesting artists like Frank Ocean, The Beatles and even an incredible Nirvana cover. Do you listen to wide range of artists in your down time?
A: I do, I'm a huge fan of R&B. When I was younger I was listening to a lot of rock music and then it shifted to R&B and hip-hop.
Q: What drew you to music? Who were some of your early influences?
A: I love Fiona Apple and I love Feist. I love Alanis Morissette. I listened to a lot of Lauren Hill. Looking back that played a part in my songwriting.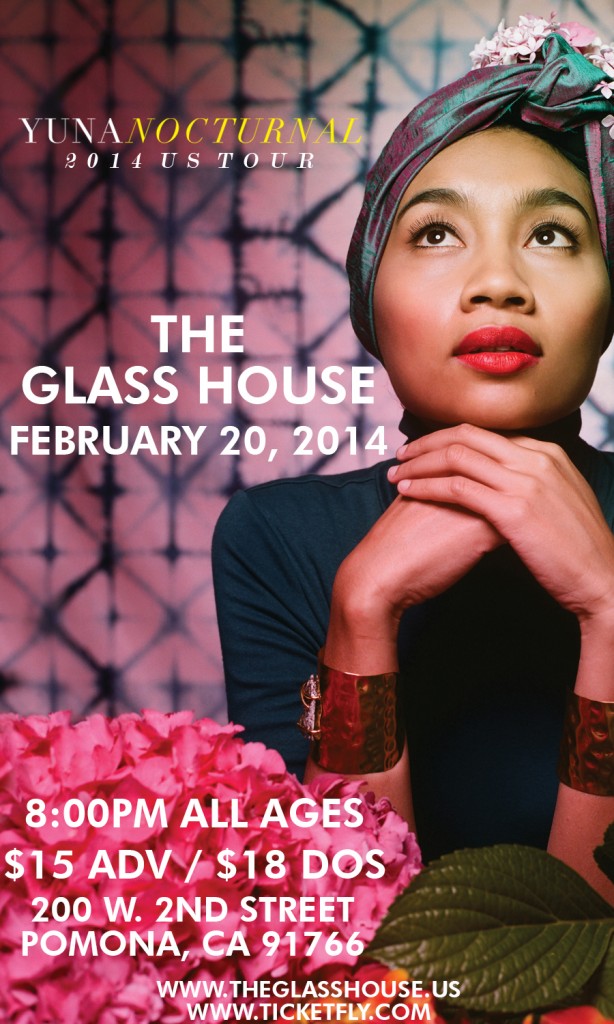 Q: What do you like to listen to when you are not performing, any artists or bands you have been really into lately?
A: I'm actually listening to Haim. I performed alongside them about a year and a half ago. I really like Drake as well.
Q: How was life growing up in Malaysia?
A: Growing up in Malaysia, it was really simple. We live a simple life. We love art and culture and food. I pretty much had a normal childhood and went to school and we all speak English. I think that's the number one question that I got when I first come out here was. A lot of people thought 'how do you speak English so well?' and I'm like, 'yeah I'm from Malaysia, but we learned how to speak it.'
Q: You moved to the U.S. recently correct? Where and how are your enjoying the move?
A: Has is been a major culture change for you? Or has the transition been easy?
I moved out to Los Angeles three years ago. I thought it was going to be a little difficult, but I adapt really well to different situations. I think because I used to travel a lot growing up, it wasn't a culture shock. I think what made it easy was that I was working and constantly working on my music. I think that when you enjoy what you're doing everything else just comes into place nicely.
Q: What is the Malaysian music scene like?
A: We're up to date with music, so we listen to a lot of bands. We always try to go back to our roots and find a balance between music that we're used to doing, like ballads and newer music. People like myself, we're trying to introduce something new and fresh.
Q: How does your Muslim faith play a role in your music, if at all? Have you faced any positive or negative reactions from people because of it?
A: There's always going to be negative reactions from people regardless. It doesn't take someone to be Muslim or not to get a response. I don't see myself as special because I'm Muslim. I'm just like any other girl. I love music and I happen to have my own beliefs just like any other person.
Q: You recently started up a fashion line, tell us more about it, what was the inspiration behind it?
A: It's called 14 NOV by Yuna. I've always been into fashion, but I never really got the opportunity to really start something apart from having my own store back in Malaysia. This year I started designing my own stuff. The inspiration behind it was that I wear stuff that I like everyday. For example, I wear turtlenecks every day, so I wanted to make some from high quality cotton and make them comfortable. Comfort is the key. I try to make my clothes modern.
Q: A lot of our readership is college students, some of whom work while studying. What were some jobs you worked before you began dedicating your time to music full time?
A: When I started playing music I was a law student. I graduated and then straight away jumped into music. In my final year I worked at a courthouse, and that was my first job. I was an intern so I spent all day stamping documents.
Q: Do you have any advice for student artists or performers who are juggling their personal lives along with professional career?
A: Just stay true to yourself. Not just to your identity, but stay true to what you think you're good at. Be confident in your craft.
Q: What's next for you after this tour?
A: I'm going back to Malaysia to open my store, November Culture. I'm playing the Future Music Festival in Malaysia as well. After that, I'm doing a European tour and then I'll be back in Los Angeles.
---
---