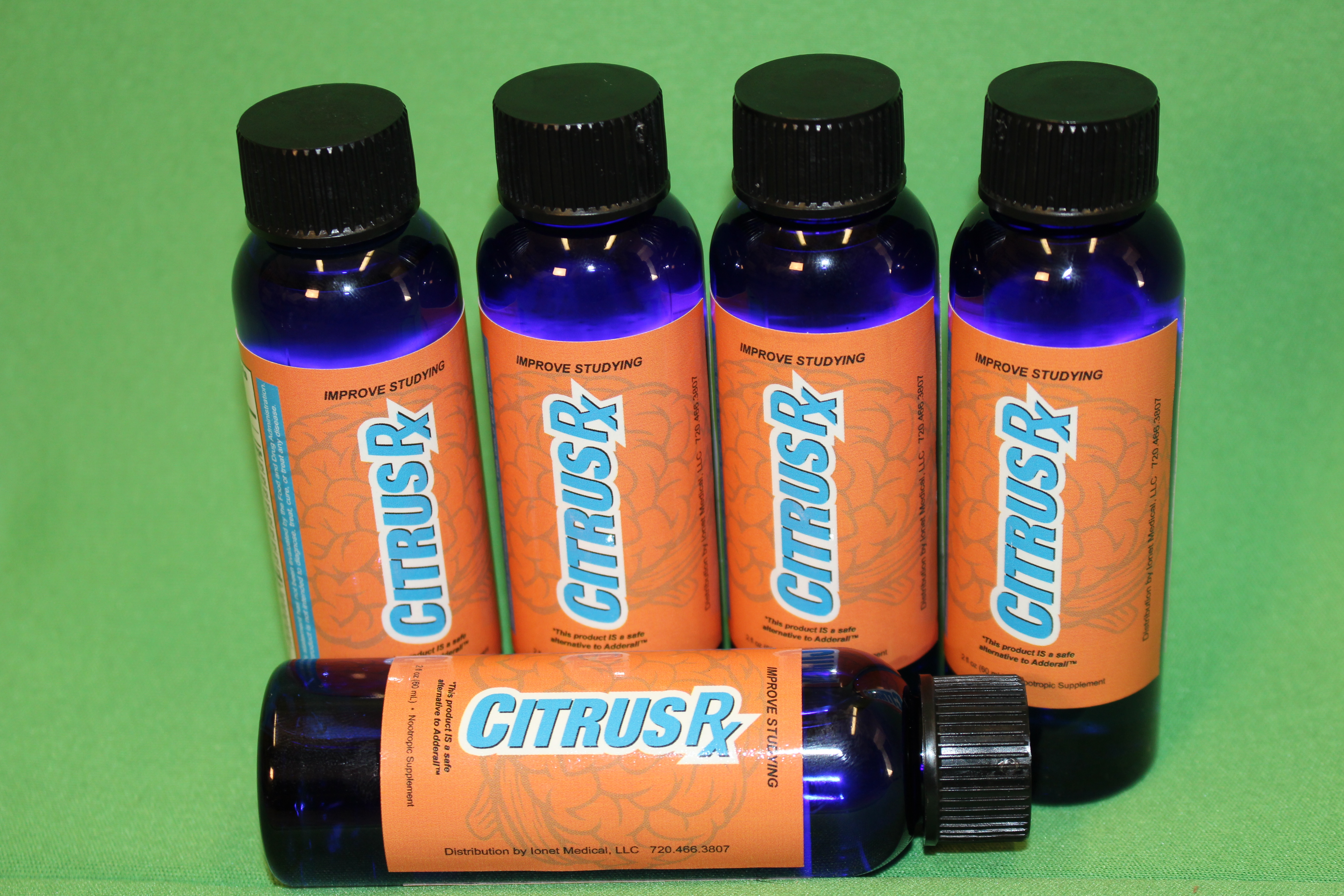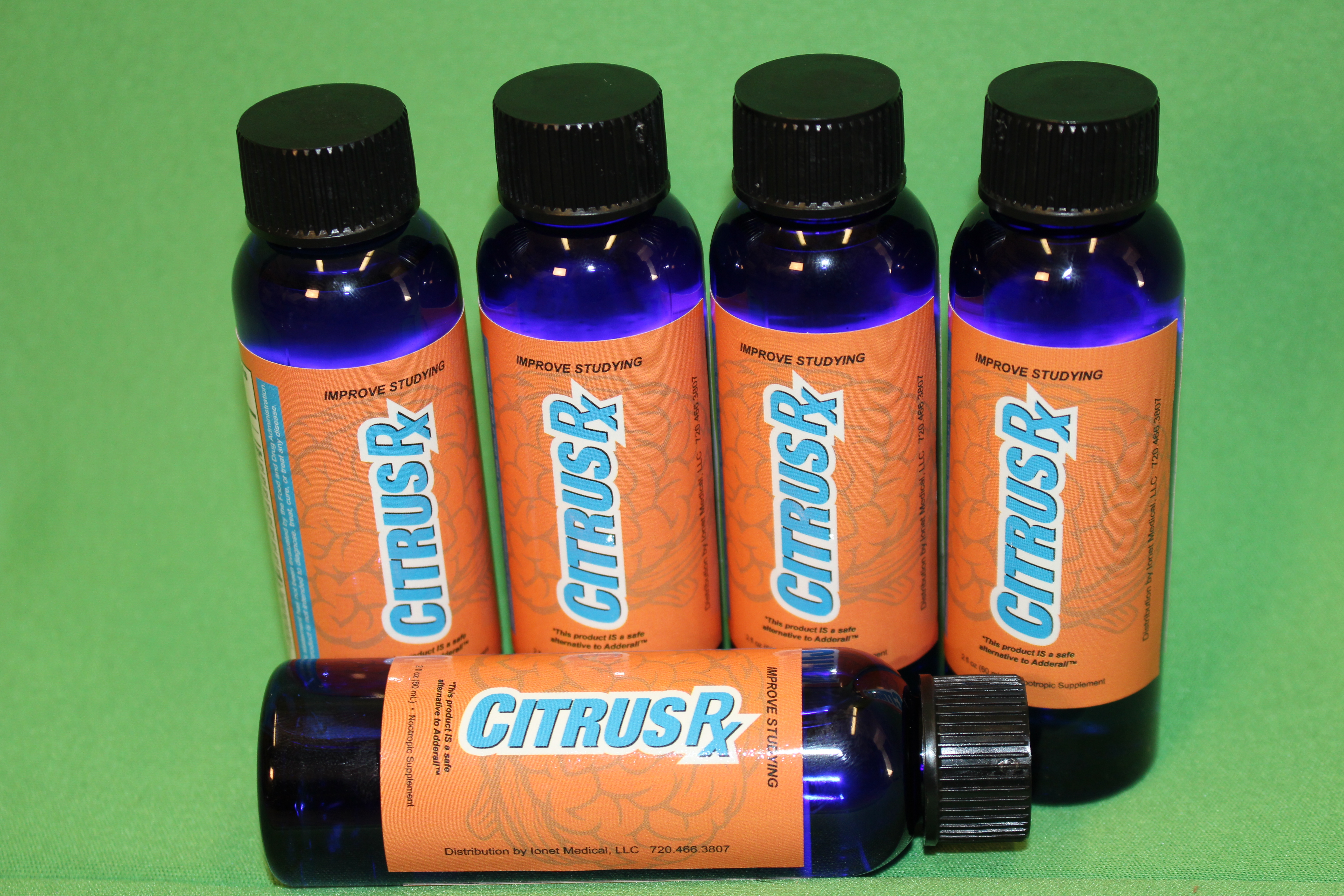 ---
After becoming successful at Cal Poly Pomona, this safe alternative to Adderall has found its way to Citrus.  Starting Feb. 19, 2014, students can purchase bottles of CitrusRx at the Owl Bookshop and in Starbucks. (Evan Solano / Citrus College Clarion)
While the health risks of energy drinks have become widespread subject of debate, products such as Monster, Red Bull and 5-Hour Energy drinks remain popular.
Many college students turn to these in order to focus and study.
Most energy drinks contain large amounts of stimulants such as caffeine to boost consumers' mental and physical energy.
Lawsuits are underway. Products like these have been removed from store shelves in some areas.
Another popular stimulant taken and in some cases abused by students is the pharmaceutical drug, Adderall.
Adderall is used to treat Attention Deficit Hyperactivity Disorder, but is also used by many as a study and test-taking aid.
One Cal Poly Pomona student has created another similar product that may appeal to college students.
Cal Poly Pomona biochemistry student Reilly Breaux, who is also preparing for pharmacy school, created a drink, which he says could be a substitute for others with potentially harmful substances.
His original product, Poly Rx, has been available for purchase at the Cal Poly Pomona campus stores for two and a half months. For the next two weeks it is being tested out at the Citrus College Owl Bookshop under the name Citrus Rx.
The product is being marketed as "a safe alternative to Adderall." Breaux thought of the concept last summer. He attributes his idea to the Alzheimer's treatment research that he had conducted.
During the research, Breaux said chemical studies were conducted patients that had deteriorating memories.
"Some of the trials were done to see if the chemicals or components, or anything that we could issue a patient that was approved by the state, could help their memory."
"We came across a lot of things that were legal that you could find in pill form, and we converted them into a drink, and that's what this is," he said.
While the 2 oz. packaging looks similar to that of a 5-Hour Energy drink, Citrus Rx is not an energy drink.
Breaux decided to use a branch of supplements called nootropics. The main ingredients in the drink help with memory retention, and cognitive enhancement.
Among these are Phosphatidylserine, a chemical that is part of the cell structure and is used to treat Alzheimer's and Attention Deficit Hyperactivity Disorder by improving thinking and mental functions.
The amino acids Acetyl-L-carnitine and Tyrosine are also key ingredients in the product. Acetyl-L-carnitine is naturally produced in the body and helps produce energy while Tyrosine helps the body build protein.
It also helps important brain chemicals to form, which affect both mood and sleep.
Schizandra is also one of the ingredients listed in Citrus Rx, which increases resistance to stress and disease. Along with this, it increases energy, physical performance and endurance.
Two clinical trials have been conducted with no negative side effects reported. Consumers have reported no side effects.
The effects of the drink are said to last up to four hours.
"The drink will help students study and absorb the information for longer periods of time," Breaux said.
Citrus Rx does not contain caffeine or sugar, Breaux said. The small amount of sodium that it does contain is purely for flavoring.
The flavor resembles that of the soda "Squirt," but more tangy.
"There is no jittery or heart racing effect," Breaux said. "Instead you get a clear headed focus to where you can pick up on more patterns than usual, and you retain the memory of those patterns longer."
Citrus Rx has been customized with Citrus colors, blue and orange.
A limited quantity will be available for purchase in the Owl Bookshop during the first week of school.
Rose Sayre, evening coordinator at the Owl Bookshop said that a decision has not been made as to whether or not the drink will be carried permanently.
"We'll test it out during the first week of the spring semester and get feedback," she said. "We will decide after that."
Eventually Breaux hopes to distribute the drink at other colleges.
Because of the high cost of making the drink, there is hardly a profit, Breaux said.
"It's more so about getting the word out there and then we can build upon it."
"There's no reason not to try it," he said.
Citrus Rx can be found at the Owl Bookshop beginning today.
---
---