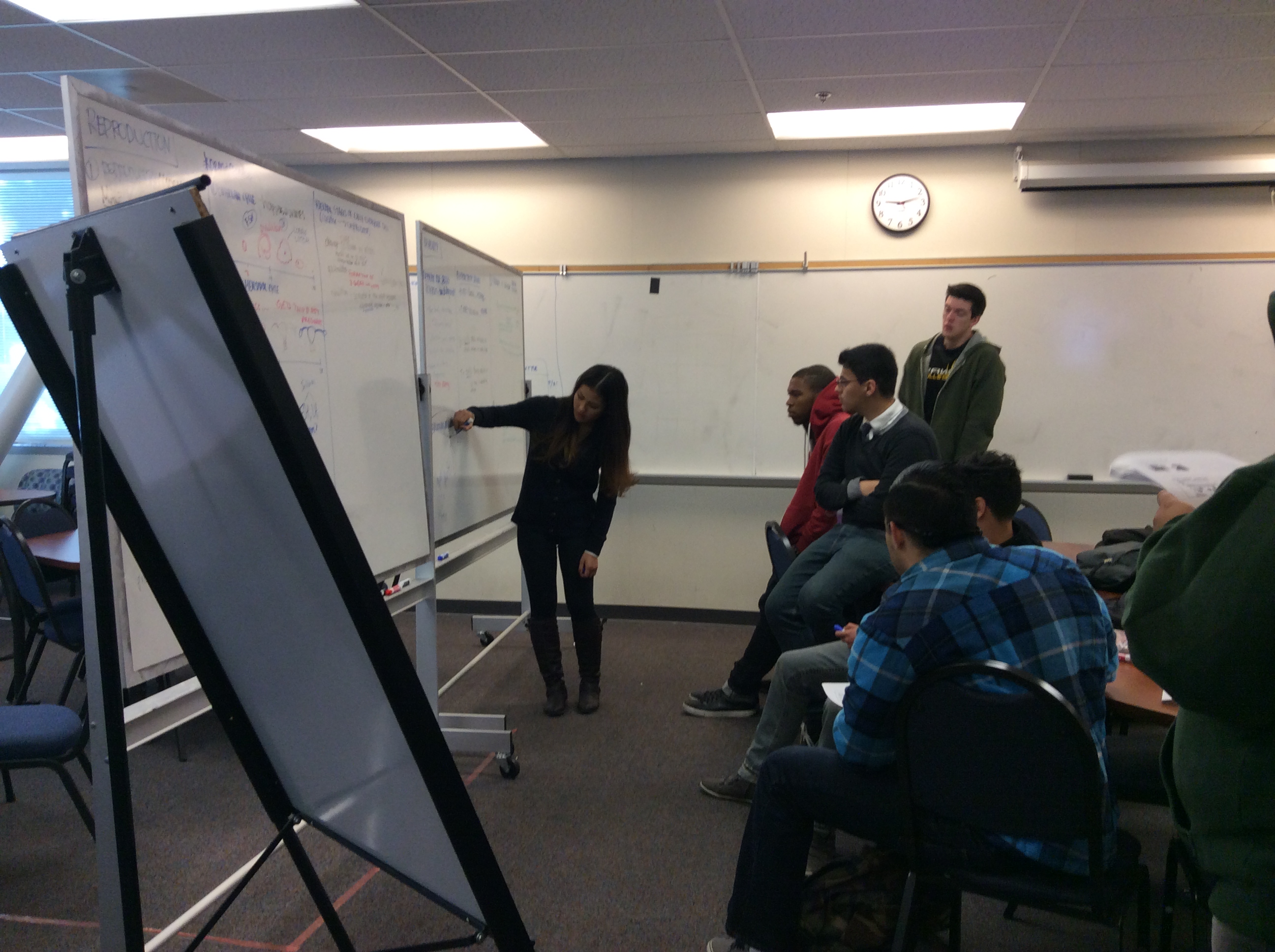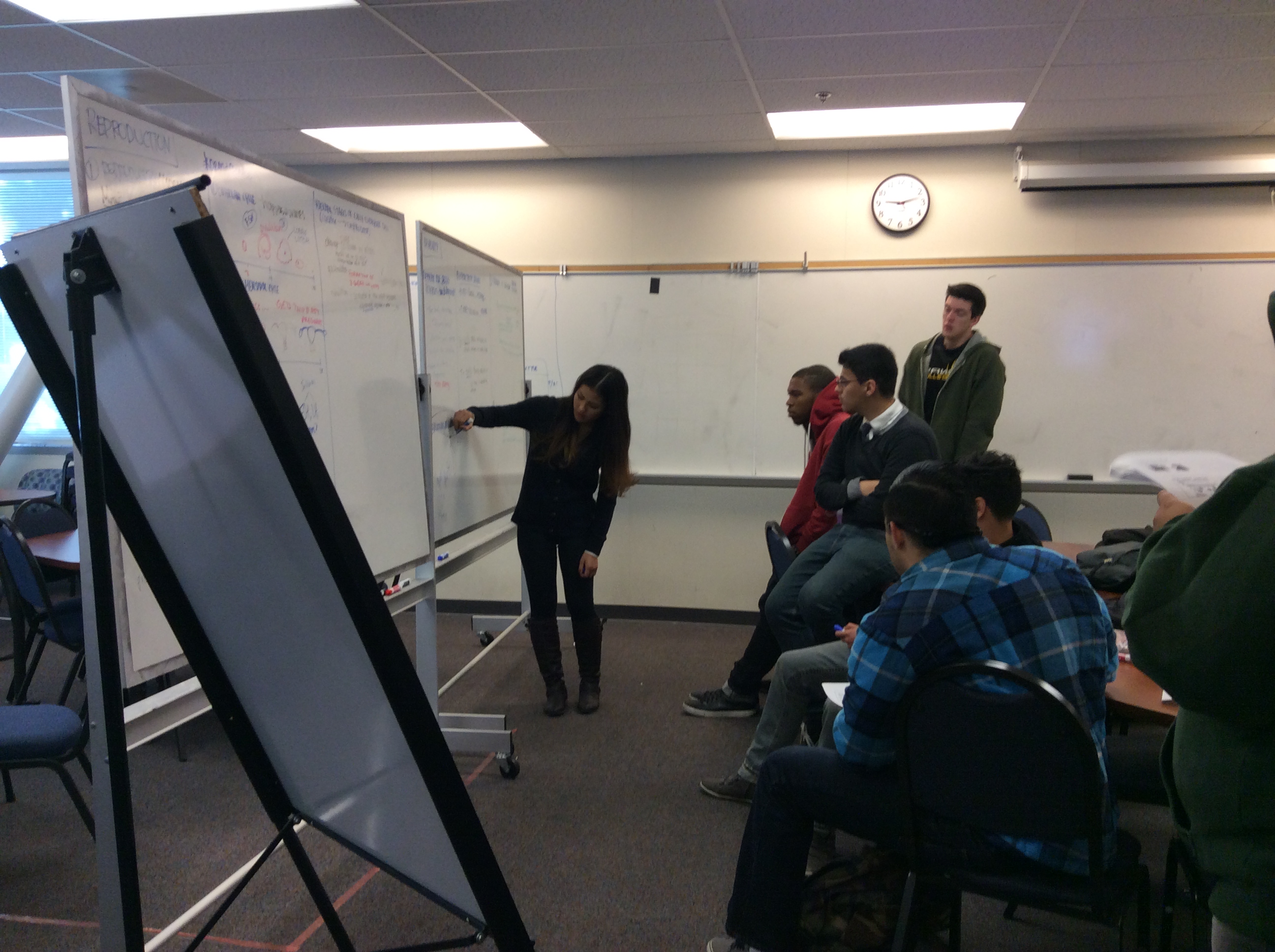 ---
Kanegawa, pictured left, leads a biology supplemental instruction (SI) session in the fall of 2013. Kanegawa has translated her success in the classroom to SI sessions, helping students flourish in the classroom. For more information on SI students should contact My Chau, SI Leader Supervisor, at mchau@citruscollege.edu. (My Chau STEM)
Supplemental Instruction leaders are expected to know it all. They are often stereotyped as naturally gifted, talented students born with immense capacity for knowledge.
But Kathleen Kanegawa's story exemplifies the fact that knowledge is earned, not gifted from on high.
After working three semesters as a SI leader in biology, Kanegawa has been recognized as the Student Worker of the Semester for fall 2013. She was honored at the Jan. 21 meeting of the Citrus Community College Board of Trustees.
Kanegawa was not always the 3.65 GPA Dean's List student she is today. In fact, she started at Citrus College in fall 2011 on academic position similar to that of many other freshmen.
"I was just taking English 99. I didn't take Math 150 yet, but that's what I tested into," said Kanegawa, now 20. "So that kind of gives you an idea where I stood academically in high school. I was kind of just so-so."
Kanegawa grew into an excellent student, and now she is helping others reach their academic potential.
Kanegawa began her transformation into a  SI leader after she enrolling in Biology 105 during the spring of 2012. It was the first time she had taken a class seriously, she said.
She studied harder than she had ever before, and her effort paid off. She even got perfect scores on several exams. Kanegawa recalls the sense of pride she experienced after receiving her first 100 percent.
After successfully completing Biology 105, Kanegawa's professor asked if she had considered being a SI leader.
She was skeptical at first, she said. SI sounded like a lot of hard work.
But hard work was something that Kanegawa had witnessed first hand at home in Chino Hills. Her mother raised her and her five siblings by herself when Kanegawa was in high school.
Despite her skepticism, Kanegawa began working as a SI leader in biology in the fall of 2012.
Her first semester as a SI leader was difficult, she said, but SI gave her insight into the struggles that professors face on a day-to-day basis.
After her first semester as a SI leader pulled her out of her comfort zone, Kanegawa considered not returning but she did. What kept her coming back was seeing the impact she had on students' lives.
"I could see my old self in them," Kanegawa said. "It made me really excited because it kept reminding me, I need to keep spreading the word, I need to keep encouraging students to do well in this class, to do well outside of this class, in their personal lives, and transfer."
Kanegawa's love of biology flourished as she worked with others. She eventually changed her major from nursing to biology/kinesiology.
My Chau, Ph. D., STEM Supplemental Instruction Coordinator, said what separates Kanegawa from others is that she genuinely wants to help students do well in their classes.
"Kathleen has a positive disposition, and she is dependable," Chau said. "She is very excited about science, and her enthusiasm transfers to the students in her SI sessions."
Kesean Diamond, another SI leader, discussed Kanegawa's ability to present biology lessons according to students, varying learning styles that she encounters daily.
Diamond is impressed by Kanegawa's versatility and adaptability in her teaching methods.
"She's able to kind of think outside the box, to ensure that her students can get the material and get that grade that they want," Diamond said.
Kanegawa's enthusiasm and caring demeanor extends beyond helping her students learn biology.
Rick Torres, also a SI leader, tells a story of Kanegawa's compassion last year. One of Kanegawa's SI coworkers who did not have health insurance became ill.
She immediately stepped into action, raising funds for her colleague with an impromptu bake sale.
Kanegawa has also volunteered at Gladstone Care Rehab, a senior rehabilitation center in Glendora.
Many of the seniors at Gladstone do not speak English, and she was often unable to assist the Spanish-speaking seniors.
Hoping to eliminate this barrier, Kanegawa said she took Spanish during the winter 2014 semester.
"She's really focused," said Diamond, 23. "Really determined."
Torres echoed Diamond when he said, "I know she works really hard, but she does it with such ease. She doesn't make learning seem difficult."
Kanegawa wants to serve as an example for her younger family members.
"I just want to show them that they also have the potential to be something great," Kanegawa said.
"They don't have to settle for things. They should be ambitious. They should try and go out in the world and accomplish things."
Kanegawa has applied for admission to Cal Poly Pomona, Cal State Fullerton, Cal State Northridge, and UC San Diego for the fall of 2014.
She plans to major in biology or kinesiology.
Her goal is to become a physical therapist and land a job where she can spend time with family and live comfortably.
"Whenever I feel discouraged, I constantly think about where I want to be," Kanegawa said. "Just having a goal, a dream: that motivates me. Looking at the students that I'm able to work with each semester, they motivate me. My siblings, they motivate me, too."
Kanegawa said she takes a one-day-at-a-time approach to life. Her journey is far from complete, and the Student Worker Award marks another milestone along her pathway to success.
---
---