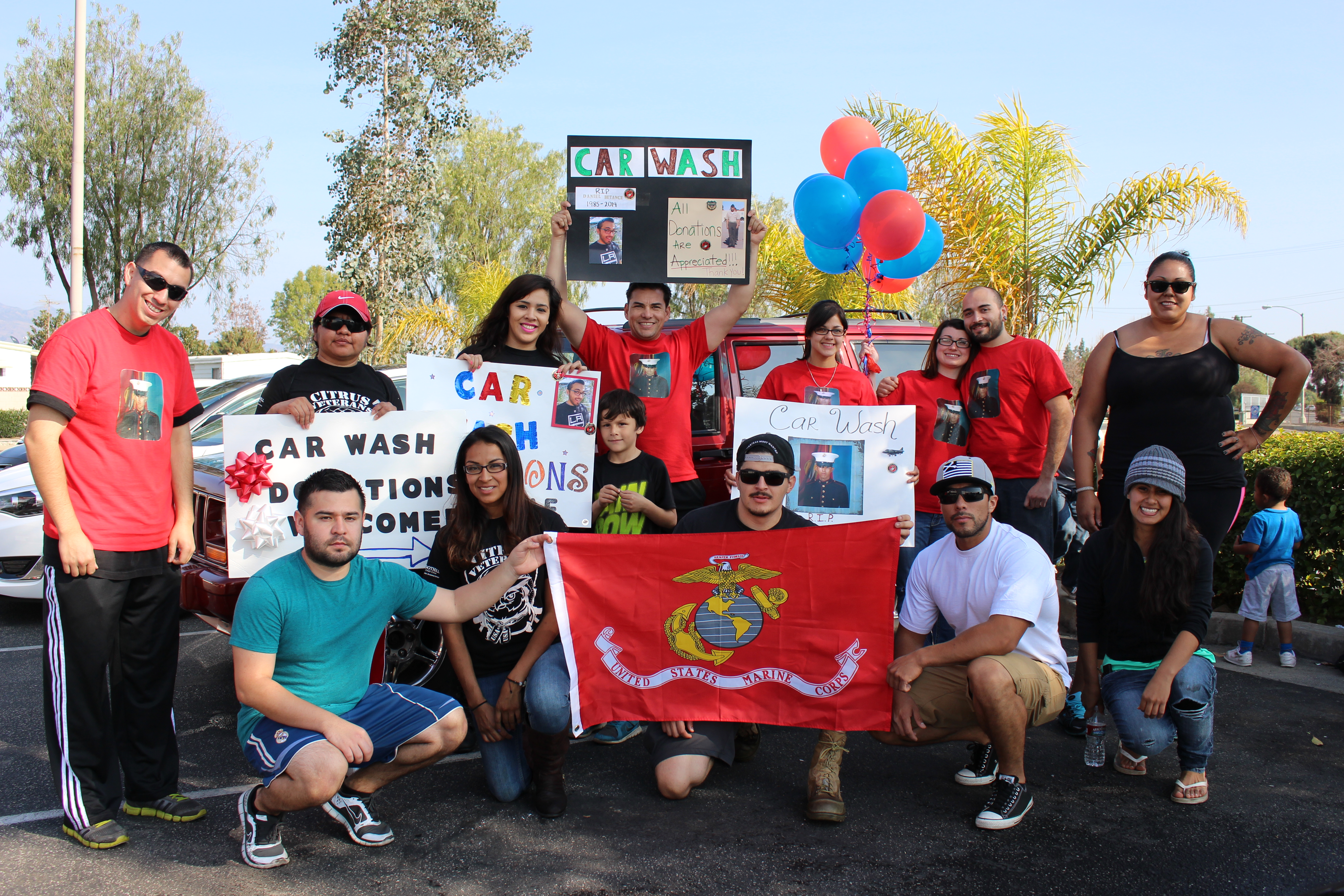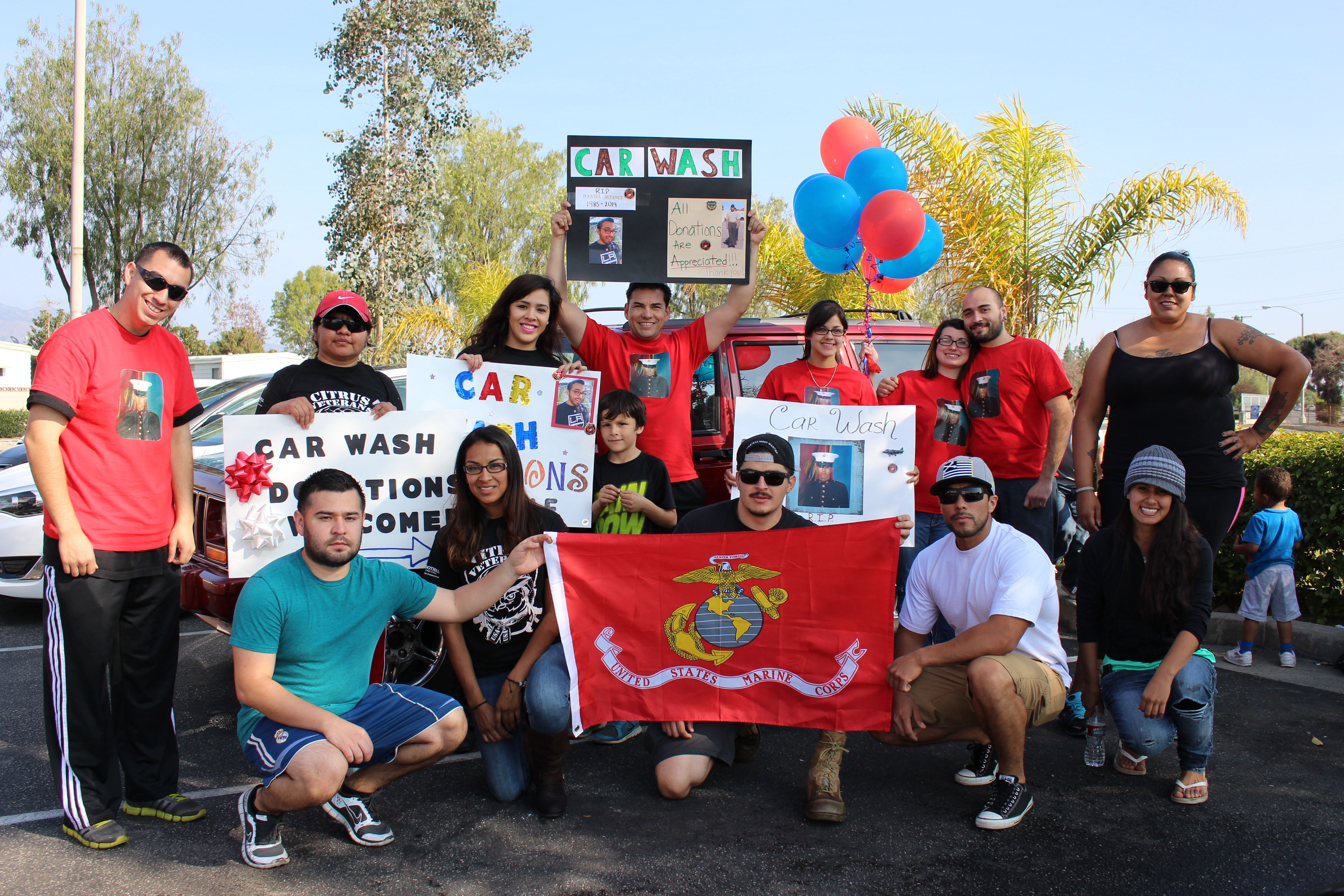 ---
Adrian Valenzuela, president of the Veteran Network (pictured left) alongside friends and family that came out to support the car wash on Feb. 8 in the parking lot of Santana's Mexican Food in Azusa.
Student veterans were shaken by the recent news that their friend and fellow Citrus College student Daniel Betance had taken his own life.
Betance, died Jan. 29, was buried at the Riverside National Cemetery on Feb. 11. His memorial service was held on Feb. 7 at Faith Community Church in West Covina.  He was 28 years old
Adrian Valenzuela, president of the Veterans Network, was one of the first to reach out to the Betance family.
"They said they needed help with funds, so the first thing we could think of is putting a fundraiser together," Valenzuela said.
To members of the Veterans Network, Betance was a familiar fixture at the Veterans Center.
To his friends and family, he was a brother, son and father.
"He was a very good people person, he knew how to help other people and make them feel loved and wanted," said Betance's girlfriend and Citrus student Baylie Sosa, 20, sociology major.
"He was a typical Marine, he had that hard humor and he was always smiling," said good friend  Johnny Moya, smiling as he reminisced on his friend . "It's a shame that we have to get together for something like this, but I'm glad that we can."
"He was always trying to make everybody laugh, quoting movies, and always being silly," said Betance's brother, Michael. "It's nice to see everybody out here to support my brother."
Valenzuela quickly organized a car wash that took place Feb. 8 in the parking lot of Santana's Mexican Food in Azusa.
Volunteers from the Veterans Center and Veterans Network washed, dried and worked together to support each other and the Betance family through their loss.
According to Valenzuela the car wash raised close to $600 and $1,500 from collection donations from the fundraiser.
"This is the best thing I could wish for, this makes me really happy to know a lot of people really do care," Sosa said.
Betance was born Aug. 23, 1985, at Beverly Hospital in Montebello, CA.
"He grew up in Covina until he was about in the third grade, and then we moved to Upland and he'd been there ever since," said his mother, Sandra Sanchez.
She recalls him being a film buff and being able to automatically memorize the dialogue of any movie line by line.
Daniel was an avid hockey fan, having grown up playing roller hockey till he was about 13-years old.
Growing up, he developed an interest in acting and took acting classes during high school.
After graduating from Upland High School in 2003, Betance decided to enlist in the Marines the following year.
"Both him and I would often talk about enlisting," stepbrother Chris Sanchez said. "We both didn't know where we wanted to go or what we wanted to do and the Marines seemed like a good way to find direction."
Sanchez also attributed their uncle who also served in the military as an inspiration to join.
While in the military Betance was a truck operator stationed at the Marine Corps Base Camp Pendleton in San Diego.
Betance enrolled in the Citrus College automotive program where he was a crew chief for the Automotive Physics Engineering eXperience program during the summer of 2012.
Betance is survived by his son, Lukas, who just turned 9 years old on Feb. 13.
Family were also present to celebrate his birthday early during the car wash.
"Like everyone else I was shocked," said Jocelyn Vizcarra, Sociology, Cal State Fullerton Marine Corps. "Right after the shock, my heart went out to his son, as a mother I can't imagine what he is going through."
"It's a shame that the world lost someone like him," his brother Chris Sanchez said.
Elizabeth Saucedo, 27, a criminal justice major, attended the fundraiser despite never having met Betance.
"I had no idea who he was, but he's a veteran and we all help each other out," Saucedo said.
"This is the first veteran I know of that has committed suicide, and being a veteran you hear about it statistically, but it has never affected me personally or anyone that I know," she said. "So it's just kind of an eye-opener."
"We're like a big family, if something happens- we're going to come out and help each other doesn't matter what it is," Vizcarra said.
The turn out for the car wash was higher than anyone anticipated and was appreciated by his friends and family.
In response to the turn out, Covina resident and cousin of Adrian Valenzuela, Chris Chavez said, "I'm not shocked, I'm not surprised – I'm thankful. I like seeing people pulling together like this."
The student veterans will be moving into a new building next month. To honor the memory of their friend, a collage is going to be created and framed in the new Veterans Center.
"Our biggest goal is to help [transition] veterans coming from military life back into education or into the work field," Valenzuela said.
But he states that the center is open to the students of Citrus College as well.
"Everyone's welcome to walk into the Veterans Center. We welcome friends and classmates too, we open up our study area for everybody, we have groups all the time coming in working with us."
Donations to the Betance family can be made via PayPal: sandras5@msn.com.
---
---