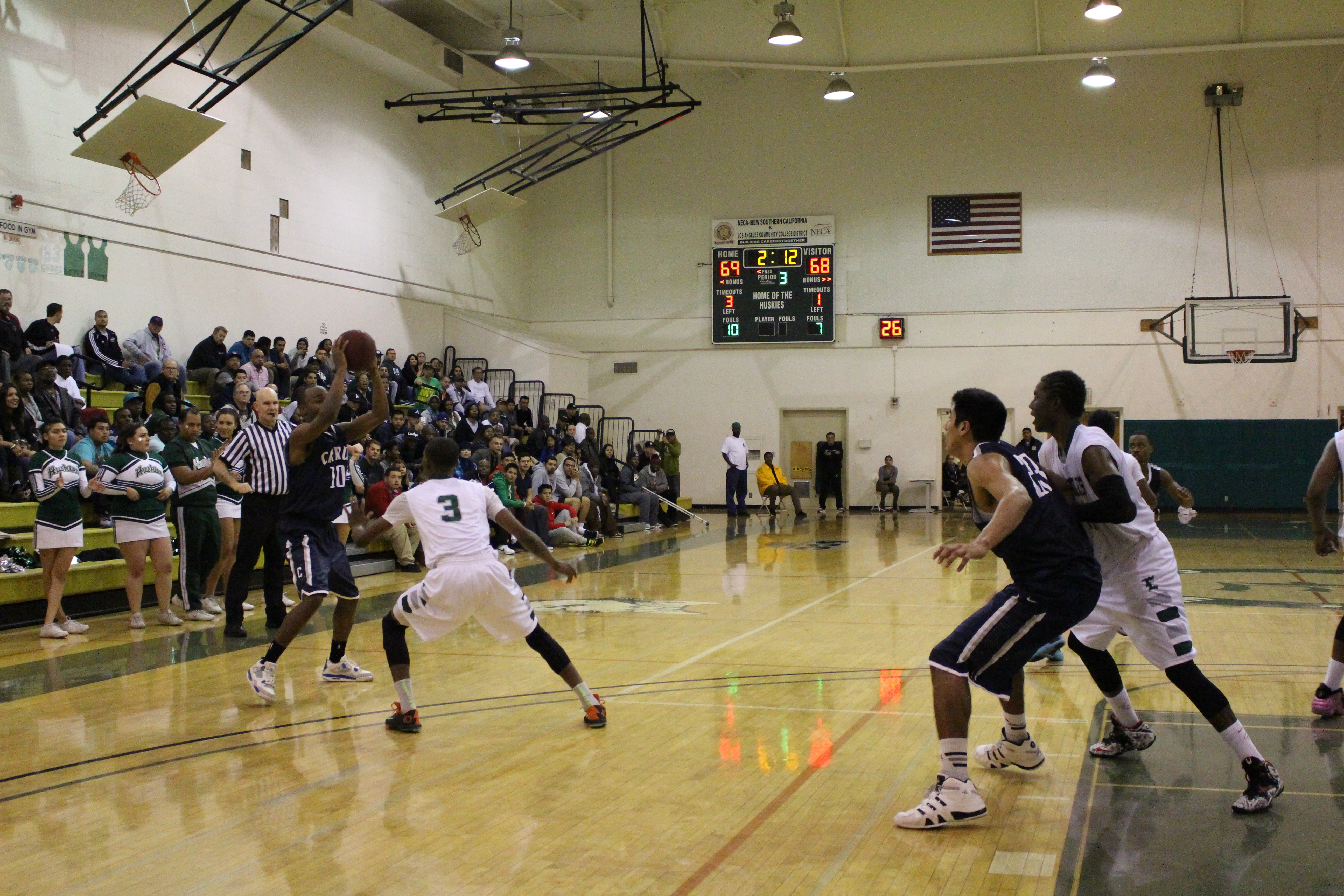 ---
Dominique Walker, #10, looks to find Chris Reyes, #23, in the post in the 86-81 victory of the East Los Angeles Huskies on Feb. 28, 2014. Reyes would finish the game with 26 points, 17 rebounds and 5 blocks. (Jessica Soto/Clarion)
By Dillon Cooper | Managing Editor
In a packed, tension-filled East Los Angeles College gym, it was the visiting #11 seeded Citrus College Owls that escaped with an 86-81 win against the #6 seeded Huskies.
The Owls came out hot, starting the game on a 10-2 run with buckets from freshman forward Chris Reyes and a three by sophomore guard Daniel Cheek.
"In the beginning of the game, they came out and punched us in the mouth," said Huskies' forward Zach Hinton.
Citrus' biggest lead was 11 points when they led 34-23 with 7:45 left in the first and would never trail in regulation.
The Huskies took their first lead at 3:40 left in the first overtime, when guard Davian Wilson converted a layup to go ahead 69-67.
They would be in the lead until there were 14 seconds left, when Citrus guard Dominique Walker hit a floater to tie it at 70 all.
"Bottom line is, we didn't want to lose so we had to pick up the intensity," Hinton said.
ELAC came out of the second OT shooting as they went on a 4-0 run but the Owls would take the lead with 1:36 to go when Cheek stepped up to the charity stripe and sank both of his free-throws to make it 77-76.
After the Huskies hit free-throws of their own, Citrus guard Steven Polee Jr. hit a huge three at the top of the arc to make it 80-78 with 1:00 to go.
ELAC forward Te'Shon Burton had a chance to tie it on the next possession, but Reyes rejected the shot and the Owls recovered the rebound.
After clutch free-throws by Walker to push the Owls' lead to 84-81, the Huskies had a chance to tie with 16 seconds left, but Owls' guard Jordan Jefferson pressured Wilson into a turnover and Jefferson would be sent to the line to seal the game.
"I was just feeling the win. We shoot a lot of free-throws at practice, so every time I stepped up to the line I knew I could knock them down," Walker said.
The free-throw line has not been Citrus' favorite spot on the floor this season, but a 9 for 9 effort by Walker and Jefferson's two free-throws to seal the game at 86-81 may give them confidence for the rest of the tournament.
"This win was huge," said Owls' head coach Chris Victor. "This was playoff basketball at its best. Every possession was so important, down the stretch, double overtime, and this is how it should be."
Reyes led the Owls with 26 points, 17 rebounds and 5 blocks. That effort was matched by ELAC's Cheatum, who had 27 points, 17 rebounds and 5 blocks.
Cheatum left his heart on the floor for his last game at ELAC.
"I hate to say it, but I think they outplayed us across the board," Cheatum said.
"All we can do is learn from it. I wish I could have done a couple things better. It hurts to lose in here."
With the win, the Owls will travel to #3 Mt. San Jacinto College today, March 5. The Eagles beat #19 Ventura College 78-56 in the second round of the California Community College Athletic Association Southern California Regionals.
"Personally, I have a vendetta against them because I told them we'd see them in the playoffs when we lost to them earlier in the season," Cheek said.
The Owls played Mt. San Jacinto on Nov. 16, 2013 in the San Diego City College invitational and lost 83-84.
The Eagles are 24-4 this season and are led by sophomore guard Dewayne Benjamin, who leads the team in scoring with 21.2 points per game.
"I know we're ready, we're hyped up. We're going to come out real strong," Cheek said.
Admission is $8 with a student or faculty ID and for children under 12 and $10 for adults.
---
---