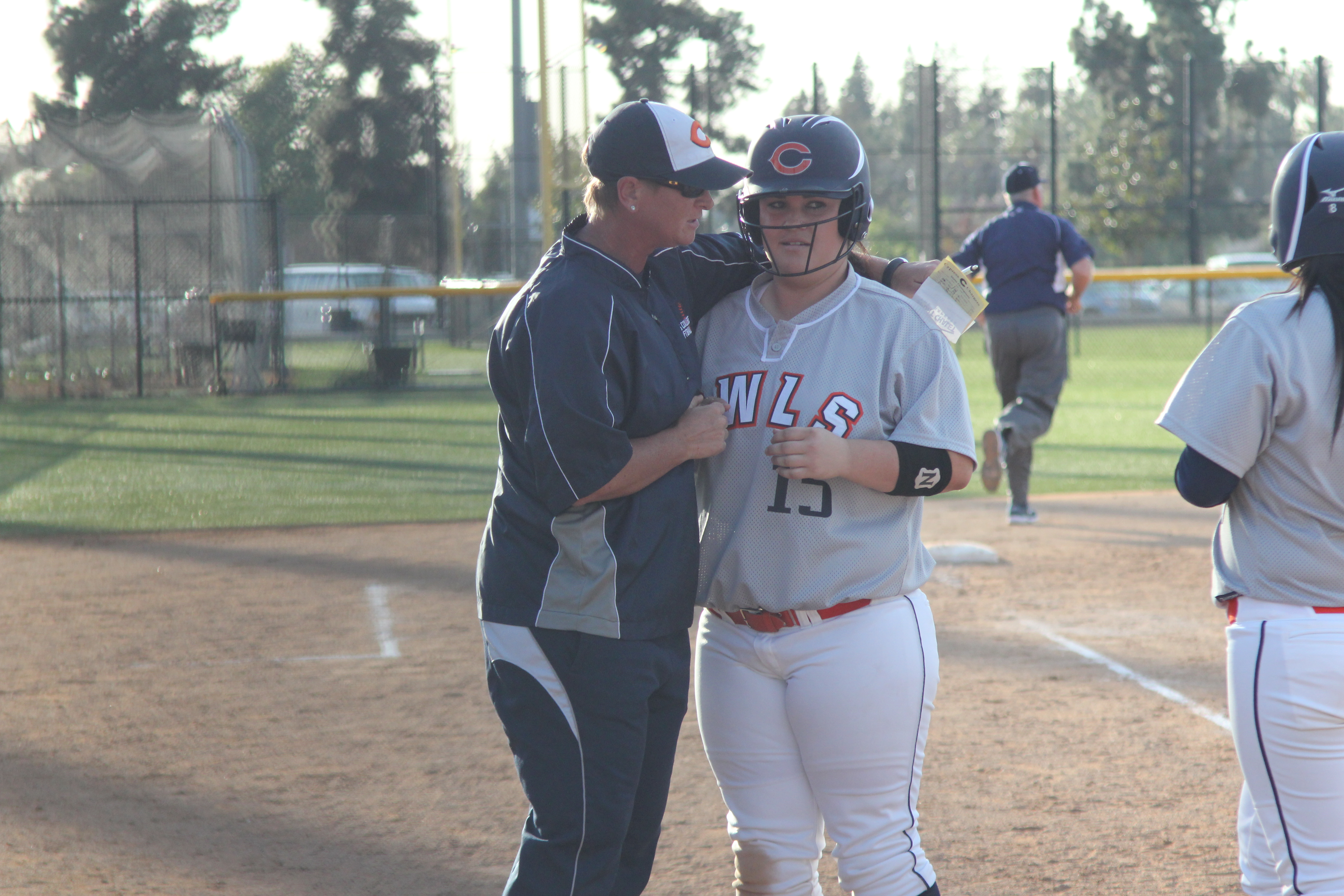 ---
Coach Boxley works with Sara Moore, #15 of Citrus College during the final inning of the Owls' walk-off victory against Cypress College on Feb. 27. (Joe Moreno/Clarion)
When Jackie Boxley was hired to take over the Citrus College softball program in 2005, the Owls had won only one game in the previous season.
Fast forward a decade, and Boxley has helped guide the team to the top tier of Southern California softball.
"I wanted to start my own program and there wasn't a lot of history here," said Boxley, now in her tenth season as head coach.
It did not take long for Boxley to put her vision for the program into play. In 2005 she led the Owls to their second best season in school history. In 2007, the team broke the previous record for wins in a season with 36 and Boxley led the Owls to their first conference title in two decades.
Boxley was recognized by the Western State Conference and named Southern California Coach of the Year for the historic 2007 campaign.
Assistant Coach Terry Paredez, who has worked with Boxley for nine seasons, said that it is Boxley's passion for the game that sets her apart from most coaches.
"She's determined that every time we take the field, we're going to win," Paredez said. "She's determined to build a champion."
This competitive spirit has helped Boxley claim a spot in the Citrus record book as the all-time leader in softball wins with 241.
A standout softball player at Cypress College, Boxley was named MVP of the 1991 state championship winning team.
Boxley also began her college-coaching career at Cyprus. She spent five seasons as an assistant before putting in one year as interim head coach. In her one season as interim head coach, she was named Orange Empire Conference Coach of the Year for 2001.
When Boxley arrived at Citrus, the program was a stark contrast from that at perennial softball powerhouse Cyprus College.
"We didn't get a lot of love from some teams early on," Boxley said. "People didn't want to play us. People didn't want to come all the way up here because they thought it was too far."
With input from Boxley, Citrus College renovated the softball complex, which opened in fall 2009. The facility features two fields with two state-of-the-art scoreboards, artificial field turf outfields, synthetic infield dirt and lights that allow for night games.
Without Boxley's revival of the program, these renovations might never have come to fruition.
After earning Citrus' first ever post-season series win, conquering three-time defending state champion Cypress College in the California Community College Athletic Association regional round, it is safe to say that public perception of the Citrus softball program has changed.
"Now people want to play us," Boxley said. "And when it comes time for playoffs, people don't want to play us."
Boxley graduated with a bachelor of science in child development from Cal State Fullerton and earned her master's in education from Azusa Pacific in 2000.
Boxley's teaching skills extend beyond the softball field and classroom to her coaching staff.
"Jackie's taught me a lot," Paredez said. "She's taught me a lot about the game and she's also taught me a lot about my own approach (to coaching)."
Boxley gives her assistants a chance to coach and involves them in the decision-making process. By allowing her assistants to participate she makes them feel wanted, Paredez said.
Having fun together and creating an environment where players and coaches can feel at home is vital to the culture of the Citrus softball program, Boxley said.
"We have to kick their tails at some point," Boxley said. "We gotta push them as far as they can go but we have to keep it fun for them."
Boxley does a great job of nurturing the players on her team, Paredez said.
"She is real heart-to-heart with us players," said sophomore infielder Alyssa Lozano. "If we got something going on, she knows. She knows when we're down, when we're up."
The bond Boxley has developed with her players is paying dividends on the field as the Owls are 7-4 overall and have yet to lose this year on their home field, going 5-0 in home contests.
"She definitely pushes us to our full potential," said freshman outfielder Haylie Roach. "She knows how good we can be and definitely can bring out the best in us when we are at our worst."
On Feb. 27 Citrus defeated Cypress College, then #3 in the state, with a dramatic 5-4 walk off victory. It was the Owls' third consecutive victory against Boxley's alma mater and just another sign of Citrus' rise to prominence.
The softball program's consistency is attracting more high school athletes and those who have played under Boxley can attest to her devotion to the program.
"Nobody came here for softball in the past," Boxley said. "Now people are coming here to play softball, so that's a good feeling."
"I have girls all the time that call us and say, 'Coach I wish this was a four-year school.' So that's all we need. That keeps us coming back," she said.
Boxley's intensity and passion when she waves her players on from the third base coaching box is something Lozano said she will always remember.
"Why would we not do this? It's so much fun," Boxley said.
The next opportunity to catch Boxley waving the Owls around the bases is the matchup against College of the Canyons on March 13 at 2:30 p.m. The Owls look to remain undefeated at home. Admission is free.
---
---