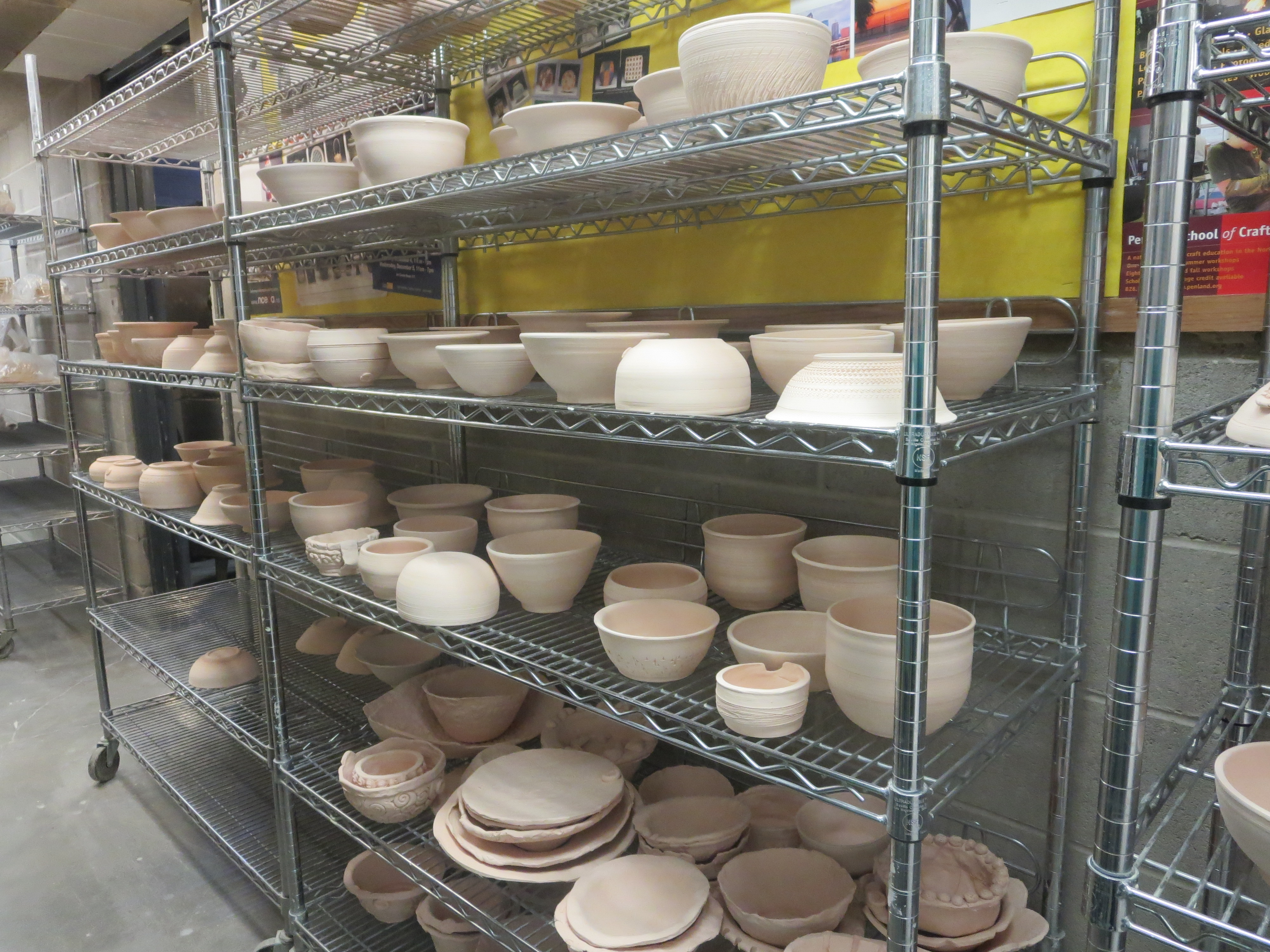 ---
The ceramic bowls made by volunteers on Souper Bowl Sunday are stacked on shelves ready to be glazed and fired. The bowls will be transported to the First Christian Church for the event on Mar. 14 from 5-8 p.m. (Jessica Soto/Clarion)
Feeding the hungry, one bowl at a time.
The Empty Bowls Project was founded by Lisa Blackburn and John Hartom in 1990 in Michigan. Since then it has become a national event, where communities come together to fight hunger.
Michael Hillman, professor of ceramics at Citrus College, along with former student, Lynn Hendricks, who is a member of First Christian Church Fine Arts Academy, began Glendora's Empty Bowls Project 11 years ago.
In it's first year, Hillman and a group of volunteers made nearly 2,000 bowls on what he called "soup-er bowl Sunday," which takes place on Super Bowl Sunday and volunteers and students get together in the ceramics building at Citrus to create as many bowls as they can.
Nearly 700 bowls are made at Citrus between the students, and the volunteers on "soup-er bowl" Sunday.
They raised about $10,000 for hunger relief. Portions of the proceeds have gone to start food banks like Precious Families in Sierra Madre where churches have set aside space to house homeless families.
Other portions of the money goes to the Glendora Police Department. The proceeds are given to the homeless from the GPD in the form of food vouchers.
Donations of soup are collected from restaurants within the community and are served in the donated ceramic bowls the day of the event.
"It's kind of really grown into a nice philanthropic event," Hillman said. "My students usually participate. We make bowls in the classroom, so this first week of school all the students in my program have to make and donate bowls, so they learn a little bit about giving back."
"There are more and more people showing up to buy the bowls, and more people coming to make the bowls. It's just growing every year," Scott Pangburn, 24, Hilman's lab assistant, said.
To actually make the event happen there are up to 200 volunteers between those who help to create the bowls and serve the soup on the day of the event.
"There's been times when the people who had participated, been to the event and bought a bowl . . . later that year due to a tragedy they have been recipients of funds," Hendricks said.
The event is scheduled for March 14 from 5 p.m. to 8 p.m. Each bowl costs $20 and all of the proceeds go to hunger relief.
---
---