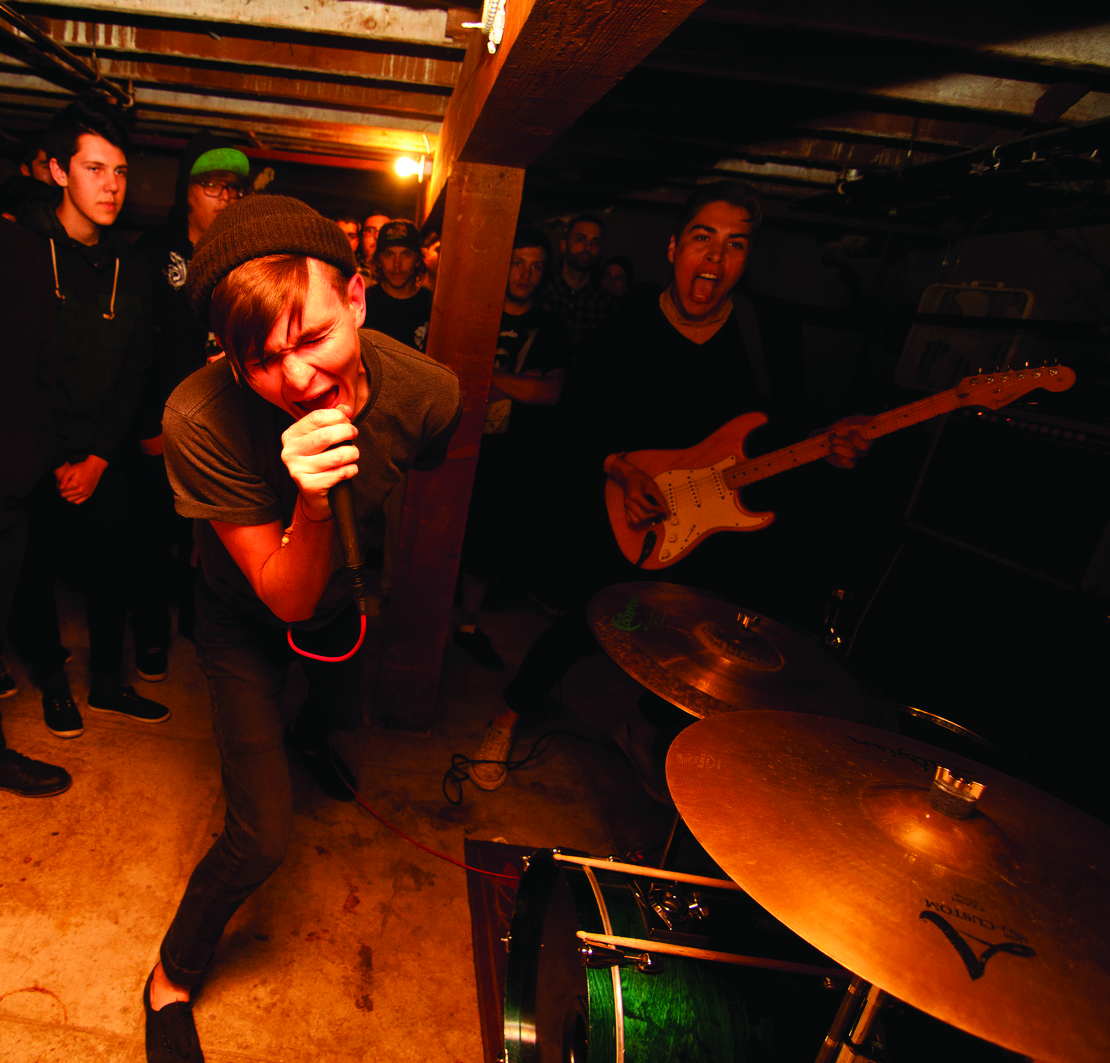 ---
Vocalist Cameron Hughes, 21, and guitarist Andy Zambrano, 24, during their show at the Nabolom Bakery Collective located in Berkeley, Calif. on Oct. 26, 2013. La Bella will be playing on March 9 at Aladdin Jr. II in Pomona. (Joe Calixto theshutterhapppyjose)
By Sylvia Aparicio | Online Editor
Hardcore music is commonly thought of as just aggressive and loud. However, one local band is using their music to send a message that, despite its sound, the hardcore/punk community is a positive outlet for change.
Hailing from the San Gabriel Valley, La Bella was formed in spring 2011 by Citrus alumni and current culinary school student, Andy Zambrano, 24.
One night in his garage, Zambrano was listening to hardcore band Dangers and punk band Comadre when he was inspired to start his own band. He immediately began writing what would become most of La Bella's EP.
He looked to Comadre's light flow and heavy undertones as inspiration for his new band.
Likewise, Dangers is another band that influenced all of the members in one way or another Zambrano said.
"Their quick non-repetitive song structure hits me hard every time I listen to them," he said. "So naturally I want to incorporate that into our songs. Fast, danceable and to the point."
The four piece is made up of Zambrano (guitar), Citrus student Cameron Hughes (vocals), Daniel Fernandez (drums) and former Citrus student John Montoya (bass).
The band incorporates a DIY attitude of early hardcore bands like Black Flag and Fugazi. While Zambrano uses chord progressions that are drawn directly from classical jazz as well as using Latin guitar arrangements similar to early At the Drive-In.
The drumming also features more intricacies and flourishes outside of what is considered the normal hardcore milieu, said vocalist Cameron Hughes, 21, political science major.
"The DIY ethos is something that is extraordinarily important," Hughes said.
The band screen-prints all of their shirts and design everything they put together from patches to the packaging on the records they produce.
"Anytime that it is possible for us to actually have a hand directly in the process, we do," Hughes said.
The band also makes an effort to only play all ages shows and to play at venues that are collectively run and non-hierarchical like Blood-Orange Info Shop in Riverside, The Dial in Murrieta, The Ché Café Collective located on the University of California, San Diego and Bridgetown DIY in La Puente.
"We try to make people understand that there's no barrier between the people playing music in front of you and yourself," Hughes said.
All four members have volunteered at Bridgetown DIY, a not-for-profit social center and art/music space, since 2011 and continue to do so.
Bridgetown DIY's mission is to "empower the community through means of direct education, outreach and action," according to their website.
Currently, the space primarily hosts shows, but is planning to provide free Internet access and free tutoring services for high school aged kids, Hughes said.
Zambrano says that working at the space is all volunteer based and never seems like work. Likewise, he said that it's up to each individual to find time to dedicate.
If you've never been to a punk/hardcore concert and are planning to see La Bella live, Hughes says to prepare for it to be loud and abrasive.
Despite its aggressive appearance, Hughes says he sees it as being a positive thing and that it allows people who are frustrated with things in their lives a release.
"A lot of the stuff that gets people down or that is upsetting in your life can really eat you up from the inside and a lot of people don't have an outlet for that," he said.
"For us, this is a creative outlet where we can express our frustrations in a really positive way."
The lyrical content of La Bella is both explicitly and implicitly political as heard in their songs like "Brukman Factory" and "Spontaneity in Am."
Hughes, who also writes all of the lyrics said, "I try to usually talk about things that I observe in the world or that I know are going on and critique them and analyze them."
"Punk has always been to me, a space to talk about things that you believe in and things that you want to express."
La Bella has since released a self-titled EP/demo, a recording titled "Live on 88.7 FM KSPC" and "Recomposition" in 2012. They are currently working a full-length album, which they hope to release this summer.
La Bella toured California with the band Stresscase in summer 2011 and toured the west coast summer of 2012. The band also completed a tour of the Pacific Northwest in the winter of 2012 and toured the United States in summer of 2013.
"Sometimes you have preconceived notions about places like the Midwest or the South or even on the East coast," said Hughes. "But we had them laid out in front of us and totally destroyed and shown that they're not true."
"There are people who are like you all over the country, you can find similarities or connections in one way or another."
La Bella has an upcoming show with Run With The Hunted, Seizures, Badblood and Left Astray on March 9 at 7:30 p.m. at Aladdin Jr. II in Pomona.
To listen to their music visit http://labella.bandcamp.com.
For future show information and band updates visit www.facebook.com/labelladiy.
---
---