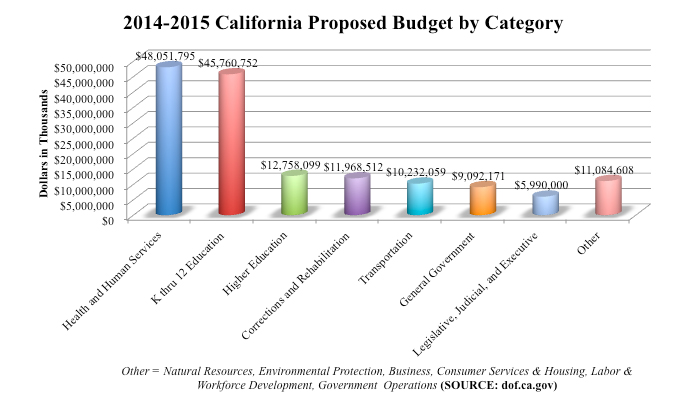 ---
(Joe Moreno/Clarion)
Relief for public education in California may be on the way following the release of the governor's budget proposal for 2014-15.
Gov. Jerry Brown's proposed budget calls for total funding of $26.3 billion for higher education, reflecting an increase of $1.1 billion, or 4.2 percent, above 2013-14 funding levels.
"It's certainly a relief to see a budget that has some positive figures as opposed to negative figures," said Claudette Dain, Citrus College vice president of finance and administrative service.
If the legislature approves the governor's plan, state funding for the California Community Colleges (CCC) will also increase by 11.4 percent in 2014-15.
"I'm pleased to report that the governor's budget proposal for 2014-2015, which was released on Jan. 9, 2014, is finally a positive one for community colleges," said Geraldine M. Perri, Ph. D., Citrus College superintendent/president in a recent email sent to Citrus College employees.
CCCs provide open access educational and vocational programs to approximately 2.3 million students, with taxpayers providing approximately $14.5 billion of annual General Fund support to California's higher education system, according to www.dof.ca.gov.
Revenues from Proposition 30, which raises taxes temporarily to fund education, as well as the improving economy, have resulted in a state budget surplus which may help facilitate an increase in funding.
The budget proposal is designed to address approximately $6 billion in deferred payments to education that built up during the recession which began in 2008.
"The deferral concept impacts Community Colleges because it's less dollars in our pocket and again cash is king," Dain said.
Unlike the state, which is able choose when they pay forward the money borrowed in deferrals as they please, Citrus College has commitments to employees and vendors that they must pay in a timely matter.
"When we don't get the cash we need from the state, yet we need cash, we have to go out and get cash somewhere else," Dain said. "We have to borrow."
Borrowing cost community colleges money in issuance costs, borrowing costs and interest payments, Dain said.
When the state withholds money through deferrals they pay no interest or borrowing fees to CCCs.
To help pay off the "wall of debt," $235.6 million in budget year funding would go toward paying down deferrals, combined with $356.8 million proposed in one-time funds to eliminate all remaining outstanding deferral debt owed to the CCCs.
These figures cannot be viewed as new money though because the majority of this money is existing funding that was never paid by the state. Therefore, deferral paybacks are not new money for additional courses or student services.
The budget also proposes a one time increase of $175 million, to be split equally between deferred maintenance and instructional equipment purchases. These resources will allow districts to protect investments previously made in facilities and improve students' experience by replenishing and investing in new instructional equipment, according to the state's website.
According to the budget proposal, $200 million will go to supporting student success programs and strengthening support for underrepresented students.
"It is gratifying to know that, at last, there will be additional resources from the state to fund programs and services that will promote greater student completion and success," Perri said in her email.
A highlight of the budget proposes an increase of $155.2 million for growth in general purpose apportionments, which represents a 3 percent increase in enrollment.
The budget summary states that all districts will be eligible for expanded access and that districts will be eventually restored to pre-recession levels.
Growth money is allocated by the California Community Colleges Chancellor's office dependent upon need. To earn growth dollars, schools must generate full time equivalent students (FTES). To achieve this colleges offer additional courses, course sections and course offerings, Dain said.
"Hopefully it would mean that some of those classes that students have had a difficult time getting over the last several years, last several semesters, they'd have maybe a little more availability in the class schedule," Dain said.
Meanwhile, debate on the governor's proposal is underway. On Feb. 12 the Legislative Analyst Office (LAO) released "The 2014-2015 Budget: Analysis of the Higher Education Budget."
According to the report, the existing CCC growth allocation formula is flawed, and information to date suggests that the enrollment growth proposal is likely too high.
"We recommend the legislature reject the governor's proposal to have a new formula in place for 2014-15, and instead give the CCC Chancellor's Office a reasonable period of time to develop a new allocation formula," Legislative Analyst Mac Taylor said in the LAO report.
The LAO's critique of the governor's plan is just the start of the debate on the budget.
The legislature will hold hearings regarding the budget from February to May.
The Department of Finance will submit its May Revision Update on revenues and expenditures on May 14.
The new fiscal year begins July 1, 2014. The Constitutional deadline for passage of a balanced budget is June 15.
---
---