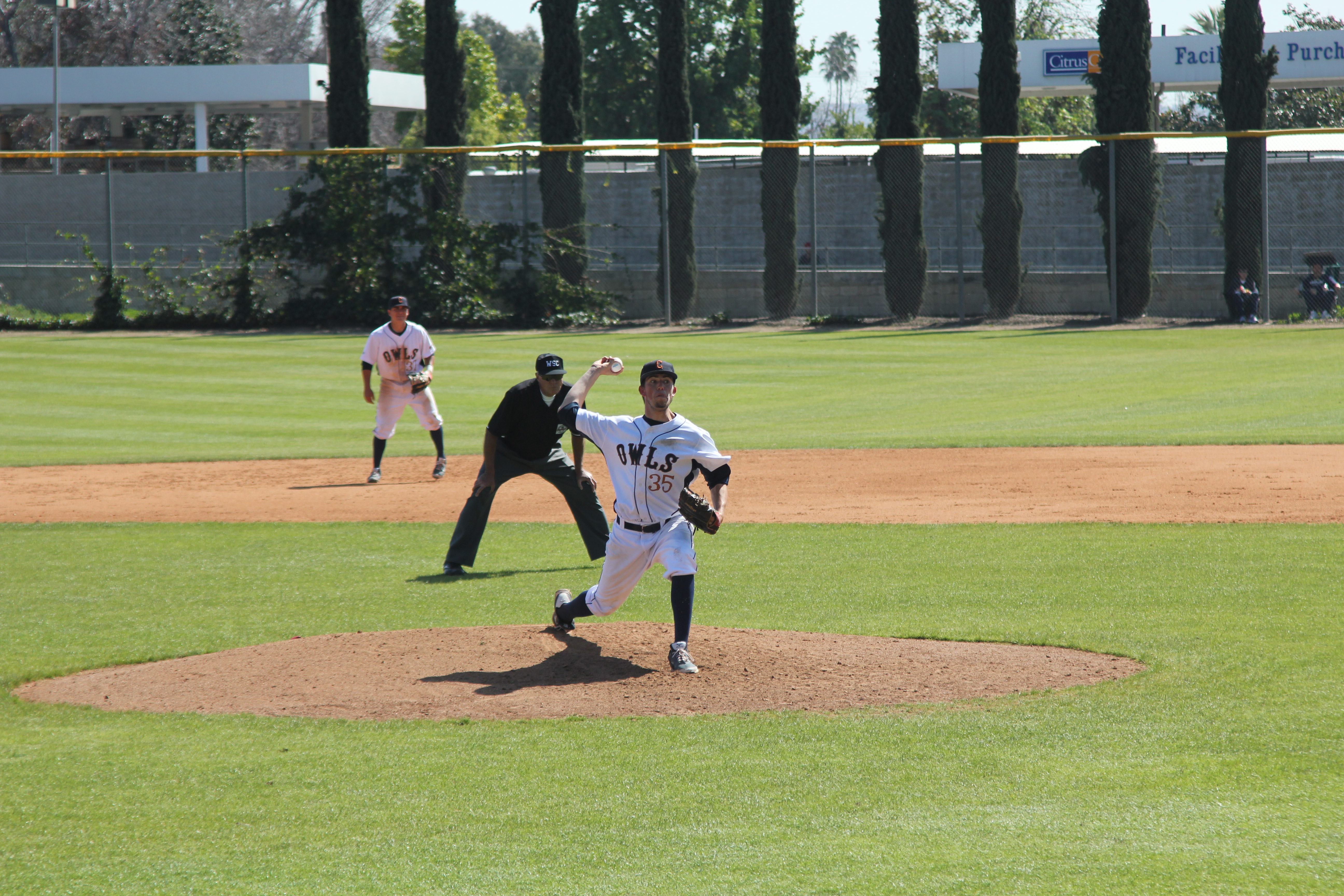 ---
Citrus College freshman pitcher Sean Patton cocks back to throw during the second inning of the Owls 6-4 loss to Glendale College on March 15. Patton finished with four strikeouts, surrendering three runs and seven hits over five innings of work. (Dillon Cooper / Citrus College Clarion)

For the second game in a row, base running mishaps plagued the Citrus College baseball team as they fell 4-6 to visiting Glendale College on March 15.
The Owls  (9-10, 2-4 WSC) were unable to capitalize on early run-scoring opportunities and a ninth inning rally was not enough to overcome the Vaqueros (9-8, 4-2 WSC).
Glendale's starting pitcher Ben McKendall (2-0) came out firing, tossing seven innings with five strikeouts, while giving up seven hits for two earned runs in a winning effort.
"My changeup was really good today, keeping them off balance," McKendall said. "My fastball was effective once I started locating it later on in the game. I think I got stronger towards the end of it."
Glendale College got production from the heart of their order as center fielder Jay Sheeley and right fielder Raul Camas drove in two runs a piece.
Citrus College was led by starting pitcher Sean Patton (1-3) who threw five scoreless innings before the Vaqueros scored three runs in the sixth. In his first start of the season, Patton allowed seven hits, three earned runs, with no walks and four strikeouts.
"Their starter was really good," said Glendale College head coach Chris Cicuto. "He kept us off balance. He did some things that kind of shut our offense down, we tip our cap to that."
Base running was a problem for Citrus from the start. The first runner of the game for Citrus, right fielder Aaron Torres, was caught in a rundown between second and third in the first inning and tagged out by Vaquero's third baseman Nick Padilla.
Citrus struck early in the bottom of the second, when left fielder Mathew Reynoso pushed across his 13th RBI of the 2014 campaign, scoring second baseman Taylor Grace from third on a fielder's choice ground ball to the right side of the infield, making the score 1-0.
But in the third, fourth and fifth innings the Owls stranded runners in scoring position leaving them with a 1-0 advantage headed to the sixth.
"We didn't capitalize on a lot of opportunities we had early on," said Citrus College head coach Steve Gomez. "Our bats just didn't get tough enough in the middle innings. That's, I think, a key."
The Vaqueros took the lead in the sixth inning, chasing Patton after stringing together four straight hits for three runs to start the inning.
"After the first guy got on, they just caught momentum and found holes to hit the ball through," Patton said.
Allowing three runs in the sixth was just the start of the Owl's woes. Glendale College would double that total over the next three innings.
"It was our third time around, so we had seen all of his pitches. We just started piecing hits together, and things started falling," said Glendale center fielder Jay Sheeley.
McKendall sat down the Owls one, two, three in the bottom half of the sixth. He said he was fueled by his teammate's offensive outburst in top half of the inning.
"That pumped me up. That got me going," McKendall said.
Making just his second start of the season, McKendall was able to lower his ERA to 2.0 for the year by changing speeds and controlling the plate.
"He competed," Cicuto said. "He threw big-time pitches when we needed to throw big-time pitches."
The Owls scratched one run across in the seventh, cutting the lead to one when pinch hitter Richard Chavez singled home Nathan Virgen for his fourth RBI on the year.
The Owls committed another mistake on the basepaths though and put an end to their promising seventh inning when Chavez was thrown out after rounding first.
"It was not a good feeling," Chavez said. "I got the job done with the hit but I could have kept the inning going."
Glendale would add two runs in the eighth and one in the ninth against Citrus College reliever Nicholas Sergi to make the score 6-2 heading to the bottom of the ninth.
Sergi gave up more than one run for the first time in 11 appearances this season, raising his ERA to  0.79 for the season.
Citrus rallied with a pair of scores in the ninth off Glendale reliever David Lira. Pinch hitter Daniel Chavarria banged a two-run single to left for his first hit of the year, but it would not be enough, as the next two batters popped up to center to end the game.
"There 's not going to be a lot of big, high scoring games," Gomez said. "We got to be able to make sure we don't make mistakes when we have the opportunity to score runs."
In the loss, Citrus' Nathan Virgen went 2-4 with a run scored, raising his team leading batting average to .391.
Citrus College has lost four of its last five and will look to get back on track March 18 at 2:30 p.m. when they host LA Mission College (11-7, 6-0 WSC). Mission, which is undefeated in WSC games heading into Tuesday's matchup, features first baseman C.J. Witkowski the Western State Conference leader in home runs (4).
---
---