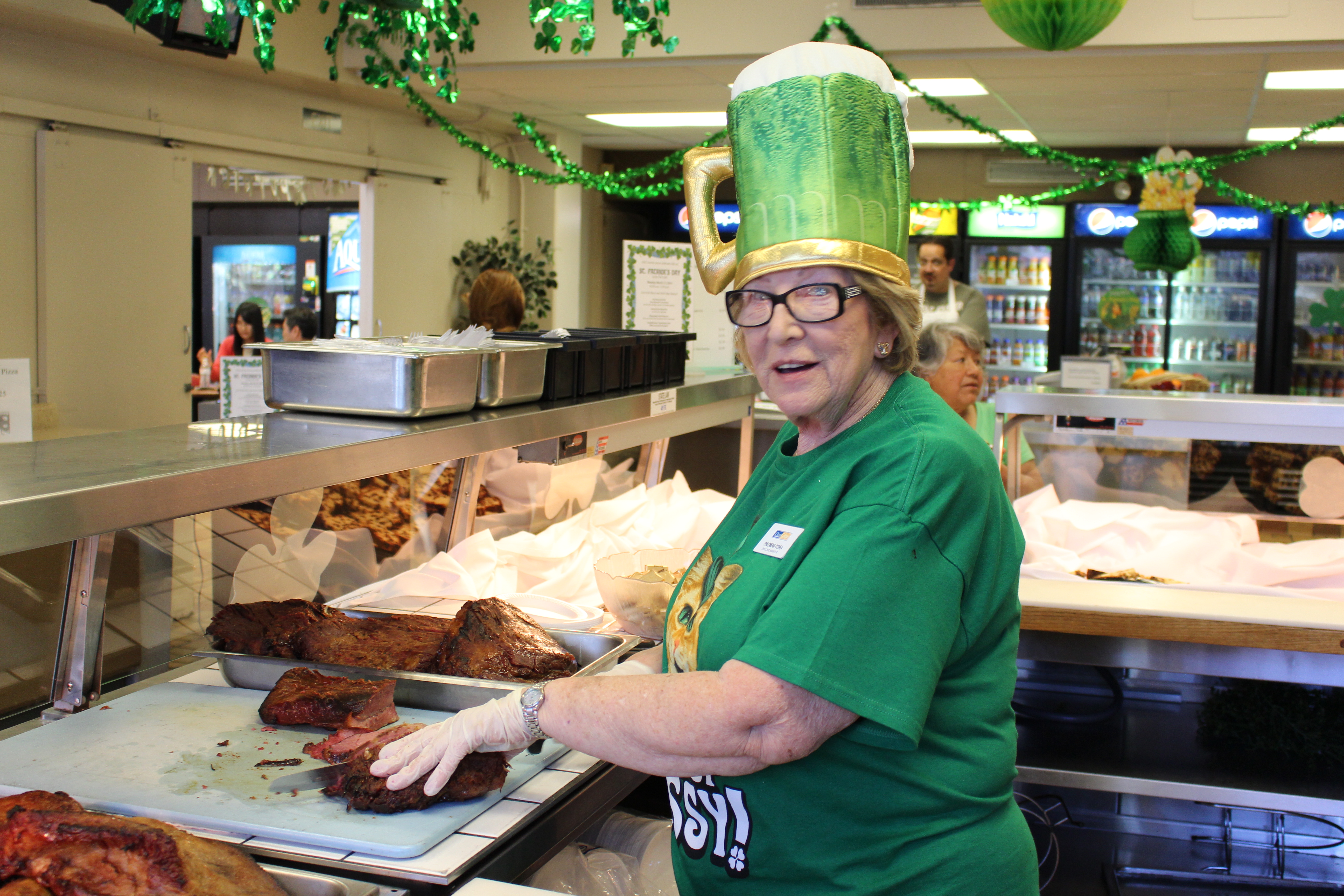 ---
Food supervisor Philomena O'Shea serves up her authentic Irish treats made from scratch. The dishes served consisted of corned beef and cabbage, hearty meat pies and raisin-filled soda bread in the Owl Cafe. (Anne Marie Miranda/Clarion)
By Anne Marie Miranda | Staff Writer
Food supervisor, Philomena O'Shea brought her own version of a hundred thousand welcomes to Citrus College students on March 17 in the form of her Irish home cooking.
O'Shea has hosted the St. Patrick's Day celebration in honor of the patron saint for the eighteenth year in a row.
The St. Patrick's Day celebration in the Owl café patio began with "The McWannabees" performing a festive show filled with the timeless music of Ireland.
The trio featured vocalist/instrumentalist Jim Cope, singer Steve Cahill and drummer Roy Durnal. They have been performing for 30 years and soon had the crowd enthralled.
Next up- and down- was the P.L.A.I.D Irish Dance Academy. Directed by Michelle Painter, the dancers impressed the audience with the Irish Reel, the light jig (the oldest Irish dance) and the treble jig.
"This is our second performance out of six today, and we love to perform here," said Painter. "The dancers have worked especially hard for today, some have been with me for ten years."
Philomena O'Shea served a tasty array of Irish traditional cuisine, filling the cafeteria with the hearty aroma of corned beef and cabbage along with 120 robust meat pies and raisin-filled soda bread.
O'Shea spends three days preparing the food, made from scratch, and puts all of her Irish pride into creating this Irish feast.
"I enjoy putting this special event on every year, it's always very successful and the kids love it," said O'Shea.
The Associated Students of Citrus College's executive board, handed out free lemon filled cake to passersby's especially those wearing green.
"I would say my favorite part of the day was trying the authentic Irish dishes, especially the soda bread," said president of the Associated Students of Citrus College Tyler Hernandez. "The music and dancing made [St. Patrick's Day] that much more special."
---
---