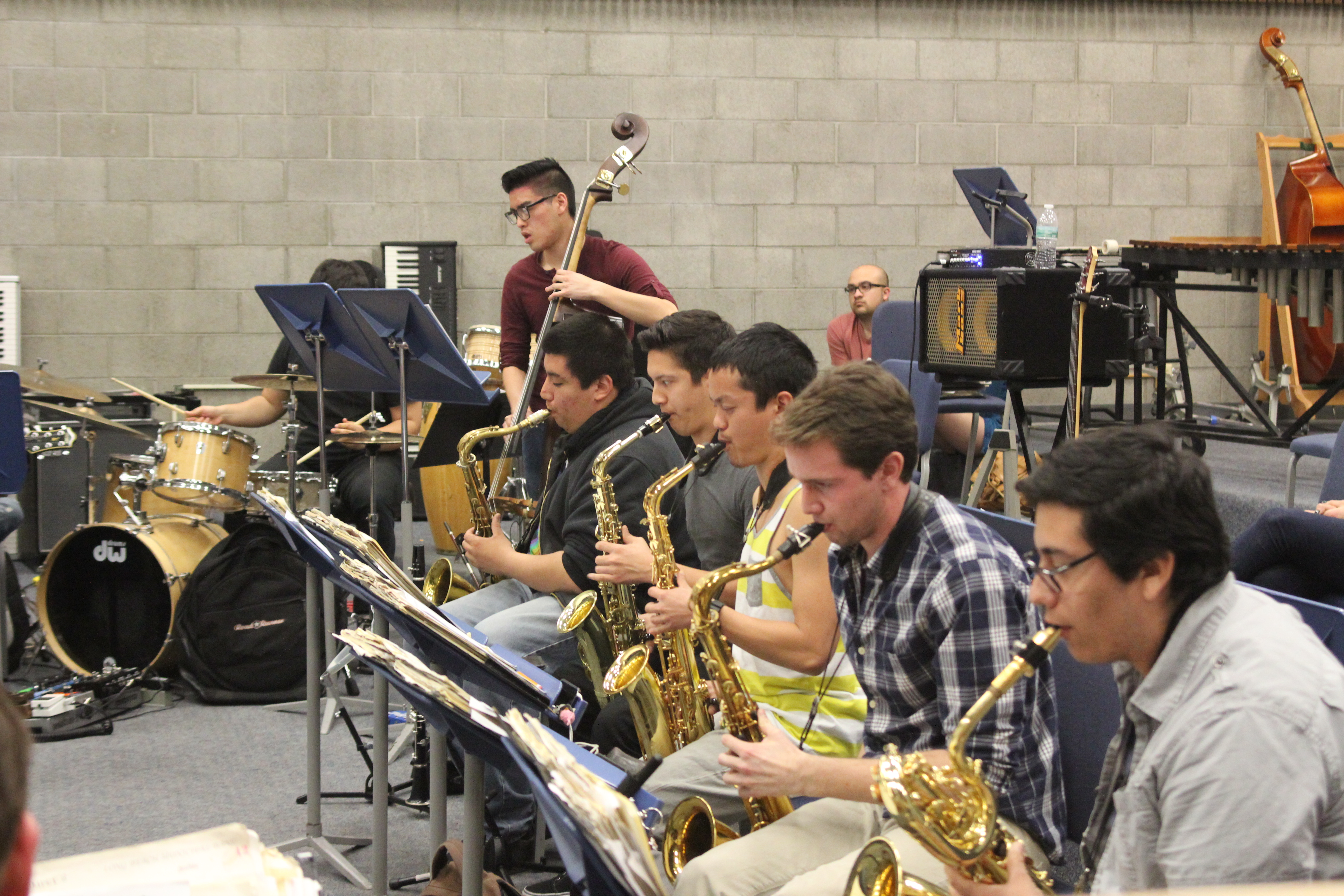 ---
Members of the Citrus College Blue Note Orchestra rehearse for The Battle of the Big Bands March 10. The Battle of the Big Bands will take place March 21 and 22. (Dillon Cooper/Citrus College Clarion)
By Sylvia Aparicio | Online Editor
Get ready for the annual Battle of the Big Bands, a musical duel scheduled to take place on the stage of the Haugh Performing Arts Center on March 21 and 22.
Founded by David Beatty, director of commercial music and Jazz Ensemble at Azusa Pacific University, and Citrus College dean of fine and performing arts Robert Slack, the Battle of the Big Bands has become a popular annual event.
For the eleventh consecutive year, music lovers have the opportunity to see and hear the rivalry between the Citrus College Blue Note Orchestra and the Azusa Pacific University's Jazz Ensemble.
"Azusa Pacific University was starting to recruit a lot of our students, so we thought it would be a nice tie-in to be able to have our students start working with APU and do an event for the community," Slack said.
Also part of the collaborative effort is Citrus music instructor Alan Waddington.
"Once he said it, I knew it was a good idea," Waddington said.
Waddington said that to have two bands of such talent for such a low-ticket price is brilliant.
"When you hear the two bands play together, you go 'Wow.' No one's doing this at that level because they can't," Waddington said.
"I think because of how unique it is, it draws in an audience," Beatty said. "There's a lot of jazz in the L.A. area, but you'd be hard-pressed to find two big bands performing on the stage at the same time."
"The biggest challenge we face when doing the show is keeping it fresh," Beatty said. "I always hope for positive feedback from the audience and hope that they say this year's show was better than the last one'."
Waddington describes the meet up as an extravaganza that anyone can enjoy, jazz fans or not.
"My guess is that there are fans of jazz in the area and there are fans of both bands. It's accessible enough for everyone," Waddington said.  "There are people that root for their favorite band. It makes it exciting for them."
For Citrus College music performance major Rafael Tapia Jr., 18, it will be his first time in battle.
A saxophonist for the Citrus College Blue Note Orchestra since summer 2013, Tapia says he believes the ongoing popularity of the event stems from its competitive edge.
"I am very much looking forward to pleasing all listeners with the bands' constantly growing talent and musicianship," he said. "I'm also looking forward to put up a fight against APU."
Students, alumni and family are expected to come out to show up in force.
Lead trombone player for the APU Jazz Ensemble and Citrus alumni Julius Lopez, 22, said, "The show is an extravagant blast from the past."
"It takes the audience back to a time when anyone could turn on their radio and hear big bands play the great American songbook," Lopez said.
"It feels great to play a concert with my former school," he said. "I learned so much during my time at Citrus and it is nice to be able to play with and for friends I have on the other side of that stage."
"Having all friends and family come watch and support me really shows their appreciation of all the time spent practicing and preparing great quality music," Tapia said.
Sophie Gonzalez, 21, a music industry studies major and one of the lead singers for the Citrus College Blue Note Orchestra, will be doing the lead vocals for the second year.
"All of us have grown since last year," she said. "We've grown together. We've grown into a real band."
"There's a lot more chemistry between the band and myself," she said. "This year, we're giving APU a run for their money."
Tickets for The Battle of the Big Bands can be purchased at the Haugh Performing Arts Center Box Office at $18 for the general public, $16 for seniors and $10 for students. They can also be purchased at http://tickets.haughpac.com.
---
---