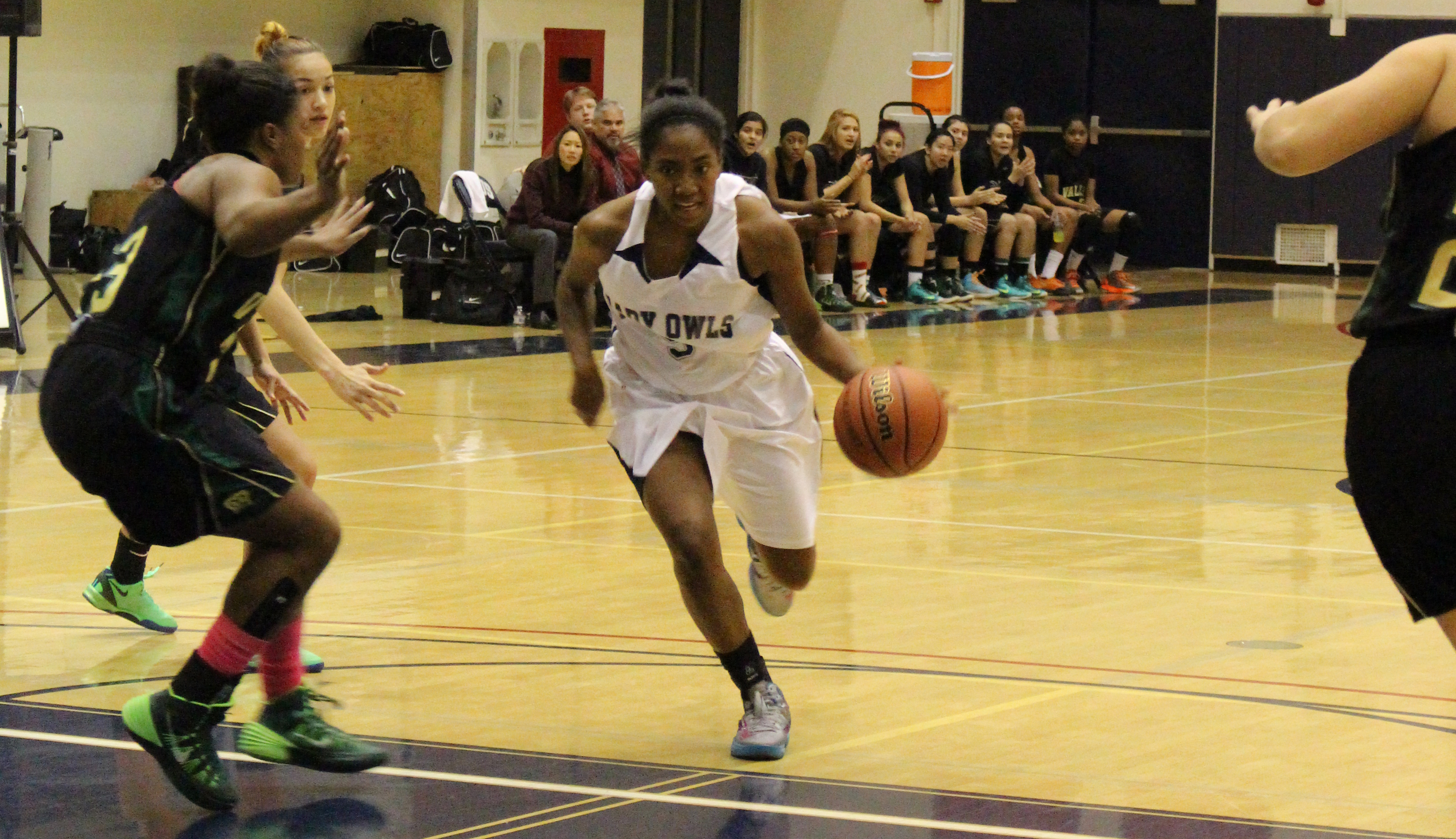 ---
(Jessica Soto/Citrus College Clarion)

By Dillon Cooper | Managing Editor
There will be no more basketball for Citrus College this semester, with women's basketball falling short of qualifying for playoffs and the men being bounced out in the third round.
The women's basketball team finished with a record of 16-10, 7-5 and ended their season on Feb. 19 with a 66-52 victory over visiting West Los Angeles College.
Their 7-5 conference record was good enough for a third place finish.
Sophomore forward Jaelyn Wilson led the team in points per game (15.9) and rebounds (9.7) while sophomore forward Olivia Montgomery followed up right behind Wilson, posting 14.7 points and 6.4 rebounds a game.
"This season started off great.  Then we hit some bumps in the road," Wilson said.  "Through it all, we stayed together as a team and worked together as a team."
The Owls had a six-game winning streak, spanning from Dec. 21 to Jan. 11.  In that time, Citrus won the Grossmont Tournament, beating Bakersfield 56-41 in the Championship game.
The Owls dropped both games to conference winners Los Angeles Valley College and would split games between conference runner-ups Antelope Valley, including a 64-58 overtime victory.
The Owls were hit with injuries in the back end of the season, when sophomore guard Natalie Lam and freshman guard Tyvette White went down.
"This season has had its ups and downs due to the being bitten by the injury bug, " said head coach Tamara McDonald. "Losing White and Lam was a major blow to our defensive intensity."
Nevertheless, the Owls finished the season winning five of their last seven games.
The men's basketball team finished the season with a record of 16-9.  Their 8-4 record in the Western State Conference was good enough for third place.
The Owls were led by freshman forward Chris Reyes, who posted record-breaking numbers.
Reyes holds the record for rebounds with 12 a game (previously held by Troy Payne with 9.8 in 08/09) and blocks with 3.6 (previously held by Deonta Black with 1.9 in 06/07).
Reyes also posted a team high 18.7 points per game, good enough for second in the WSC.
Sophomore guard Daniel Cheek finished second on the team in scoring (12.7) and rebounds (4.3).
The Owls split both games with conference winners Antelope Valley., including a close 61-60 contest at home.
The Owls also split games with conference runner-ups Glendale Community College.
The Owls went to Glendale and left with a convincing 73-55 win on the back of a 19 point effort by Cheek.  Reyes also pitched in with a 15 point 14 rebound performance.
The Owls faced East Los Angeles College in the second round of the California Community College Athletic Association's Southern California Regionals.
The Owls advanced to the third round after a 86-81 double overtime thriller.
"We had some ups and downs this year," said head coach Chris Victor.  "We had a lot of freshman that had a great season."
The Owls were bounced out of the California Community College Athletic Association tournament in the Sweet Sixteen, losing to Mt. San Jacinto College 92-61 on March 5.
"The game is always elevated in the playoffs.  You have to match that if you want to win," Victor said.  "It was a great experience and it will help the freshman with their drive for next year."
---
---