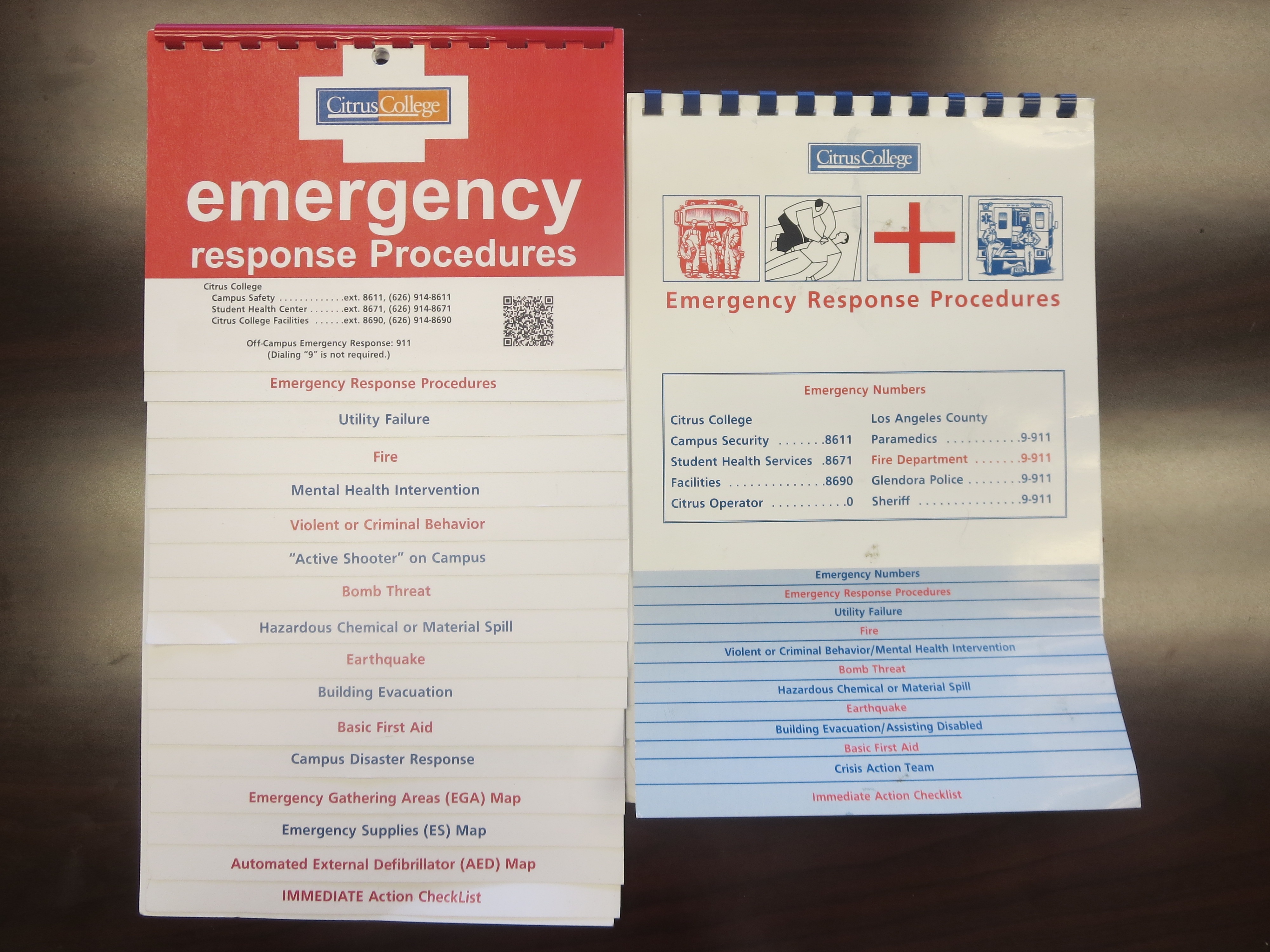 ---
When officers input a car's information into their smartphone the information is then printed out on site using a small printer. The paper is waterproof and tear resistant. (Jessica Soto/Citrus College Clarion)
Not new, but improved.
Students may have noticed that the 14 Citrus College Campus Safety officers are wearing ballistic vests.
The vests have been around since November 2013, but are now worn on the outside of the officers' shirts to accommodate external carriers, which hold the officer's equipment.
The bullet-proof vests allow the officers to perform their jobs in a more effective manner and makes them look more professional according to Ben Macias, interim Campus Safety supervisor.
"We've received a lot of positive feedback from students and staff, faculty as well, about the more professional image, which is something we have been working on for several years," Macias said.
Processes for issuing parking tickets has been updated as well. Rather than writing on paper envelopes that are easily torn and fade quickly, the officers issue tickets on strips of waterproof and tear-resistant strips of paper.
The information for the citation is imputed into smartphones that each Campus Safety officer carries. The ticket is then digitally sent to the small printers attached to the officer's vest and is printed on site. Digital copies of all information, including photos the officers take of the vehicles and the violation, are sent to the Campus Safety office main system.
"A lot of things are changing and we are doing them to modernize our tactics and techniques," Macias said. "When it comes down to citations, the process that we were using was pretty antiquated."
"Improving the equipment and look of the Campus Safety officers increases awareness and visibility," said Martha McDonald, Ed D., interim executive dean.
Along with the improved Campus Safety look, Citrus has begun working to improve its emergency preparedness.
On Feb. 18, Flex Day, faculty and staff watched a video that demonstrated what to do in the event of an emergency. (The video is available on the "Ready Houston" YouTube channel in the "Run, Hide, Fight" series.)
Taking into account the Santa Monica College killing spree on June 7, 2013, Citrus College has reaffirmed its emphasis of emergency preparedness.
"The Santa Monica shooting validated the importance of our commitment to ensuring that safety of the college community," Geraldine M. Perri, Ph.D., superintendent/president said. "The Flex Day workshop was an opportunity to reinforce the need for emergency preparedness and vigilance by all members of the college community."
Emergency procedure manuals are updated regularly to coincide with campus procedural or layout changes. Updated manuals were given to each faculty and staff member on Flex Day and should be on display in each classroom.
The manual now includes procedures for an "active shooter" on campus, a map for the emergency gathering areas, an emergency supplies map and an automated external defibrillator map.
"Continual emergency preparedness training and our comprehensive approach to safety . . . are our best tools to ensure campus safety," Perri said.
There will be an all-campus emergency evacuation drill March 20.
---
---