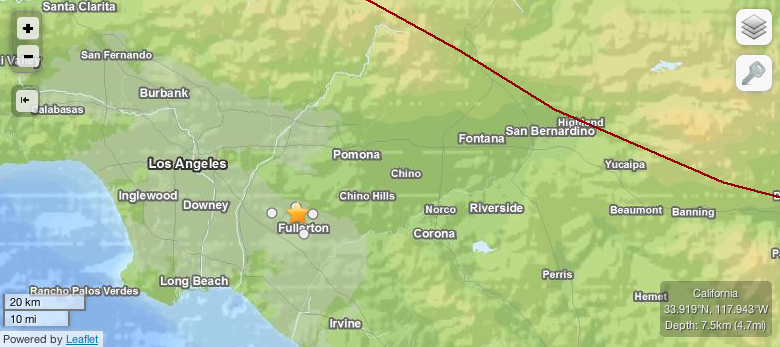 ---
Image from www.earthquake.usgs.gov

By Evan Solano | Editor-in-Chief
A 5.1 magnitude earthquake was reported on Friday around one mile of La Habra, followed by almost 20 aftershocks and several foreshocks according to the U.S. Geological Survey.
The swarm of earthquakes began at 8:03 p.m., when a 3.6 earthquake struck. That ended up being a foreshock of the largest earthquake to hit, a magnitude 5.1 at 9:09 p.m. which lasted about 10 seconds. At least two more aftershocks hit in the 3 range, a 3.4 at 9:11 p.m. and a 3.6 at 9:30 p.m.
In a press conference, seismologist Lucy Jones said the 5.1 quake has a 5% chance of being a foreshock of an even larger quake.
"There could be even a larger earthquake in the next few hours or the next few days," Jones said at Caltech.
Los Angeles Mayor Eric Garcetti issued this statement following the earthquake :
"Tonight's earthquake is the second in two weeks, and reminds us to be prepared. L.A. residents can visit http://www.readyla.org/ for guidance on how to best prepare for the next earthquake, including potential aftershocks."
According to preliminary data, the temblor occurred on the Puente Hills thrust fault which caused the Whittier Narrows earthquake back in 1987.
The city of La Habra, where the earthquakes and preceding aftershocks were centered, is located about 20 miles from Citrus College.
For more information on how to prepare for earthquakes,  please visit: www.earthquakecountry.org
Follow the Clarion on twitter (@CCClarion) for more updates as they come in.
---
---