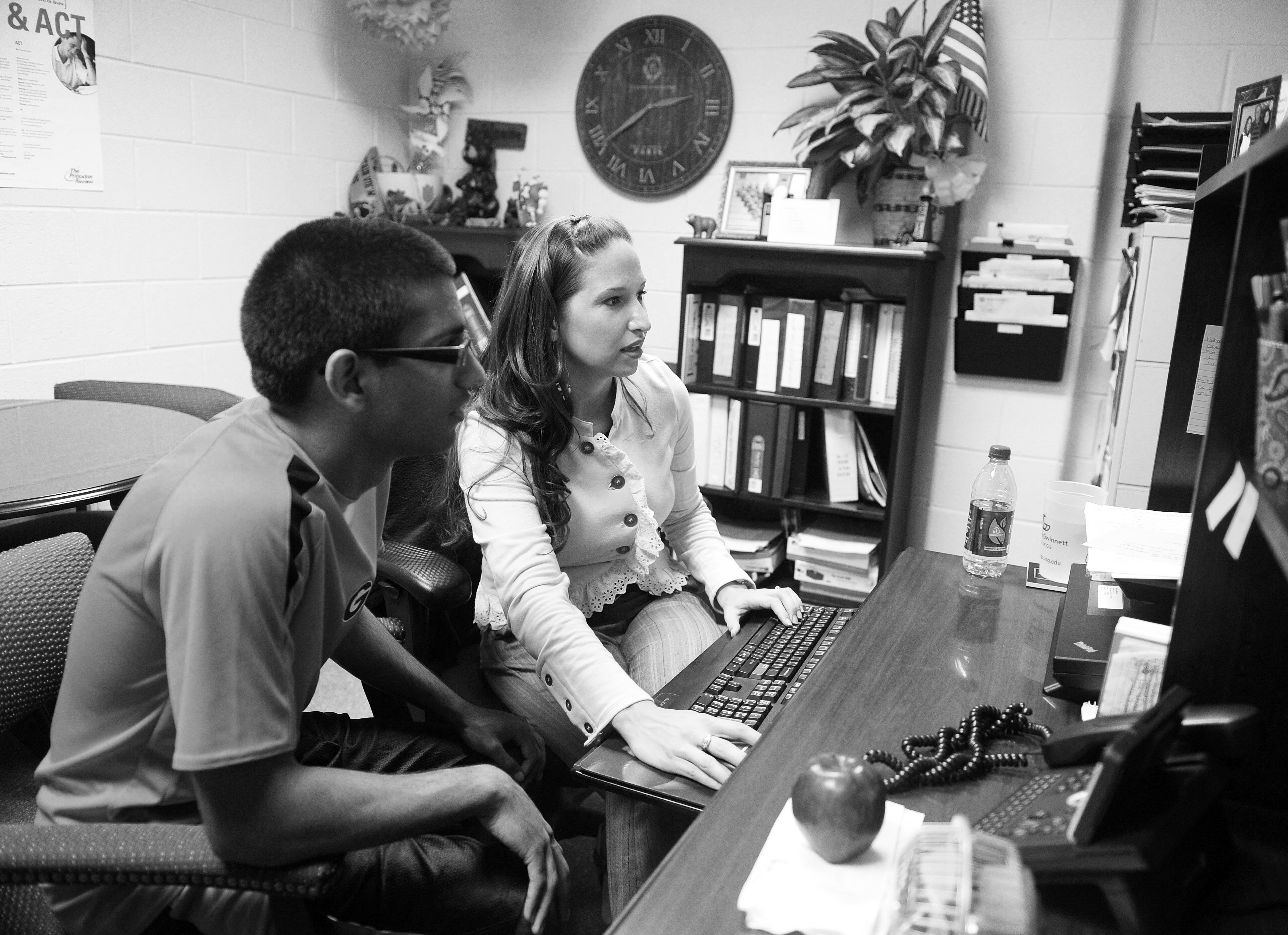 ---
Mountain View High School senior Kunal Tanna, left, who has been accepted to the University of Georgia and has already received several scholarships, talks with school guidance counselor Melissa Nelson about other potential scholarships he could apply for, April 23, 2012. (Bita Honarvar/Atlanta Journal-Constitution/MCT)
By Careesa Campbell | Staff Writer
Students are required to declare a major by the time they have successfully completed 15 units at Citrus College. However, some students may pick their majors without considering what their decision may entail.
To help students find academic pathways that work for them, career counselors at Citrus College have created the Career Development Workshop Series.
Raul Sanchez, Career/Transfer Center coordinator, says the ultimate goal of the workshops is for the individual to gain an understanding of oneself and find an appropriate career according to his or her characteristics and skill sets.
"Everybody is different, so it would be unfair to give 30 students the same recommendation when there are 30 different personalities, values and interests," Sanchez said.
Each series includes four different workshops with hands-on activities that cater to each student's needs.
Workshop 1 is designed to help students select a major, whether they are struggling with choosing a program of study or need affirmation of their decision.
Stephanie Yee, Career and Honors Program counselor, says during workshop 2, the counselors introduce students to four websites where they can conduct self-assessments.
"The websites provide you with occupational ideas based on your skills, interests and values," she said. "It's fun because it's like putting the pieces of a puzzle together."
Using the online tools may lead students to realize that their interest in a career path may not match their overall compatibility with it.
Workshop 3 shows students how to develop networking skills through social media sites such as LinkedIn, making it easier for them to find internships and job opportunities.
Sanchez describes workshop 4 as a support group. "With the support that we have at Citrus, any major is doable," Sanchez said. "Our goal is to make the students' career development process meaningful to them and not pick a major because they heard it was cool or just because a friend chose it."
In April and May, four different workshops will be presented once a week.
The workshops last about an hour and will be held in the Career/Transfer Center computer lab (SS 281).
Series 2 will continue on April 8, 22 and 29 at 12:30 p.m.
Series 3 will be held on May 8, 15, 22 and 29 at 3:30 p.m.
Students are asked to RSVP via the Career/Transfer Center on the second floor.
---
---