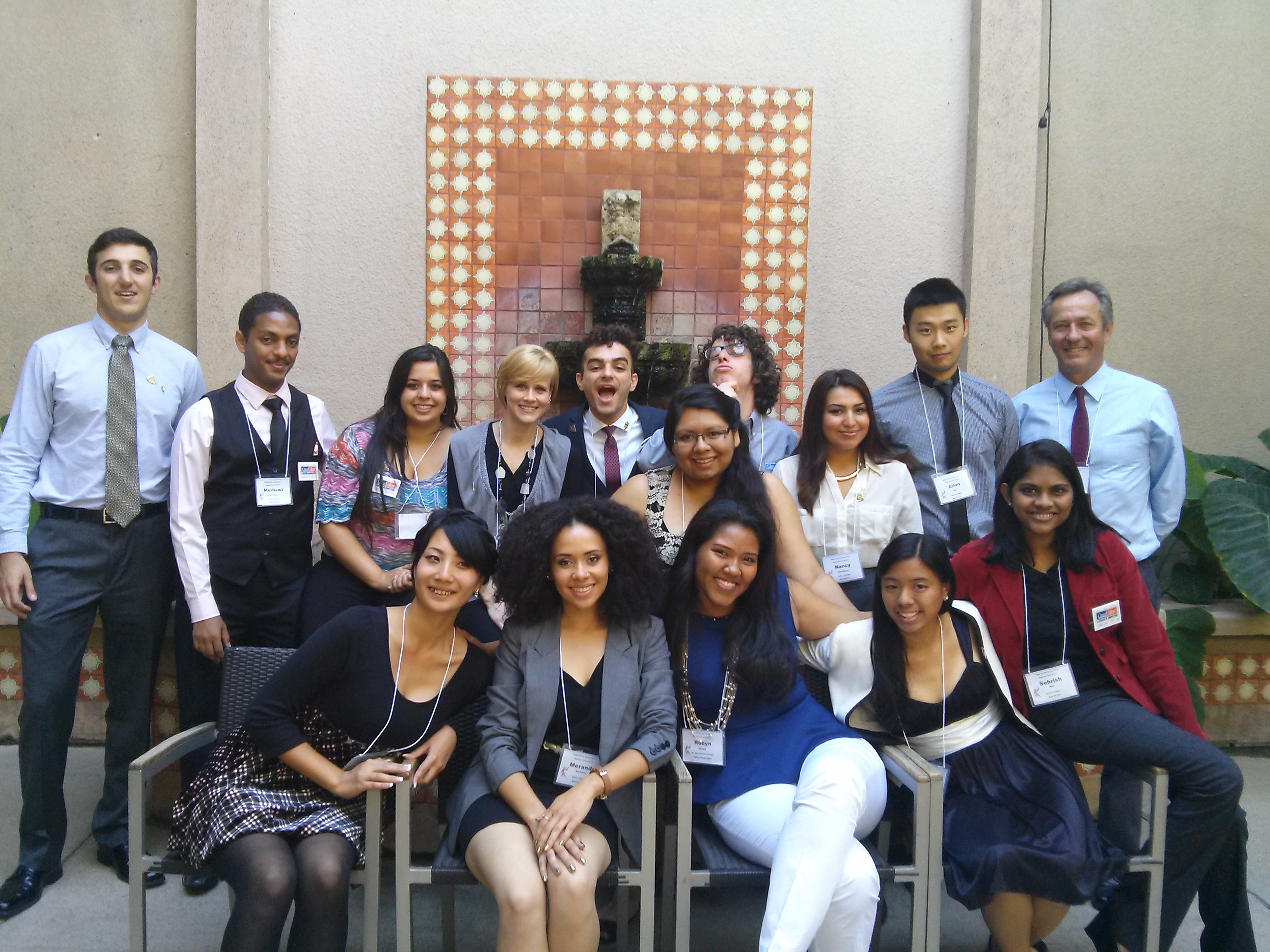 ---
Members of the Citrus College and Mt. San Antonio College chapter of Phi Theta Kappa with adviser Brian Waddington in a group photo during their regional conference. The Citrus chapter would go on to be awarded for hosting the conference. (Photo courtesy of Alejandra Morales)
By Cameron Wisdom | Staff Writer
The Citrus College chapter of a nationally recognized honor society was recently selected to host a regional convention for chapters located within California and Nevada. The convention, organized by Phi Theta Kappa, took place at Cal Poly Pomona on March 28-29 and featured presentations from regional officers, advisors and alumni intended to help members grow as scholars and leaders in their respective communities.
A member of the executive board of Phi Theta Kappa, Rod A. Risley, Ph.D., spoke at the conference and commended Citrus College for its efforts to become a college of completion and petitioned other regional chapters to follow the same model of success.
The chapter received an award for hosting the conference as well as coming in third place for their respective region with collective research towards Honors In Action, a project that provides opportunities to apply learning and practice real world problem solving by developing an in-depth, action-oriented project related to honors study topic research.
For its role as host, the Citrus chapter will be considered for a five-star ranking, the highest ranking that a chapter can achieve.
The local chapter of Phi Theta Kappa, known at Citrus as Beta Nu Eta, is comprised of students with high academic achievement who wish to gain experience and exposure beyond what can be achieved by simply being successful in the classroom.
Chapter president Alejandra Morales explained that students involved with the society aim to inspire growth in fellowship, leadership, service, and scholarship among members as well as in the community it serves.
Prospective members are required to have completed at least 12 units with a 3.5 grade point average and must maintain their GPA to remain a member. A one-time registration fee of $75 goes towards costs of graduation regalia and scholarships offered by the society.
With an emphasis on their foundational cornerstones among members of the local chapter and the student body, the chapter has worked closely with Geraldine M. Perri, Ph.D. superintendent/president, and her office.
The chapter has conducted award-winning research and constructed new strategies in the effort to make Citrus College an optimal choice when pursuing an education.
"We have been very fortunate to be able to partner with the presidents office to receive a lot of support in making sure that Citrus College is pursuing strategies that will successfully allow students to complete whatever goals they may have here" said adviser Brian Waddington, history professor.
According to Sam Lee, Ph.D., dean of language arts and enrollment management, the purpose of the college of completion project is to focus on strategies and methods to improve academic completion for students.
"The whole college of completion idea came out of (Phi Theta Kappa) and was taken on as one of their projects," Lee said.
Prospective members can expect several advantages immediately upon enrollment in Phi Theta Kappa. Enrollees are eligible for scholarships available exclusively to PTK members. They can also expect special recognition at graduation, and universities and colleges often give special consideration to members of PTK in transfer applications.
"You gain valuable experience in the field of research under your belt when it comes time to graduate and transfer out, and you also get notified from many schools outside of Citrus College who see that you are a Phi Theta Kappa member and who want you at their school, " Morales said.
Several members of the Citrus chapter of PTK have been recognized for their extensive research in their chosen academic fields.
Merhawi Ghebrecristos, 21, linguistics major, conducted research on historical links in the teachings of virtue among different cultures and societies was recently published by the Honors Transfer Council of California, an organization that highlights the achievements and work completed by talented and motivated students.
Ghebrecristos and fellow member Chase Goldsmith were selected to represent Citrus' chapter of Phi Theta Kappa on USA Today's All-USA Community College Academic Team and will be recognized among a select few of the states top community college students in Sacramento.
Being a member of PTK may prove beneficial beyond the completion of ones academic career as well.
"That alone is a nice advantage for many students. You can list that you are a Phi Theta Kappa member not only on college applications but job applications and resumes throughout your life," said Waddington.
Meetings are on Fridays at noon in the Honors Lounge located in the Centers for Innovation building, room 136.
---
---