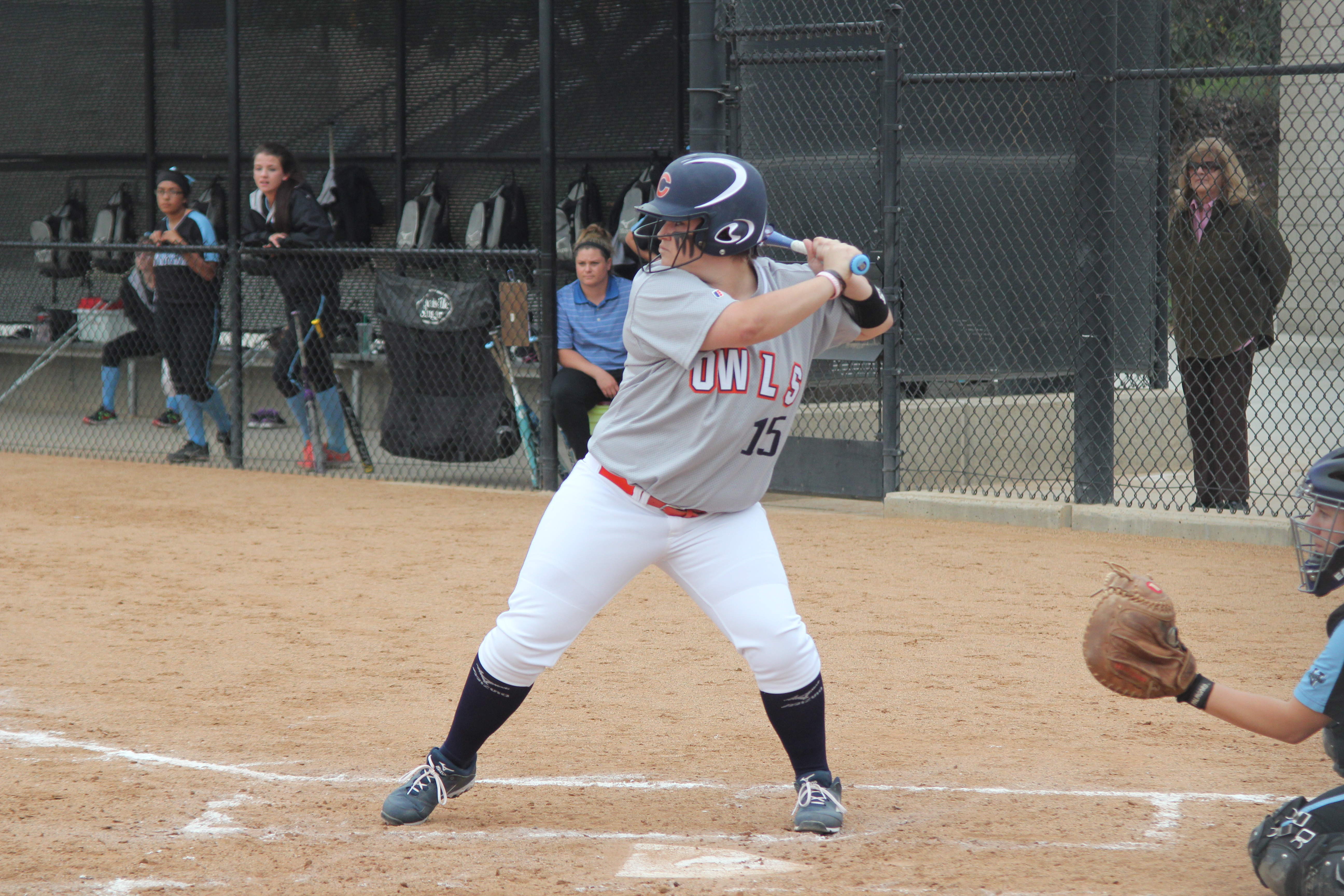 ---
Sara Moore, #15, singles to left field in the 14-6 win over Moorpark on Feb. 18, 2014. Moore went 4 for 4 in the game with four RBIs.
From T-ball to the Citrus softball diamond, dedication and superstition have given this softball player a career to cherish.
Step one: Focus.
Step Two: Listen to "Heard Me," by RL Grime.
Step Three: Put on right cleat before left.
These are the steps Sara Moore, sophomore infielder, must take before taking the field — no excuses.
And since she's batting .484 for her Citrus College career, has 74 RBI's and 14 home-runs, there is no need to fix what isn't broken.
Moore has been playing softball since she was 4-years-old, "It was a big family thing," she said.
As a child, Moore would watch her sister play T-ball and softball, and would play with her to practice.
"She loved the game and excelled at it early on," said her father Charles Moore. "Sara used this to her advantage and let the game support her education."
Moore played on the softball team all four years while attending San Dimas High School, three of which she spent on the varsity team.
Moore started her softball career playing second and third base, but at Citrus she plays first. Although her skills in the field are key to getting runners out, behind the bat is where her talents really come out to play.
"Sara's on-the-field growth has been through her hard work and dedication," Charles said.
After graduating from SDHS in 2011, Moore played second base at Odessa College in Odessa, Tex. She only attended Odessa for the summer and fall semesters before she was forced to come back home due to an injury to her shoulder.
While at Citrus, her injuries have become more prominent.
"I have to have a couple of surgeries after this," Moore said. "I have to have complete reconstruction of my elbow and my shoulder." Moore also described the surgery she will need to remove the bursa sacs in each of her knees along with needing to have bones realigned in her right foot.
Each of these surgeries entails a minimum two month recovery process, not including physical therapy.
This season will be the last for Moore as an Owl.
Injuries aside, Moore looks to her grandmother for motivation, "My grandma passed away my senior year before I graduated and she was my biggest fan . . . She's my big motivator for me to play and all that. I wasn't gonna play but whenever I think I'm sore or that my body hurts and that I don't want to play anymore, she just kind of pushes me still because she wanted to see me play in college."
In her two seasons on the Owl softball team Moore has proven herself a valuable player on the field.
"I know with her at first base no ball is gonna get by her," Raven Preseau, infielder, said. "I can trust her to catch pretty much everything. She is a very hard worker, team player and always gets the job done."
Moore's work ethic, skill and determination are evident in her stats.
"Obviously the other teams look up your stats and they try to work around you. So that's why I'm always continuously moving around the line up, so they have to pitch to me," Moore said.
The improvement in Moore's athleticism is "unbelievable" said head coach Jackie Boxley.
"She's gotten a lot more fit this year. She's just tearing it up, she has so much strength and ability," Boxley said.
"She was already good, but she is amazing now."
Moore will be playing her last regular season game as a Fighting Owl on April 22 in a doubleheader against Santa Monica College at 3 p.m.
"Any time she ever wants to be apart of a program that I am a part of . . . she is always welcome here," Boxley said.
"Owls for life. That's what we say."
---
---