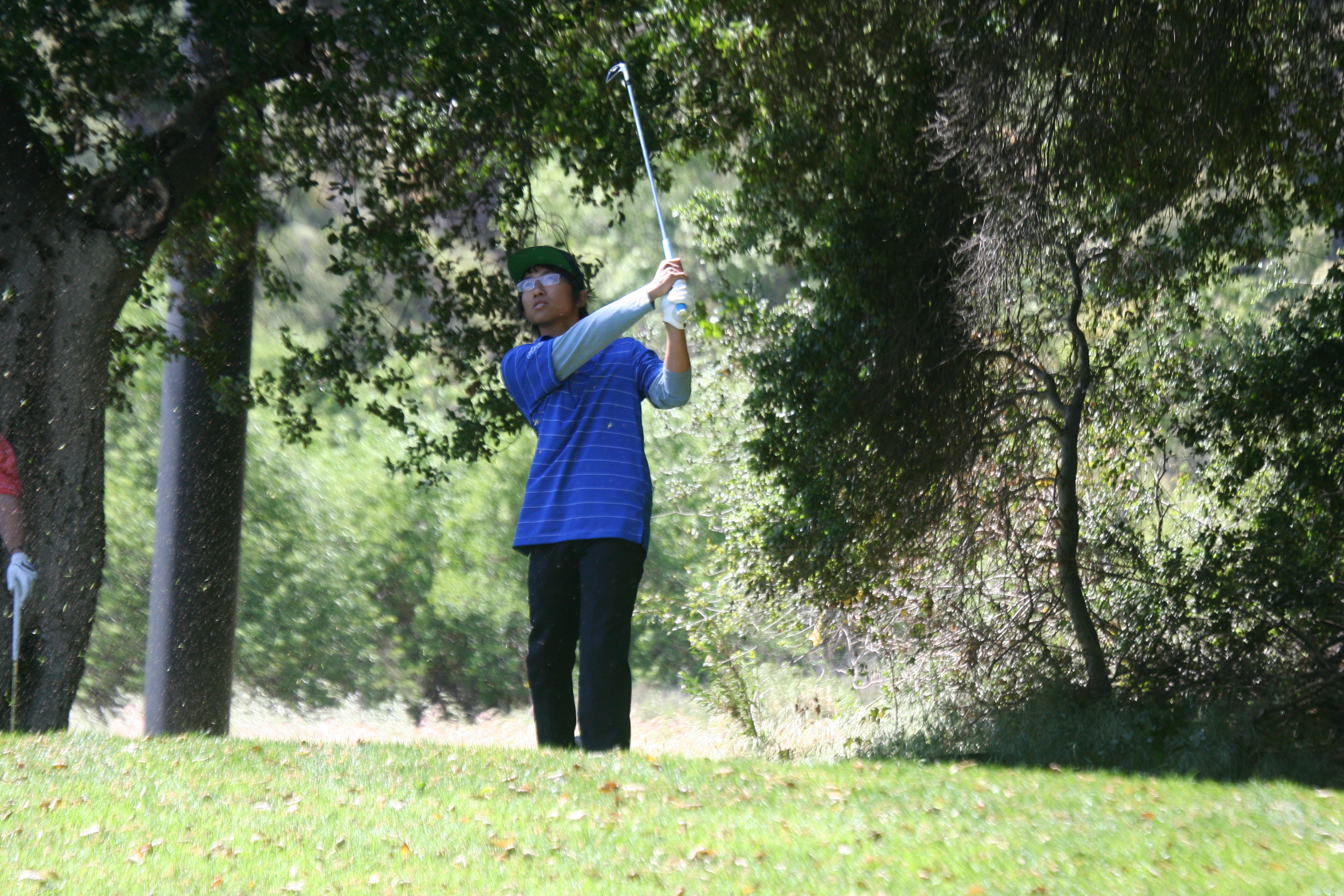 ---
Golfer Homerson So is in his second season on the men's golf team at Citrus College.  So attended West Covina High School and plans to major in chemistry.
Experience is paying dividends for the men's golf team.
Sophomores Matt Nolan, Joshua Davis and Homerson So have helped pace the Owls, posting the best individual scores in competition so far.
"It's tournament experience, on course," said head coach Julian "Trip" Horton. "90 percent of golf at this level is mental."
Horton, now in his fifth season, has coached the Owls to fourth place finishes in two of their four spring 2014 Western State Conference (WSC) tournaments.
Horton's one-on-one coaching approach and patience have help develop the golfers' games, said first-year assistant coach and former Citrus golfer Daniel Olivas.
Davis fired a one over 73 at Alisal Ranch Golf Course, the best individual score on the spring 2014 team. Davis placed second overall behind College of the Canyons' Edouard Fiszel who shot a one under 71 at the Feb. 18 WSC event hosted by Santa Barbara City College.
So has been equally impressive this year, finishing in the top 15 individually in each tournament. He also placed second overall individually, shooting a two over par 74, Feb. 26 during the WSC Bakersfield Event at Rio Bravo Country Club.
So credits his short game for his success this year on the links. So said he has excelled on the greens this year, especially with his putter.
"I'm more mature now, I'm more patient," said 22-year-old standout sophomore So. "I used to be really hot tempered, now I am kind of calmer."
Rounding out the top three sophomores Nolan recorded a top-10 finish of his own shooting a 79 on Feb. 10 at Valencia Country Club, tying for ninth in the tournament hosted by College of the Canyons.
"These guys all have talent," Horton said. "When you get at a level where everybody is competitive, having the mental game to play tournaments and not get anxiety, and not put stress on yourself, they're getting pretty good at it."
As a team, the Owls started off hot finishing in the top four in two of their first four contest.
"We just keep getting a little better each tournament," Horton said.
The Owls have not been able to duplicate that success they experienced early in the year, as the team finished in the bottom half in their last seven tournaments.
"We're always practicing. We all practice basically everyday," said freshman golfer Cody Cragg of Chino.
The team hopes their practice time will translate to success as they hit the home stretch of their conference schedule with four remaining WSC tournaments.
The men's golf team will host the WSC Citrus Event April 7 at Marshall Canyon Golf Course in La Verne. Eighth teams will tee-off starting at 11 a.m.
---
---