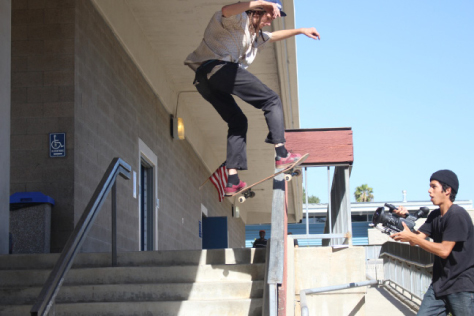 ---
Spencer C. attempts to grind on the rails in front of the TC building as cameraman Cannan H captures footage for their collective skate video they're working on. "Its fun to have something on your own with a group of your friends," Spencer said. (Evan Solano/Clarion)
By Evan Solano | Editor-in-Chief
By Cameron Wisdom | Staff Writer
Outside the Clarion offices lies a landmark where a select few will risk bodily harm and even getting busted by Campus Safety, all for the sake of the landing the perfect trick.
While this may sound like a fool's errand for most, for skaters Spencer C, Tee O, Brandon B and cameraman Cannan H, this weekly ritual is a study group of shredding that requires a keen sense of physics and geometry mixed with street wise instinct.
"We've seen other people skate it, and we were interested to see what's up with it and go check it out," Tee said.
"It's a good mellow rail, it's a perfect rail to skate. It's almost like a skate park because the ground is really smooth an there's no harsh cracks," said Spencer.
"It's a famous spot, a lot of skaters from the past have skated here. It has a lot of history," Tee said.
Just doing a bit of research on YouTube can prove just what Tee is talking about. Professional skaters like Chris Cole, Nyjah Huston and Paul "P-Rod" Rodriguez have made their mark on the well-known rail.
Southern California has long been the nucleus of modern skate culture. Dating back to mid 1970's, with skate crews like the legendary "Z Boys" from Venice Beach and the Bones Brigade that carried on the tradition of pushing the envelope both socially and physically through the implementation of new riding styles and tricks.
The 1990s saw the rise of street skating, a style that focuses on tricks and transitions in public places. Skateboarders were no longer confined to vert-ramps and drained pools to perform the always growing variety of stunts.
By the year 2001, almost 2.4 million more kids were grinding rails and practicing kickflips than those that were enrolled in organized baseball.
With the rise in popularity, "skate parks" designed specifically for freestyle riding and performing various tricks began to pop up in urban environments and suburban neighborhoods across the country.
Many skateboarders view these parks as a training ground to hone their skills to apply in improvised settings where creativity and execution of tricks earn the highest honors.
"It's a good place to practice, because it's made for skateboarding," Tee Said.
Spencer added that if he can't go street skate for any reason he normally will find a local skate park to ride instead.
Campus officials view skateboarders on school property as a liability, due to the inherent risks associated with the sport.
According to Ben Macias, interim Campus Safety supervisor, the highest influx of skateboarders on campus occurs during weekends. Many of these boarders meet near the steps located  to the southwest corner of the TC building.
"Some of these people that we've encountered, they've indicated that they've driven 30-45 minutes just to get here because our steps are pretty famous," Macias said.
"A lot of them are video taping themselves and trying to get footage for, as they put it, their sponsors." Macias added. "We can't have them here skating on campus so we advise them of such and escort them off campus."
According to Spencer, taping their stunts is not only used to attract sponsors, but to also review like gamefilm to identify any areas of improvement needed.
"It's all about practice," Spencer said, "We always give [each other] little hints of advice."
Campus officials are primarily concerned with legal liability as a result of potential injuries while practicing.
"People always tell us 'oh you're gonna hurt yourself and sue us', but I've got hurt so many places and never sued," Brandon said, adding "We understand that, and that's why we still do it. If we get injured that's on us"
The officials' position is understandable considering the level of injury skateboarders face when a high-risk trick goes bad.
For example, Spencer has a mouthretainer as a result from a board injury.
"It happened a long time ago, I tried to go off a roof and my board came up and hit me in the face, it cut my lip and sent my tooth up," Spencer said.
Tee has also dealt with his share of varying degrees of injury while riding.
"I've fractured my left big toe, I was trying to skate this ledge off a drop and I flipped off it and smacked my chin and toe, It was fractured for three months," Tee said.
"If I'm going to fall, then I'm going to fall. I'm not going to blame the school, I came here to skate, I'm not going to come here and cry because I fell and try to get money out of it, it doesn't make sense" he added.
"You take pain and you gotta try your best to be on it, so you won't fall and get hurt again. But then again its something you can't control," Spencer said.
Recently Campus Safety has taken active steps to inform students of the existing skateboard policy with increased saturation patrols, where they patrol campus and hand out leaflets to students with skateboards.
"We actually started doing these about three weeks ago and it's more about educating our students that skateboarding is not allowed, as well as rollerblading or riding their bikes through the interior of campus. It's more of a safety issue than anything else, the liability exists if somebody that's riding a skateboard crashes into other people," Macias said. " We want to be proactive and prevent any type of situation like that."
Campus officials are currently looking at different options for enforcing the policy. They hope to increase consequences for failure to obey district policy but are still in the development phase of the process.
"Usually [students] don't know the policy so we try to inform them of that." Macias said, "I would say 99 percent of our students are really good. They're really good about listening, once you tell them they'll stop. But there is that small percentage where they're going to be defiant regardless of who tells them, regardless of what sign there is they're going to do it."
"We always try to leave when they ask us, we try to give them respect," Spencer said.
When asked by a faculty member to vacate the premises, the skateboarders packed up their gear and left without issue.
"Oh, we're done here, maybe not forever, but we're done here" Brandon yelled.
---
---